Favorite Holiday Recipe Blog
EGGNOG MARTINI (One of my All-Time Favorites!)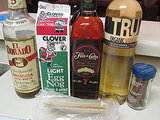 Ingredients
Crushed graham crackers, optional for garnish
1 1/2 ounces dark rum
1 ounce spiced rum
1/2 ounce vanilla vodka
3 ounces store bought eggnog
1/4 ounce simple syrup
cinnamon stick, optional for garnish
Directions
Dip the rim of a martini glass in water and then into the crushed graham crackers.
Combine dark rum, spiced rum, vodka with eggnog and simple syrup in an ice-filled martini shaker. Shake well, strain and pour into a prepared glass. Garnish with a cinnamon stick.
Serves one, so make plenty!!
Kaylin McFarren's expertise in traveling the world to exotic places, combined with her interest in treasure seekers, and her fascination with the under-sea world shines through in her unique writing style. "SEVERED THREADS" is as entertaining as THE BODY GUARD, as thrilling as PRESUMED INNOCENT, and as clever as BASIC INSTINCT. Highly recommended to all romantic suspense lovers!"
—GERI AHEARNS, Book Reviews
About Linda
Linda Yoshida, aka Kaylin McFarren, is a rare bird indeed. Not a migratory sort, she prefers to hug the West Coast and keep family within visiting range. Although she has virtually been around the world, she was born in California, relocated with her family...
Causes Linda Yoshida Supports
Kaylin is donating 100% of her proceeds to the Cancer Research Center at Providence Medical Center