It's no fun to  start a day having your blood drawn at a university hospital.
When I lived in Boston I started quite a few days that way.
But now that I have been in remission from breast cancer for over fifteen years, it's not so bad--the proof being that last week when I had my blood drawn at the University of California at San Francisco Cancer Center, I tried to start a book discussion.
Granted there were only three people having the discussion--me, the person drawing my blood into five small tubes, and the person taking my health profile  at the same time.  And granted, while all had heard of the book, I was the only one who had read it.  Still, they were taking blood and I was talking books.
Which book?
The Immortal Life of Henrietta Lacks by Rebecca Skloot.
Henrietta who?
Henrietta Lacks was an African American tobacco farmer who died of a very agressive form of cervical cancer in 1951.
She was treated for free in the segregated black ward of Johns Hopkins University in Baltimore--but she died within months, in agony.
It can be argued that Henrietta got the best care available to her at that time.
But there was a price to pay. That's because doctors harvested her tumor cells for research purposes--without asking her permission. And they did that to a lot of people--many of them poor African Americans. 
Today, researchers need permission-- at least in the United States.  But it is still easy to take advantage of research subjects.
But, the reason that there is a book is that Henrietta's cells were exceptional. While most human cells (at least at that time, and probably even today) would die out in the laboratory--Henrietta's turned out to be very hardy and very prolific.  They survived shipping around the world. They proved valuable first in polio research and then in cancer research and in AIDS research. They have been studied in outer space (really) and  have been bought and sold worldwide. And they are still used in countless research activities today.
Henrietta's family in Baltimore and rural Virginia never saw a dime from her havested cells. And in fact, many of them cannot afford health insurance. They didn't even know until twenty years after her death that her cells were being used under the label HeLa (pronounced Hee-lah)--her first and last names abbreviated. And that was only because Johns Hopkins came calling asking for their cells.
Rebecca Skloot, the author of The Immortal Life of Henrietta Lacks (now on the New York Times bestseller list)--is a talented science journalist who records  Henrietta's personal story alongside of those of the scientists and doctors who worked with her cells. Skloot is able to take complex scientific concepts and translate them for the general public.
She has done thorough research (there are pages and pages of notes and references) and is very even handed about presenting everyone's interests, motivations, and reactions.  There are lots of details here that humanize all the people (dead and alive) that Skloot presents to us. We learn what the researchers ate for lunch and how the scientists went to the post office to mail Henrietta's cells. We learn about the  sudden fierce rain and wind storm that hit the graveyard just as Henrietta was buried--ripping a door off a barn. The flying door then fell and onto and killed a cousin.
We learn that some of the Lacks relatives believe in voodoo.
But in the end, the book raises more questions than it answers--which is why it is an excellent book discussion book.
I had actually been carrying this book around in my tote bag when I received a voicemail out of the blue from UCSF. I had been reading it more critically than emotionally--but that soon changed when I realized that Lauren John  (LaJo) cells were now on the line.
When I called back, a genetic counselor there explained that researchers wanted my blood for a study being funding by the Early Detection Research Network, (a division of the National Cancer Institute), in order, "to learn about a new technology that looks at different immune cells in blood to assess individual risk of developing breast cancer."
My blood was especially interesting to the scientists, because I had breast cancer at age 37, had tested negative for the two major genes known so far to be linked to breast cancer (BRCA 1 and 2), and "no longer have any evidence of the disease".
Would my "genetic material" look different than that of women, also in the study, who never had breast cancer?
 Here's the difference between how I was treated and how Henrietta was treated:
I was sent a nine page consent form, including an Experimental Subjects Bill of Rights.
I spoke to a genetic counselor, the very patient Lakshmi Warrier, and got her to say in writing that any information  yielded by the study would not be shared with private health insurance companies
I showed up at a beautiful state of the art facility with botanical prints on the walls and classical music piped in.
Everyone I met at UCSF, from the receptionist to the study coordinators--treated me with the utmost respect. The even started on time!
Here's what  clinical trial research teams still have to work on:
Demystifying the acronyms used in  consent forms and conversation--What is an IRB? What is a BRCA-1? Who is the NCI? Henrietta  was luck to finish sixth grade. I have two masters degrees.  I know I was confused. I imagine that she was, too. According to Skloot, the next generation of Lacks's were also confused--especially when they were  asked to donate blood samples.
Realizing that there are  vulnerable people behind the process.  Genetic counselors are trained to realize this, but study coordinators have a way to go.  Would it really have been so terrible to wait  five minutes until the blood was drawn rather than simultaneously hitting me up with a health questionnaire?   Could the study coordinator have said, "I don't know the answer to that, I'll find out--instead of trying to bluff her way through my questions?" To her credit, Lakshmi, the genetic counselor, did dig to find answers to the questions she could not answer straight away.
I was annoyed--Henrietta was most likely terrorized by far  far worse behaviour.
Here's the part (taken word for word from my consent form) that still holds true in my time and Henrietta's. And  it's the part that can be  analyzed from a financial, ethical, legal, and philosophical point of view:
Any sample you donate which is used in research may result in new products, tests or discoveries.  In some instances, these may have potential commercial value and may be developed and owned by UCSF or the National Cancer Institute. However, donors of tissues do not retain any property rights to the materials, Therefore, you would not share in any financial benefits from these products, tests or discoveries.
What kinds of questions does this raise?
Who owns our bodies and what parts of our bodies, if any, can be patented? (There was actually a court case about this recently involving a company called Myriad Genetics, which tried, unsuccesfully to patent some genes)
If a patient is treated at low or no cost--are they obligated to participate in research studies?
Would and should you participate in a clinical trial?
What would happen if people didn't participate?  And what obligations do healthy former patients have to help cure those fighting a disease.  (At the reception desk, seeing people waiting for treatment, including one woman who had driven down from Chico, California with two kids in tow--I stopped thinking about myself for a few minutes)
If you decide to have an Immortal Life of Henrietta Lacks book discussion, here are some suggestions:
Invite a scientist, a genetic counselor or a medical student to host the discussion--choose one who can explain how and why  clinical trials using real live people are done--and what rights people have when they participate.
Have a panel discussion with medical people, social workers, patients and even clergy--who can offer differing viewpoints about the ethics of medical research and about unequal access to care.
Examine Rebecca Skloot's writing style.
Would this book worked better as a magazine article in, say, The New Yorker or Mother Jones?
Did she tell the Lacks family story well?
Did you think she was impartial?
Should there be a Henrietta Lacks day at Johns Hopkins in the near future?
For more information--check out Rebecca Skloot's Web Site: http://rebeccaskloot.com
And note that she will be speaking in the San Francisco Bay Area next week--April 24th through April 28th--with a talk on Sunday April 25th at 2 p.m. at Book Passage Bookstore in Corte Madera and UCSF Grand Rounds at Noon at San Francisco General Hospital and Wednesday, April 28th.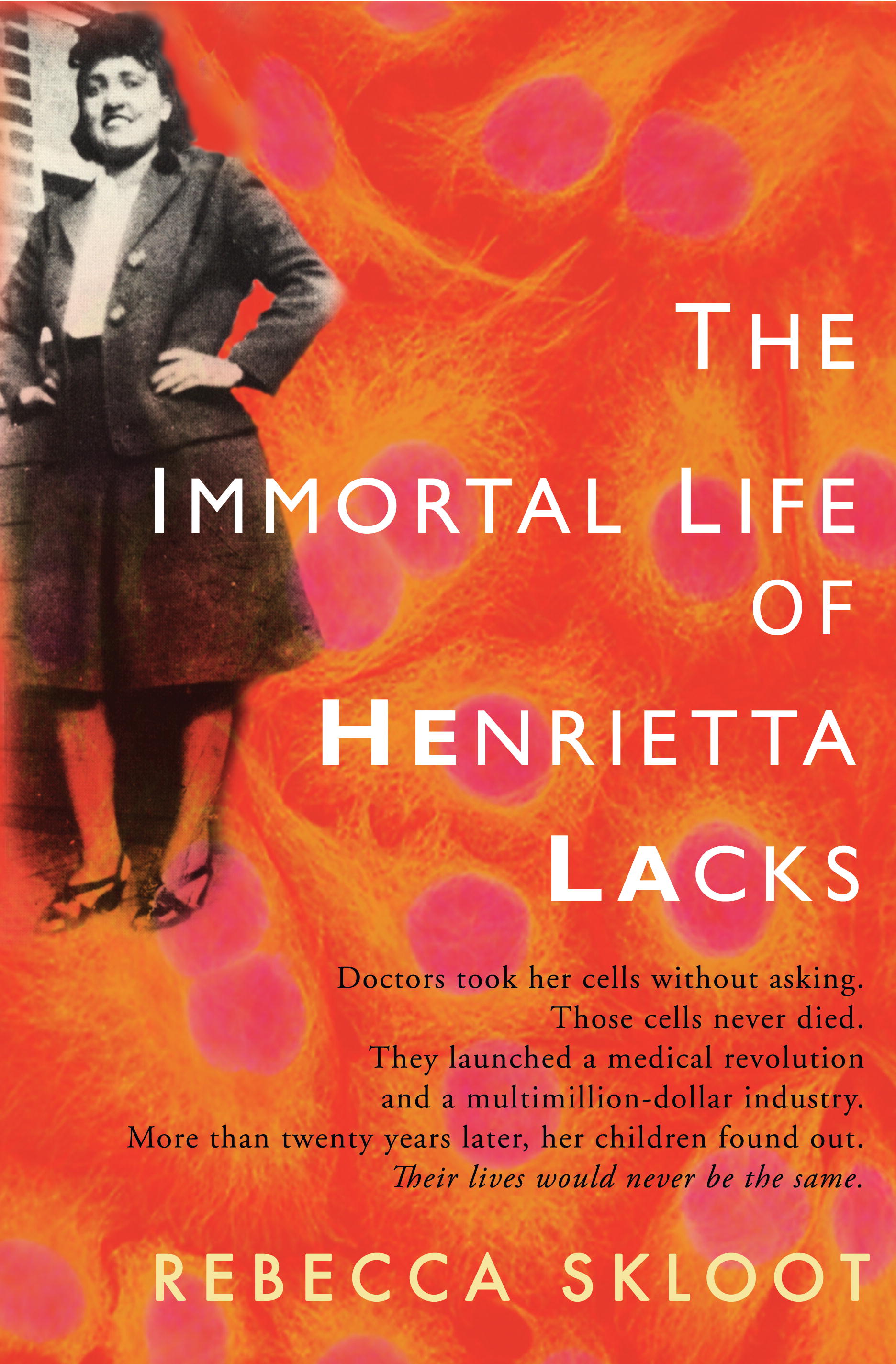 "God created man because he loves stories.""
About Lauren
I am a librarian and book group leader who has led book groups in public libraries, bookstores, boardrooms, museums, living rooms, retirement communities, and synagogues. Born and raised in New York City, I have lived and worked in Manhattan, Boston, and now...
Causes Lauren John Supports
Keplers Bookstore Circle of Friends (Menlo Park)
Friends of the Menlo Park Public Library
Book Group Expo
Marin Agricultural Land Trust...