Once Upon A Midnight Dreary--The Raven Has Legs
Written in 1845 by master of horror Edgar Allan Poe, the Raven is a poem with legs.
We are still reading it , reciting it, quoting it, and adapting it to stage and screen--all of which happened yesterday at Salon Menlo--our local film/literature discussion group.
There's no copyright on The Raven--so the poem is all over the Web.
And there's no better Halloween poem.
Here is a link to one of the first versions published in a magazine:  http://eapoe.org/works/poems/ravena.htm
 And, to refresh your memory, here is the first paragraph:
Once upon a midnight dreary, while I pondered, weak and weary,
Over many a quaint and curious volume of forgotten lore,
While I nodded, nearly napping, suddenly there came a tapping,
As of some one gently rapping, rapping at my chamber door.
" 'Tis some visiter," I muttered, "tapping at my chamber door —
Only this, and nothing more."    
 And here is the last paragraph:
And the raven, never flitting, still is sitting, still is sitting
On the pallid bust of Pallas just above my chamber door;
And his eyes have all the seeming of a demon that is dreaming,
And the lamp-light o'er him streaming throws his shadow on the floor;
And my soul from out that shadow that lies floating on the floor
Shall be lifted — nevermore!  
 Whether or not you understand all of the symbolism--or know who Pallas was--this is a great poem to read out loud.
The repetitions of sound and rhyme--the alliteration--the  home invasion of the bird flying through the window, the chant of nevermore--when read well out loud--it works!
And perhaps you and fellow readers can ponder the most important question of all:
WHY A RAVEN?
Why not a crow, or a hawk, or a finch?
At Salon Menlo we were fortunate to have a reader, Dr. Doug Kalish, (pictured below) explain it all to us--with some help from the great bird himself. Doug brought a very lifelike raven puppet with him. The puppet's name was Edgar. Doug and Edgar (also pictured below) engaged in a human/raven dialogue to explain the poem stanza by stanza. (Friend Doug on Facebook to see the flip video).
http://inmenlo.com/2010/10/21/the-raven-stars-at-the-next-salon-menlo-on-1024/
After the explanations, Doug read the poem straight through, with the audience joining in on the final stanza.
Menlo Park reference librarian, Nick Szegda also treated us to a screening of a more modern adaptation of the poem--The Raven segment from the Simpsons DVD: Treehouse of Horror (1990) available on Netflix and from Amazon.com. THe segment begins with Bart, Lisa and Maggie in their treehouse telling and reading horror stories, helped out by an omniscient voice supplied by James Earl Jones. Might be too scary for littler kids (and you know your kid's fear factors). But everyone else  will be laughing out loud, and amazed, as always, at Simpsons layers of brilliance. Guess which Simpson takes on the personae of The Raven. And guess which Simpson is most terrified.
Here is a snippet in which you can see the bust of Pallas:
http://www.hulu.com/watch/31398/the-simpsons-never-more
 A quick check of the San Francisco Public Library catalog shows that you can get it on the shelf at most branches right now, by looking for the following:
The Simpsons. The complete second season [videorecording] / created by Matt Groening ; producers, Jay Kogen ... [et al.] ; Twentieth Century Fox Film Corporation ; Gracie Films. Beverly Hills, Calif. : Twentieth Century Fox Home Entertainment, 2002, c1990-1991.And if you are quick, you can get the two copies available right now at Menlo Park Public Library.At yesterday's Salon we also screened the one hour 1935 horror film The Raven, starring Bela Lugosi and Boris Karloff.  It is really more a film about a man obsessed with Poe, rather than a person obsessed by a raven--and most of us were laughing rather than horrified. It's not a Halloween must, but film buffs will appreciate it if only to see how far we have or haven't come.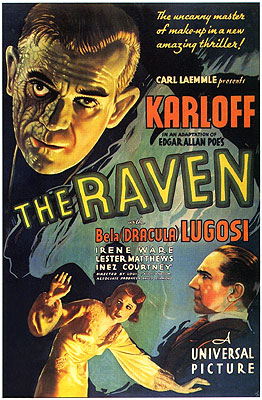 And Nick filled us in on the triumphs and challenges in the career Bela Lugosi. (Lugosi died in 1958-- a week into the shooting of his last film-- Ed Wood's Plan Nine From Outer Space--a low budget sci fi film, which is a topic for another blog).
"God created man because he loves stories.""
About Lauren
I am a librarian and book group leader who has led book groups in public libraries, bookstores, boardrooms, museums, living rooms, retirement communities, and synagogues. Born and raised in New York City, I have lived and worked in Manhattan, Boston, and now...
Causes Lauren John Supports
Keplers Bookstore Circle of Friends (Menlo Park)
Friends of the Menlo Park Public Library
Book Group Expo
Marin Agricultural Land Trust...