Dante to Dead Man Walking: Reading for Cultural Competency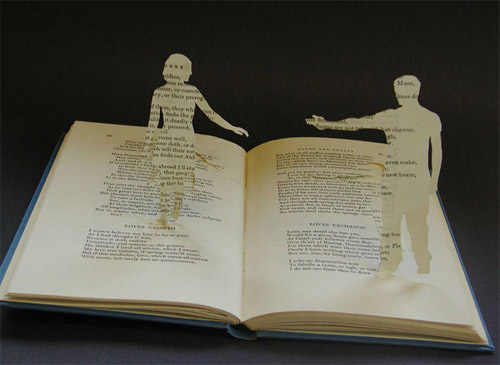 In the days before e-books, you could find out a lot about a person you were about to hook up with by taking a look at their bookshelves. Of course, there might not be any books around.
But that, for me, was a dealbreaker.
I could saunter over to the shelves, look right at the books and ask about them. Or , if I was awestruck or checking the Long Island Railroad schedule to make sure I caught the last train out of Manhattan to Great Neck, Long Island--I could sneak peeks.
I particularly remember an October night in 1982, when I sneaked a peak at a bookshelf over the sofabed of a man I did not know very well--but was about to know a whole lot better. There were the works of Norman Mailer and Hunter Thompson--both still alive at the time--and both actively writing. And broad reader that I was and am--I was both fascinated by and terrified of their mindsets.
Just to review......
Hunter Thompson (pictured above) was the gonzo writer who said:
I hate to advocate drugs, alcohol, violence or insanity to anyone, but they've always worked for me."
http://gonzoshots.com/hunter-s-thompson-quotes
Norman Mailer (pictured above) is the writer who said:
You don't know a woman until you've met her in court."
"These are my heroes," said the man I was about to know better.
Fortunately as it turned out, it was too late to hit the brakes and the relationship turned out to be a great one. But at the time, the part of my brain still thinking, wondered if I was going to get out of the apartment alive.
Thirty years have gone by...and here , 30 miles south of San Francisco, miles and miles away from that ground floor studio apartment in Manhattan with the grated bars on the windows, I find myself as the library director of a Catholic Seminary and University with over 150,00 books.
I was hired for my organizational skills, not my theological knowledge. But over the past year, I have been working to broaden my knowledge--FAST!
The good news is that there are a lot of bookshelves to look at--and none of them are over a bed.
The challenge is where to get started.
One clear winner has emerged for me in the category of books about Catholic books.
It is:
Dante to Dead Man Walking: One Reader's Journey through the Christian Classics by Jesuit priest, journalist and professor Raymond A. Schroth, S.J.
It was published in 2001 by Loyola Press.
(Unfortunately there is no e-book or Kindle edition.)
And I recommend it to readers and book group leaders of any faith.
I came across From Dante to Dead Man in a roundabout way. Mystery writer Mary Higgins Clark (not one of my favorites) was interviewed in the Sunday New York Times Book Review section recently and the Q&A and her photo caught my eye--I love author Q&A's even when I don't like the author. In any event, Miss Higgins Clark said that it was the book currently on her night table.
http://www.nytimes.com/2012/05/13/books/review/mary-higgins-clark-by-the-book.html
The title intrigued me and when I saw that the author was a priest, I was even more intrigued.
Ordering books by and for priests and future priests is how I make a living these days.
Since I agreed that both works mentioned in the title: Dante's Inferno (circa 1310-1314)and Sister Helen Prejean's Dead Man Walking: An Eyewitness Account of the Death Penalty in the United States (1993) are key texts for the unitiated in Catholic culture--and arguably, key texts for thoughtful readers of any culture--I bought the book.
It has now gone from my nightstand to my office shelf to the library's general collection--and I will be consulting it often.
How did Fr. Schroth choose the fifty classics included in the book?:
He started with Scripture: (the tagline descriptions are his)
The Book of Genesis: The human family stumbles, falls and struggles on
The Book of Job: One good man refuses to be broken by tragedy and pain
Robert Alter, The David Story: A Translation with Commentary of 1 and 2 Samuel : David the sinful forerunner of the Messiah,
The Gospel of Luke: The spokesman for women and the poor
The Gospel of John : The discovery that God is Love.
He then moved on to the literally iconic:
St Augustine The Confessions: From a sinful youth, the church's greatest teacher emerges
Dante Aligheri. Inferno :On the bridge between the Middle Ages and the Renaissance
Michael Walsh Butler's Lives of the Saints: The high cost of a special friendship with God.
And from there, he chose novels and autobiographies and essays that I personally am less familiar with and am delighted to learn about.
What were his criteria? Says Fr. Schroth:
The authors of these books, whether they are known as religious writers or not, all raised a moral or religious issue in a provocative way so that I could not put the books down without reconsidering--or at least getting a deeper understanding--of one of my fundamental beliefs...
All are intrigued somehow by the mysterious workings of God's grace, as he freely picks the most unlikely characters--such as a whiskey priest, a murderous spouse, or a communist who has had an abortion--to accomplish his will. These authors mine the riches of the Christian intellectual tradition of the early 20th century "renaissance", itself inspired to some degree by the lore of the Middle Ages. They are also concerned with issues raised by two world wars and especially with the stark challenges to individual and moral responsibility--what must I do today as a believer or citizen, about a promise, a sin, a lover, a friend, a country, a child yet unborn, lest I gain the world but lose my soul?
One book meeting those criteria is pacifist and labor activist Dorothy Day's memoir The Long Loneliness(1952) of which Fr. Schroth comments:
A secular historian might suggest that because we still have intercontinental nuclear missles pointed at one another and the poor are still with us, her revolution has failed. Of course, this historian could say the same thing about Christianity itself. Dorothy Day's followers would answer that we still have time.
There's also the novel Kristen Lavransdatter by Scandinavian author, Sigrid Undset, who won the 1928 Nobel Prize for Literature. Unset's heroine, Kristen is a "difficult young 13th century woman" who trades in a good knight for a bad one--bearing him eight sons.
Writes Schroth:
Over three generations she grows into an older woman, a widow who has seen a lot of blood, outlived the men who loved her,and moved her children into adulthood and freedom. She finally comes to a spiritual peace over her sins."
Book group anyone?
Here are some other classics discussed in the book, that might be worth checking out for book group. Note again that the taglines belong to Schroth, not me.
Karl Rahner, S.J. The Love of Jesus and the Love of Neighbor: The 20th century's greatest theologian sums up his rule of life.
Elizabeth Schussler Fiorenza, In Memory of Her: A Feminist Theological Reconstruction of Christian Origins: Feminist Theologians begin to be heard.
Brian Moore, Black Robe: Like Isaac Jogues and Jean de Brebeuf, a "saint among savages".
Helen Prejean, Dead Man Walking : An Eyewitness Account of the Death Penalty in the United States: A Louisiana nun brings death row into the American consciousness.
Peter Ackroyd, The Life of Thomas Moore: Is this the proper patron saint for today's politicans.
Robert Ellsberg. All Saints: Daily Reflections on Saints, Prophets,and Witnesses for Our Time. Mary. John and Jogues, sure--but Mozart, van Gogh and Camus?
Check out the rest of the recommendations on in the table of contents (LOOK INSIDE THIS BOOK) link on Amazon.com
http://www.amazon.com/gp/reader/082941634X/ref=sib_dp_pt#reader-link
Blessings to you all!
"God created man because he loves stories.""
About Lauren
I am a librarian and book group leader who has led book groups in public libraries, bookstores, boardrooms, museums, living rooms, retirement communities, and synagogues. Born and raised in New York City, I have lived and worked in Manhattan, Boston, and now...
Causes Lauren John Supports
Keplers Bookstore Circle of Friends (Menlo Park)
Friends of the Menlo Park Public Library
Book Group Expo
Marin Agricultural Land Trust...