Good News Tuesday a day late
Why you people put up with me I'll never know. I just forgot to do yesterday's Good News Tuesday, and here it is Wednesday and I'm sure oodles of you are just bursting with fabulous and exciting news. Far be it from me to keep you from sharing it, so feel free to do so.
While I'm waiting, I'll show you one of the things that kept me from the computer yesterday. I have a couple of workspaces in which I work, one of which is my office, a room filled with all sorts of officey stuff like printers, desktop computer, files, etc.
Another space I use is what used to be our entertainment center, but, with the arrival two years ago of a 52″ plasma TV that the hub loves and adores, was made redundant. I moved it into another room, and claimed it as my promotional processing center, the spot where I deal with all those requests for membership in dragon septs, the Minion Corps, etc. (and if you don't know what I'm talking about, feel free to visit the freebies page for info), as well as send out goodies requested by lovely and intelligent folk.
This is what the main section of my promotional work space used to look like (click small picture to get big one):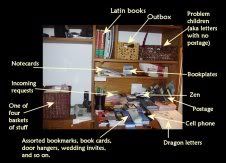 As you can see, it was pretty darned hairy. After a visit to the fine folk at Levenger and Storables, I managed to get everything organized and tucked away so I actually have a little space to work.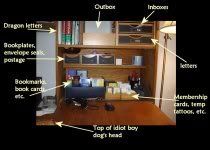 Yay for finally getting my act together. At least so far as the promotional worky stuff goes…
About Katie
For as long as she can remember, Katie MacAlister has loved reading. Growing up in a family where a weekly visit to the library was a given, Katie spent much of her time with her nose buried in a book. Despite her love for novels, she didn't think of writing...