I'm feeling a bit puny with some sort of a bug or other, hence my lack of Humpy Day. But I did get some good news--Playing With Fire has remained on the NYT list a second week, sliding down to the #13 spot.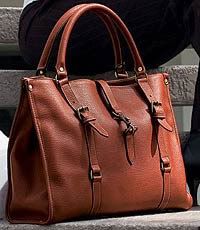 And I received galleys today for Up in Smoke and a couple of cover flats, and I'm in awe of the gorgeous shiny foilness of it. I shall endeavor to take a picture of it later in order to share the shiny.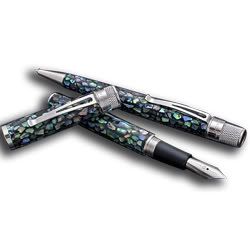 Last, but not least, the expensive new briefcase-ish bag (left) and pen (right) I ordered to go trotting around the area doing drive-by booksignings arrived, which means I have to stop fondling the leather bag (we won't mention the fact that I stuck my head it in to smell the leathery goodness), and actually get off my butt and do the drive-by signings. Time to round up phone numbers of local stores and see if they have any stock for me to sign with my spiffy new pen (isn't it pretty? My friend Laron sells them, and I just couldn't resist).
Thanks to a diligent reader, I also found out that some of my YAs were published in Sweden. I had no idea of this, not having received notice from the publisher that the rights were sold there, but it started me on a frenzy of digging out the foreign editions of some of my YAs. Yes, that means foreign covers! I'll save the ones I found for another day, but only because the Indonesian publisher's site doesn't seem to be functioning for me, and I'm dying to see what those covers look like.
About Katie
For as long as she can remember, Katie MacAlister has loved reading. Growing up in a family where a weekly visit to the library was a given, Katie spent much of her time with her nose buried in a book. Despite her love for novels, she didn't think of writing...