Insect Ethics Part II: To Love a Bug
For every person who shakes when they see a spider like the Brown Recluse featured in Insect Ethics Part I, there's a person or civilization enamored with insects.
Scarabs were sacred to Egyptians because the beetle's emergence from underground was symbolic of entombing and resurrection. Scarabs are large dung beetles that lay eggs in balls formed by rolling excrement across the ground. Egyptians equated the scarab's action with that of the sun God, Khepri, who rolled the disk off the sun over the eastern horizon in the morning.
The Chinese tradition of caging crickets dates to 500 B.C. Singing insects, including katydids and cicadas, are prolific in Chinese culture and poetry. Their songs are more powerful in autumn and in captivity. Singing insects are associated with sadness and the fate of mankind.
Consider Ladybugs. They're universally loved and believed to be lucky. They appear on stepping stones, kids clothing, solar lights, patio furniture and tattooes. Legend holds they appeared in the Middle Ages after farmers prayed to the Virgin Mary for help when swarms of insects began devouring crops. The red and black polka-dotted beetles appeared, ate the pests and saved the crops. The farmers named their insect saviors "The Beetles of Our Lady." Eventually the name was shortened to Ladybug and Lady Beetle.
Ladybugs are a beneficial insect and can be ordered on the internet. While purchasing 72,000 Ladybugs for a greenhouse or commercial orchard is a good idea, releasing them in your garden may not be successful. You can't train a ladybug to stay.
When they swarmed our garden the fall of 2009, I introduced ten ladies to my Hawaiian Hibiscus which broke out in aphids when I moved it indoors. The Ladybugs snubbed the hibiscus and flew around the house playing hide and seek. The Siamese cats found them. Killing a Ladybug is said to bring sadness and misfortune. Poor Meezers.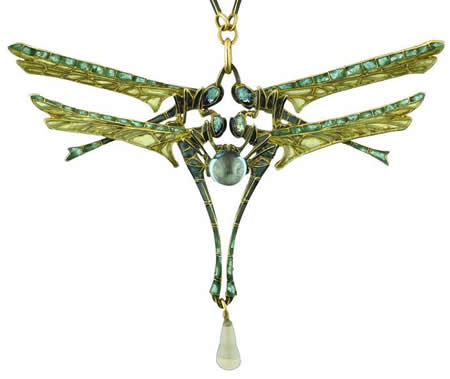 Dragonflies hover on wall prints, comforter sets, patio furniture, glassware, china, jewelry and sundials. I've seen men, women and children shriek when they've had close encounters with living dragonflies. I nearly shrieked when I saw an Art Nouveau pendent by Rene Lalique sold for $70,000 in 2009. The pendant is stunning. With two Benadryl I'd fly it around my back yard and believe it was alive.
My mother and her cousins played with grasshoppers when they were little. The grasshoppers wouldn't stay put so they performed lower back leg amputations. Mom's cousin, Virginia, says she and her sister were the "awfuls" who taught mom about grasshopper amputations and care. Some slept on hollyhock blossoms after surgery. They made beds for their patients out of matchstick boxes and covers out of kerchiefs. There weren't many toys in the early 1940's in Gillette, Wyoming but there were plenty of grasshoppers.
I saved the tomato horn worms I found on my tomato plants the last two summers. (They were relocated to the English Ivy patch.) Gardeners tend to hate tomato horn worms; they're capable of defoliating a tomato plant in two days. My relocation efforts would be considered self-defeating and/or or ridiculous by many gardening friends. I put up with horn worms for because we have plenty of tomatoes each year. My other reason is more important to me than tomatoes.
I was ten the first time I saw a strange butterfly in my Grandmother's garden in New Hampshire. As I moved closer to the insect, I changed my mind and wondered if I'd spotted my first hummingbird. The creature hovered upright with fairylike, translucent wings beating reapidly. It moved from plant to plant, coiling and uncoiling a long, thin tube it inserted into flowers. My grandmother observed my captivation, and confusion. She stood next to me and we watched in silence a few moments before she said, "It's a Hummingbird Moth. Aren't they beautiful?" The awe in my grandmother's voice, the mystery and beauty of the moth and pocket of stillness that formed around us stamped the event in my brain.
During an Insects and Integrated Pest Management course I learned the dreaded tomato horn worm was the caterpillar of the hummingbird moth. While researching this blog, I uncovered other species of hummingbird moths. The tomato horn worm morphs into Manduca quinquemaculata, commonly called the hummingbird, hawk or sphinx month. These moths are brown and cream with a touch of orange.
The hummingbird moth I saw with my grandmother, the same ones I tear out of the house to see when they show up at my butterfly bush, did not morph from the tomato horn worms I relocated to the English Ivy patch. The moth I fell in love with is Hemaris thysbe; the beautiful hummingbird clearwing moth. I've been saving the wrong hummingbird moth caterpillar.
Whether you spray Raid on every insect in your house or have a Monarch Waystation in your backyard, hating an insect solely due to its actions in one stage, while disregarding the beauty and joy it brings in another, is symbolic of human nature.
In this strong and vulnerable collection of poetry, the poet spins out a thoughtful imagery of innocence and culpability, for (and of) "the users and the abused". Jules Jacob inhabits a dichotomous world, and with delicate magnetism, draws us into it, in each poem. "
—The Glass Sponge Endorsement— Dr. Harrison Solow, Pushcart Prize winning writer, author and university professor
About Jules
Julie "Jules" Jacob attended the University of New Hampshire, Colorado State University and The Horticultural Therapy Institute. She's a Horticultural Therapist, and child advocate for CASA of Southwest Missouri. Jules lives in the Mark Twain National Forest...
Causes Jules Jacob Supports
CASA of Southwest Missouri, Master Gardeners of the Ozarks, University of Missouri Master Gardeners, Missouri Court Appointed Special Advocates Association...
Jules's Favorite Books
The Lost Get-Back Boogie, Cleopatra: A Life, Cutting for Stone, For Whom the Bell Tolls, The Botany of Desire, Saving Fish from Drowning, The Grapes of Wrath...