Pultizer Prize Winning Poet Alice Walker describes why she joined THE FREEDOM FLOTILLA to Gaza
Jones's writing is a gift of genius; shocking and moving you to tears; touching the deepest inner part of your humanness and spirit.
 
May all the saints and angels and us-you and I, the people of the our new one-world, one-galaxy universe send Ms. Walker and all the others on the Freedom Flotialla as well as those in Gaza and Israel love, hope, freedom and most of all peace from our hearts and souls.  We are all brothers and sisters. judy joy jones     Alice Walker  
Pulitzer prize-winning American writer Alice Walker is on board an international flotilla of boats sailing to Gaza to challenge the Israeli blockade.
From Alice Walker, at sea on the Audacity of Hope
By US BOAT TO GAZA on Friday, July 1, 2011, at 6:19pm
Today is, I think, the 31st of June (Friday?) or is it the1st of July?
We have been in Athens since the 21st - trying to get to Gaza.  Many impediments orchestrated by the Israeli government.  But what a wonderful group of humans.
Therefore:  We've won.  We're in Gaza.  To be in Gaza is to feel this love.  To know there is always a part of humanity that is awake even though the overburdened or the bewitched remain sleeping.
 My throat is sore from breathing the tear gas that drifted into our hotel windows, as Greeks, mostly young, battle police, their brothers and sisters who are paid to keep them in line.  This is the tragedy.  I feel so much compassion for both sides my eyes tear and not only from the gas.
 It was hard to breathe.  My lungs were fighting hard to protect me.  How I adore them, my lungs.  And so many of our group tried to protect us, my lungs and me, too.  A lovely young man named Steve gave me his own gas mask and someone else, a beautiful young woman with straw colored hair and blue gray eyes gave me the benefit of her knowledge of how to wear it.
 I do not like calling such angels "blonde" as I feel the word is so loaded now and it sets them outside of Nature and somehow diminishes them.
 I spent a blissful hour yesterday massaging Hedy's feet.  She has the most wonderful  gray eyes - full of humor and light.  She'd never had a foot massage before, she said.  And she is eighty-seven!  Hard to imagine.
This was a high point for me, as it is well established by now in myself and among my friends, that I like to massage the feet of anyone who stands up for us.  Humanity, I mean.
  Hedy, I said - when she told everyone who passed by us: "I'm being spoiled" - I have a full body massage at least once a week!
 Or the other animals.
 Hedy, holocaust survivor, inhaling the gas in Greece, but even more poignant, anticipating being tear gassed by the Israelis who are doing everything they can to threaten our boat.
 I have no computer - they said not to bring  one on the boat because it would likely by  destroyed or confiscated - only this small notebook in which I have been avoiding writing the poem that starts and stops in my head:
Sailing the Hot Streets of Athens, Greece
©2011 by Alice Walker
It has been so
hot!
Is it hot
where you are?
Penned upin a destroyed place?
In Gaza?
The whole world
distracted
by its weathers
& other
disasters
still is watching us,
Gaza,
as we yearn
towards each other.
Trying to embrace
each other
to give each
other,
to ourselves
united,
a simple
hug.
The whole world
is watching
Gaza
& it is
wondering how
things
will
turn out.
They are making
it hard
for us to move
Gaza
& sometimes
we are
in despair
but I remind
us
that you
of all people
understand
obstruction.
They know this place
we are in
of not
being able to move.
They know it
intimately.
This place of stalemate
& stagnation, so unbearable
to any heart
that's free
is where they
hourly
live.
They will forgive
us if we do not
arrive on time.
Furthermore,
having left our
own homes we are
already there.
I believe
with all my heart
in the magic
and the power
of intention.
The women & men
with cameras
come to record
our dreams
& our frustrations.
most of them are
young & we are glad
of this.
We want them
to see their
counterparts
& their elders
attempting to make
this voyage
to endure
this crossing.
We pray they
are of good heart
& balanced
mind.
Even
the spies
among them
we hope
will learn
something
they may never
have guessed
before:
That a boat
filled with love letters
from children
is a threat
to those
with apparently
little memory
of youth or experience
of love.
I have given
my word that I would
sail and so I do - if not
on our boat
that is not so far
allowed to go
to sea,
then through
the air sending
thoughts and feelings
I sail
We all sail.
We sail the hot, sticky
streets of Athens, Greece
longing to see
the faces
& deliver
love letters
to the people
of Gaza.
Written on our beautiful boat whose canopy is a giant peaceful American flag, as we sail the waters off the coast of Greece and are intercepted by the Greek coast guard.
Alice Walker: Why I'm joining the Freedom Flotilla to Gaza

Pulitzer prize-winning American writer Alice Walker is on board an international flotilla of boats sailing to Gaza to challenge the Israeli blockade. Here she tells why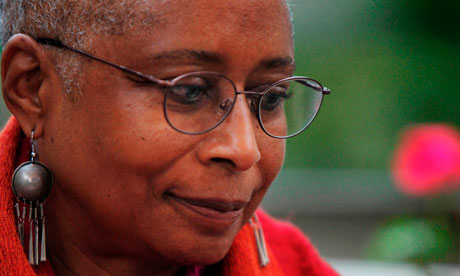 US writer Alice Walker in Gaza City in 2009. Photograph: AP

Why am I going on the Freedom Flotilla II to Gaza? I ask myself this, even though the answer is: what else would I do? I am in my 67th year, having lived already a long and fruitful life, one with which I am content. It seems to me that during this period of eldering it is good to reap the harvest of one's understanding of what is important, and to share this, especially with the young. How are they to learn, otherwise?

Our boat, The Audacity of Hope, will be carrying letters to the people of Gaza. Letters expressing solidarity and love. That is all its cargo will consist of. If the Israeli military attacks us, it will be as if they attacked the mailman. This should go down hilariously in the annals of history. But if they insist on attacking us, wounding us, even murdering us, as they did some of the activists in the last flotilla, Freedom Flotilla I, what is to be done?

There is a scene in the movie Gandhi that is very moving to me: it is when the unarmed Indian protesters line up to confront the armed forces of the British Empire. The soldiers beat them unmercifully, but the Indians, their broken and dead lifted tenderly out of the fray, keep coming.

Alongside this image of brave followers of Gandhi there is, for me, an awareness of paying off a debt to the Jewish civil rights activists who faced death to come to the side of black people in the American south in our time of need. I am especially indebted to Michael Schwerner and Andrew Goodman who heard our calls for help – our government then as now glacially slow in providing protection to non-violent protesters – and came to stand with us.

They got as far as the truncheons and bullets of a few "good ol' boys'" of Neshoba County, Mississippi and were beaten and shot to death along with James Chaney, a young black man of formidable courage who died with them. So, even though our boat will be called The Audacity of Hope, it will fly the Goodman, Chaney, Schwerner flag in my own heart.

And what of the children of Palestine, who were ignored in our president's latest speech on Israel and Palestine, and whose impoverished, terrorised, segregated existence was mocked by the standing ovations recently given in the US Congress to the prime minister of Israel?

I see children, all children, as humanity's most precious resource, because it will be to them that the care of the planet will always be left. One child must never be set above another, even in casual conversation, not to mention in speeches that circle the globe.

As adults, we must affirm, constantly, that the Arab child, the Muslim child, the Palestinian child, the African child, the Jewish child, the Christian child, the American child, the Chinese child, the Israeli child, the Native American child, etc, is equal to all others on the planet. We must do everything in our power to cease the behaviour that makes children everywhere feel afraid.

I once asked my best friend and husband during the era of segregation, who was as staunch a defender of black people's human rights as anyone I'd ever met: how did you find your way to us, to black people, who so needed you? What force shaped your response to the great injustice facing people of colour of that time?

I thought he might say it was the speeches, the marches, the example of Martin Luther King Jr, or of others in the movement who exhibited impactful courage and grace. But no. Thinking back, he recounted an episode from his childhood that had led him, inevitably, to our struggle.

He was a little boy on his way home from yeshiva, the Jewish school he attended after regular school let out. His mother, a bookkeeper, was still at work; he was alone. He was frequently harassed by older boys from regular school, and one day two of these boys snatched his yarmulke (skull cap), and, taunting him, ran off with it, eventually throwing it over a fence.

Two black boys appeared, saw his tears, assessed the situation, and took off after the boys who had taken his yarmulke. Chasing the boys down and catching them, they made them climb the fence, retrieve and dust off the yarmulke, and place it respectfully back on his head.

It is justice and respect that I want the world to dust off and put – without delay, and with tenderness – back on the head of the Palestinian child. It will be imperfect justice and respect because the injustice and disrespect have been so severe. But I believe we are right to try.

That is why I sail.