We Could Be Heroes, Just For One Day
I didn't want to know about BatKid. I saw his picture on several sites, smiling this beautiful grin, wearing his cowl. I didn't want to read about a five year old boy who had leukemia.He's been fighting cancer since he was one. A year old. He is in remission. Sorry, cannot handle cute kid with cancer story, thank you very much.
Make a Wish San Francisco asked Bat Kid (who in his everyday life goes by the name Miles Scott) what did he want his wish to be? Disneyland? Swim with a dolphin? No. He wanted to be BatKid for real. He wanted to save the day, catch the bad guys. It must've felt impossible. But Make a Wish San Francisco knew that in order for Miles' wish to come true, it had to happen in San Francisco, the city who knew how.
Word spread on the Internet. People stepped up with donations and help. Eric Johnston, an acrobat, offered to be Batman. His wife Sue volunteered to be a damsel in distress, because Bat Kid needs to save the girl.
This morning, San Francisco stopped being San Francisco. It became Gotham City, home to many a super villain and Bruce Wayne debonair millionaire. The Riddler was on the loose! But fear not, gentle viewer! Bat Kid is here!
First off, he marched down Market Street in his uniform. Looking darned cute, I must say. His parents were with him, along with his little brother who dressed up as Robin. But what's this? Oh no! The damsel in distress is being kidnapped by The Riddler! It was a good thing Bat Kid was there and saved the girl! Then he went to Union Square where there was a flash mob waiting for him, dancing to "Don't Stop Beliveing" by Journey. All the while twitter was cheering him on.
It wasn't all positive; one City Supervisor complained that it was too much attention for one child. Others said it was a waste of taxpayer's money. If you believe in the latter, do me a favor and don't read the rest of this blog. I'm serious. I rather have taxpayer money going to a child than say, a fat cat politican who gets nothing done in Washington DC. As to the former, here's what I think: generosity is catching. Seeing people help Miles might make someone think hey, I think I'm going to serve Thanksgiving dinner at Glide this year. God, I have all those old books in my closet, I'll donate them to the library. It's not magic, but I truly believe more good will spring from this, slowly but surely.
I knew I had to see this for myself. I got dressed, got on BART and headed to the City. I wished I had a Barbara Gordon outfit I could wear, but I was dressed in my everyday outfit as Superhero Writer. I stepped off at Powell, wondering where I should go. A homeless man approached me. "Need help, miss?"
"Um..." What should I say? I might as well just say "Hey, I'm a nerd looking for Batkid." Instead I said: "I'm looking for Batkid." Might as well be honest!
"He's at AT&T park. Lou the seal was kidnapped by The Penguin. Don't worry, he'll save him. Then he'll be at City Hall."
I thanked the man and gave him a dollar. I hopped on the streetcar and went to Civic Center. It was then I noticed people wearing yellow and black. A little girl wore a mask and a tutu. They stood up, offered their seats to seniors. I got off at Civic Center and walked to City Hall. People were holding signs, laughing.I saw several Robins, along with one Wonder Woman. I could see a sign from City Hall: KEEP CALM AND KNOW BATKID IS HERE.
It grew crowded. I wondered if any work was going to get done today. Oh so what? Then a round of cheers went through the crowd. BatKid was here! Not only that, but he captured the Riddler. Lou the Seal was safe! Huzzah! Phones were raised, trying to get a picture of him. He looked like any other superhero: humble, darned cute.
The president of Make a Wish spoke, then Mayor Lee announced he was giving BatKid the keys to the City! But that wasn't all! Today November 15th will now be known as BatKid day! After a while I had to leave; part of it was all the noise, part of it was I was crying. At that moment I loved the place of my birth so utterly much. It wasn't that Miles needed the City, we needed Miles. We needed his eyes, his wish to realize that sometimes, we all want to be heroes, just for one day.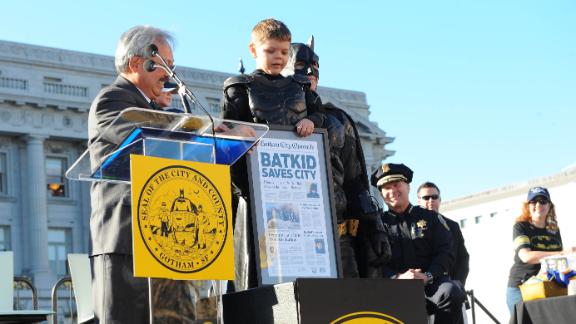 Live your life live your life live your life"
About Jennifer
Jennifer Gibbons lives in Lafayette, California. She is the grand prize winner of the Red Room Housewarming contest and one of the winners of the Summer Reading Experience Contest. She is working on a young adult novel and a book of essays.
Causes Jennifer Gibbons Supports
Gilda's Club, Greenpeace, Rosie's Broadway Kids,Westwind Foster Family Agency, Amber Brown Fund, Linda Duncan Fund for Contra Costa Libraries
Jennifer's Favorite Books
p>To Kill A Mockingbird by Harper Lee A Tree Grows in Brooklyn, Betty Smith