This Is it, this is life, the one you get
I found myself crying this morning when I heard the death of Bonnie Franklin. I was offline most of the day yesterday; so I had no idea she died. I had a feeling it was going to happen; all the news reports last year said it was advanced. Yet it was hard to believe that the woman who played Ann Romano was truly gone.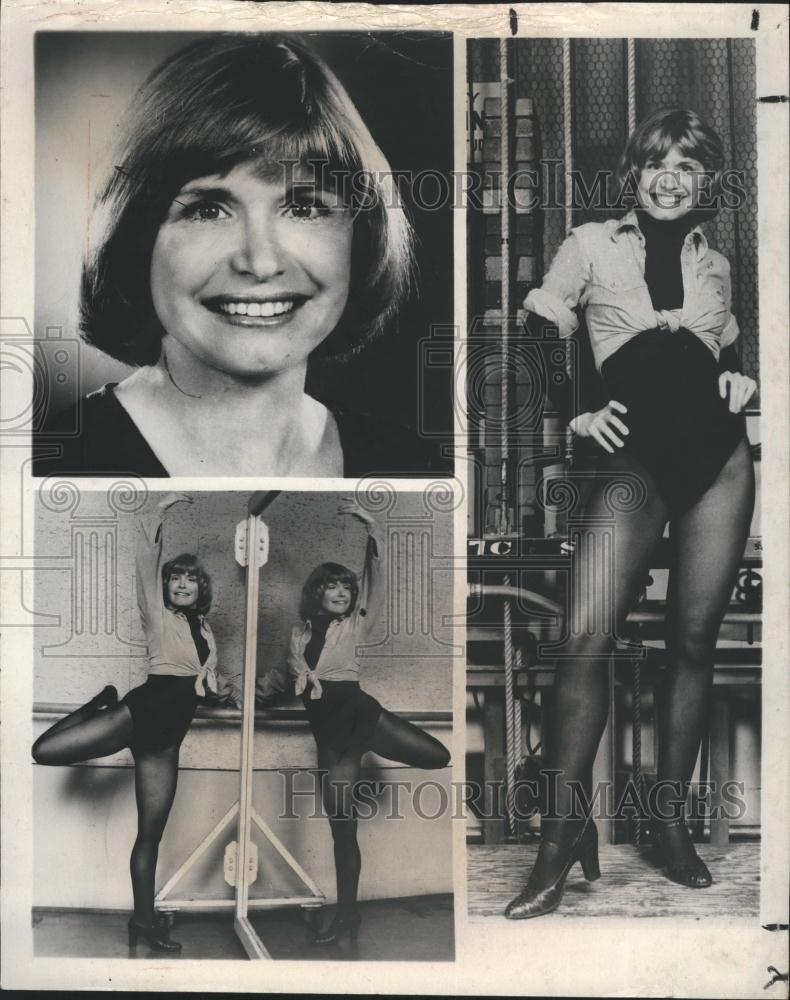 She was one of those children who was born in a trunk; always entertaining, always active. She learned to tap dance at an early age (in fact she even did a tap dancing video. Take that, Cher!) She did a supporting role in Gidget, but then hit her stride when she appeared in the musical Applause. According to the New York Times, she did a ten minute song and dance routine that earned her a Tony. When it was time to cast a new sitcom by Norman Lear, they decided to go for that five foot three redhead.
In 1975, Norman Lear had broken so many boundaries that there weren't many left. Be it Archie Bunker waking up one morning and finding a swastika painted on his door, Maude Findlay deciding she was going to have an abortion, and JJ finding out his girlfriend was a heroin addict, Lear pushed that television envelope. Taking off from an idea by Whitley Blake (Meredith Baxter Birney's mom) and Alan Manning, Lear wanted to show two teenage girls like his girls; bossy and funny. She wanted to show a gentle side of feminism; Maude was in your face, Ann Romano was going to state her opinion and be fiery, but also vulnerable. Behold: One Day at a Time.
They cast Mackenzie Phillips first; the girl fresh from American Graffiti, Phillips said in her memoir she thought her comic timing was too broad. I disagree; her take on Julie was a lost girl; wanting so much to be grown-up, yet at times a child, calling her mother "Mama" made her performance incredibly honest and true. Pat Harrington was Schneider; there are times when something breaks in my apartment and I think man, where's Schneider when you need him? Because he was always there. And Valerie Bertinelli! Vbert! She was the girl next door, the one that had the perfect hair and was so darned cute. Into this mix was Franklin.
Ann Roman was a thirty-four year old divorcee, marrying at seventeen, then getting a divorce. In one episode she told her daughters why they got a divorce: "Daddy and I are happier living apart... when we're together he tries to protect us from the world, nobody can do that. We all have to get out and make it on our own... we both want to protect you, but oh my darlings, I don't want you to grow up like I did. I want you to grow up before you're thirty." This was a new sitcom mom. Until Roseanne debuted in 1988, Ann Romano was the most realistic mom out there in TVLand.
She was the cool mom. She wore bell-bottoms, tried to dance the Hustle with Robby Benson, and tried to have a honest relationship with her daughters, yet have boundaries. Early on the show they had a group of episodes where Julie ran away with her boyfriend. Ann finally found them living in a residential hotel. Julie flat out told her that she wouldn't come back unless she could see her boyfriend anytime she wanted. Ann had to make a decision: get her daughter back anyway possible, or know she had to stand firm. "Don't come back," she told her daughter. Phillips remembered that episode in her memoir because she grew up with no rules, no boundaries; yet for a brief moment she had a mother that set down the law and it felt real good. And yet, Julie came home. The last scene of the episode is Julie and Barbara fighting in their room while Ann sat in her chair, laughing and crying at the same time.
She changed her name back to Romano after her divorce (her married name was Cooper) I for one am eternally grateful for this. After she split from my dad, my mother went back to her maiden name. People would get confused; why did she do that? Why was my last name different than hers? I would reply "It's like Ann Romano from One Day at a Time." They nodded. Ah, that made sense. She was a feminist. A women's libber. It was a perfect explanation.
One Day At A Time was right after Guiding Light, so I watched it from the beginning to the very end. You felt like you knew everyone on the cast; worrying about Mackenzie Phillips' drug problem, hoping that Eddie Van Halen was good enough for our Valerie. We wanted all of them to do well; they were in our living rooms several times a week, we couldn't help it.
When the show ended in 1984, it had some changes: the girls both got married, Julie having a baby. Eventually Ann married again to Sam (Howard Hessman) and helped raise her late finance's son (Glenn Scarpelli) She got a job offer in London that was too good to refuse. Yet there was a shadow over that final episode; Julie wasn't there. Mackenzie Phillips was fired in 1980 for her drug problem, then hired again, but fired again when she wouldn't take a drug test. Julie ran away from her marriage and her baby. When her son in law Max (Michael Lembeck) said "I'm sorry about Julie." She responded "I'm sorry about Julie." Ann knew she wasn't a perfect mother. She did her best, but Julie was still that lost child. Phillips though, has been sober for four years. Unlike Julie, she is no longer the lost child.
Romano never did another sitcom after ODAT, though she did guest spots on other shows. Her last role was Sister Celeste on Young and Restless, helping amnesia victim Victor Newman. However in September 2012 it was revealed she had pancreatic cancer. I wanted her to get better, then come to Genoa City and get a meaty story line: She was the mother of new guy Dylan McAvoy forced to give him up! But fate had other plans.
But when I remember Bonnie Franklin it is of her portrayal as Ann Romano. In the first season opening there's a shot of Ann walking away from her house. Suitcases in hand, she started walking down the path. Then she stopped. Put the suitcases down. Jumped high in the air, fists clenched. Franklin's name appeared on the screen. Then she landed, and on her face was utter pure joy.
Live your life live your life live your life"
About Jennifer
Jennifer Gibbons lives in Lafayette, California. She is the grand prize winner of the Red Room Housewarming contest and one of the winners of the Summer Reading Experience Contest. She is working on a young adult novel and a book of essays.
Causes Jennifer Gibbons Supports
Gilda's Club, Greenpeace, Rosie's Broadway Kids,Westwind Foster Family Agency, Amber Brown Fund, Linda Duncan Fund for Contra Costa Libraries
Jennifer's Favorite Books
p>To Kill A Mockingbird by Harper Lee A Tree Grows in Brooklyn, Betty Smith