I just finished Tammy Wynette Tragic Country Queen by Jimmy McDonough. He does an amazing job telling the sad story of Tammy Wynette, who dealt with four divorces, health problems, electric shock therapy, her last marriage's borderline abusive, and slowly finding herself phased out of the country music scene she helped create.  If this world, as Langston Hughes once said in a poem, is a "Table of Joy," Tammy got the scraps. After I was done with the book, I found old clips of Tammy singing on YouTube. That beautiful sad voice, filled with longing and beauty, fit the mood of the rainy morning.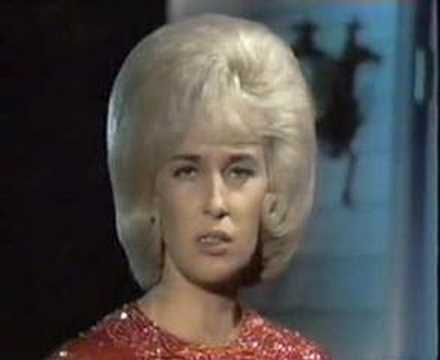 Anyone who knows me knows I have eclectic taste in music. One time I met a man and he asked me what I had on my CD player. (This was fifteen years ago, before iPods.) I told him Vince Guraldi, John Coltrane, Edwin Hawkins Singers, Joni Mitchell, and The Beatles. He looked at me impressed. "Whoa, usually people just have the latest Stone Temple Pilots or Nine Inch Nails." What can I say?  I need music like I need to breathe.  It took me a long time to get iTunes and an iPod because there's nothing like the feeling of ripping open the plastic of a CD, then reading the liner notes. However, I finally caved. And one of the songs I bought was my favorite one-hit wonder, "They Don't Know" by Tracey Ullman.
"They Don't Know" was recorded and released originally in 1978 by Kirsty MacColl. Daughter of Ewan MacColl (who wrote "The First Time I Saw Your Face"), she was making her name for herself in the UK as a singer-songwriter with her first hit "There's A Guy In The Chip Shop Who Swears He's Elvis."  "They Don't Know" came out as a hit as well, and four years later, another singer unknown to the US took it on.  She had an odd name, Tracey Ullman. However, she knew how to sing a song.
The song is almost Phil Spectorish in the beginning with its wall to wall sound, and then she starts to sing "You've been around for such a long time now/oh maybe I could leave you but I don't know how." She then goes on to sing how much she loves this guy. He makes her life by God, and who cares what anyone else says? "They don't know about us, they never heard about love."
I heard the song at Meranda's the spring of 1984. She had MTV, my family just had thirteen channels on our set. When the song came on we started to sing it right away.  The video is one of those rare ones from the 80's that made sense; Tracey getting ready for her guy, and we see him: This slicked haired guy in his car, taking Tracey to the bowling alley,  oh it was love love love!
Flash forward to a couple of years. The Tracey we knew in the pink dress who winked and showed us her engagement ring is gone. Now a drab looking woman is in her place,  pushing a grocery cart with a little girl in it.  Tracey is wearing pink slippers, looking tired, and there's that slick haired guy again. He works at the store, and he slaps playfully Tracey's butt.  However, she still loves the guy, and there's a shot of Tracey in a car with Paul McCartney. To her, her guy is Paul, a guy who can do no wrong. It isn't long that she starts to dance around in the grocery store, singing to her daughter and to the world that they never heard of love.
Although the ending is supposed to be ironic, I love it for the fact that yes, life didn't turn out the way I planned it. Did yours? Yet you have to still dance, still keep going, still believe in love.
I loved that song. I taped it off Rick Dees' top forty countdown and played it until the tape became brittle and broke off.  I'm not sure why I loved it so much, however it made me feel happy, so much better if I was depressed about something. It was like the song was telling me Hey! Yes, life can get you down, but it's all going to turn out, I promise.
"They Don't Know" went to number eight on the charts, and number two in the UK. Because of the strength of the song, Ullman got to meet Princess Diana. Diana wore a simple evening dress, Ullman looked like she was auditioning for a Boy George song. No matter. I'm pretty sure Diana probably listened to the song as well, pregnant with Harry, thinking that she would someday be queen, and maybe then her husband would love her.
Of course life happened; Princess Diana got a divorce, and Ullman never had another hit. However, there was something else in the works for her: Movies, and television. She did The Tracey Ullman Show, where she played a British spinster, a thirteen year old girl with two dads, and broke out singing "The Lion Sleeps Tonight" at a rainy bus station.  It was on that show they had animated vignettes of a yellow colored family. They were the Simpsons.
Now Ullman might've found success in the states for her comic genius. However, there's no doubt that "They Don't Know" helped her get that show. We have "They Don't Know" to thank for The Simpsons. What an achievement!
Sadly, life also happened to Kirsty MacColl. During a vacation with her sons in 2000, they went diving in a restricted area. She looked up to see a boat coming at her son Jamie.  Without thinking she pushed him away in the water and the boat hit her instead.  She was killed straightaway.  My only hope was she knew her son was safe. The man who killed her was convicted of homicide, but he paid a fine and didn't serve jail time. If this makes sense to you, please explain it to me.
And yet, she left behind so many good songs, and so much joy. I got to see Tracy Ullman a couple of years ago and many people had her album or the "They Don't Know" single in vinyl. She laughed, signed everything, and seeing her I realized how in some ways she was still the girl in the video, the girl who loved her guy, the one who showed off her engagement ring, who danced in the supermarket. They don't know about us. They never heard of love. And we want so much to believe she's right.
Live your life live your life live your life"
About Jennifer
Jennifer Gibbons lives in Lafayette, California. She is the grand prize winner of the Red Room Housewarming contest and one of the winners of the Summer Reading Experience Contest. She is working on a young adult novel and a book of essays.
Causes Jennifer Gibbons Supports
Gilda's Club, Greenpeace, Rosie's Broadway Kids,Westwind Foster Family Agency, Amber Brown Fund, Linda Duncan Fund for Contra Costa Libraries
Jennifer's Favorite Books
p>To Kill A Mockingbird by Harper Lee A Tree Grows in Brooklyn, Betty Smith