The Stars Were So Many They Seemed to Overlap
On the first day of NaNoWriMo my true love gave to me a partridge in a pear tree...
Well, they didn't. Wouldn't it be nice if they did? I love pears, and I have no idea what I would do with a partridge in a pear tree, but heck, it's the thought that counts!
I got up, threw on clothes, then I vacuumed around the house, washed a quilt. Looked for a missing in action library book. When I couldn't find it, I took the books I had and went to the library to write.
I truly love my library. It was built three years ago and it still blows me away. It's well lighted, plus I usually get all the new books right away I want. I packed up my bag with the following things: 1. laptop
2. books to return.
3. a copy of No Plot? No Problem!
4. A copy of Schulz by David Michels (one of my characters works at the Warm Puppy Cafe in the early 70's)
Packed up and ready to go, I felt like Harriet the Spy, ready to go on a new mission.
The library was quiet when I walked in. Uusually when I go it's right after school lets out, then it's crazy. Kids bring in Big Gulps, McDonald's (the library is right near one). Plus it's near a high school, two middle schools, and three elementaries. So it's the free baby-sitting place. But I was smart! I was going while the children were still in school, eating candy and talking about what they were going to do over the weekend.
Then I heard a howl. I frowned. What was that? It was a howl. A toddler howl. She howled again. I looked up to see a mother run with the howling child outside. Then I remembered it was Toddler Time.
Oh, Toddler Time. This is when parents and nannies bring toddlers and they listen to stories. It costs nothing, so it's a bit socialist. From where I stood I think the children's librarian was reading a Mo Willems story. I headed towards my favorite section of the library; where there's a window that has reflecting prisms. The blue sky was peaking out through marshmellow like clouds.
I sat down and started writing. My character's family is Irish, but for the life of me, I couldn't remember an Irish meal. I just blanked, then a little voice in my head said "Why aren't you looking up that Irish meal? You'll need to know it!" I kept writing. I heard another toddler howling. I kept writing.
I took a minibreak to stare up at the clouds. They were moving. Sometimes I wonder if I'm meant to write novels; they... take...so...much...time. Essays are easy to write; you have a beginning, middle and end, bing bang boom! You're done! Of course that's easier said than done.
Child keeps sobbing. I take a break and look through the Charles Schulz biography. Study his daughter in her Warm Puppy uniform.
I kept writing.
All in all, the first day of NanoWriMo went well. I wrote fourteen hundred words. Yet afterwards I felt this deep despair. I wasn't sure where it came from. It's a combination of many things; I am electioned out. I am exhausted. I feel like that little girl whose mother was listening to NPR's election coverage and she burst into tears, saying she didn't want to hear anything else about "Bronco Obama and Romney." Oh, kid. We all feel you. Of course the news isn't making it any easier: "There might be a tie with the electoral college." "There might be election fraud in Ohio." "We're not sure if people in South Dakota can vote due to the fact that they're all stuck in the Lawrence Welk museum listening to the Maguire Sisters sing 'Georgy Girl.'" Okay, I am making the last one up. But I'm hoping people are getting where I'm coming from.
And Hurricane Sandy. I'm a recovering control freak, so there's a part of me that wants to stand in the middle of New York, put my hand out and say to the water/rain whathaveyou: "Look, we've got enough on our plate. We're broke; we lost in one year Nora Ephron, Gore Vidal, Donna Summer, and Robin Gibb. We've had to deal with election madness. We had to deal with senate candidates who think that rape is just a minor problem women might have to go through. You really think we want to deal with a stupid hurricane? No. Sandy, go back to Danny at the drive in and have a good day."
My sadness was also connected to a little research I did for the novel. As I mentioned before, the novel takes place in 2005. Hurricane Katrina plays a part. Although it doesn't affect any of my characters, it does bring echoes of the past for them. Of course with Sandy being so present, comparisons to Katrina are inevitable. And I will get a little political here with a message to Michael Browne, who thought Obama acted "too early" in preparing: Brownie, you have absolutely no right critiquing anyone when it comes to preparing for a catastrophic event. Just trust me on this, man.
So I felt tired and so crabby. That night I looked at my Netflix list to see if there was anything good streaming wise to watch. I wanted something a little cheesy, but wouldn't insult my intelligence. I decided on Cosmos.
Back in the day Johnny Carlson used to do the best imitation of Sagan with him saying "billions and billions of stars." Sagan was a frequent guest on The Tonight Show. This delights me; Carl Sagan sharing a couch with Ed McMahon. Nowadays we'd never see Michael Eric Dyson sitting next to Honey Boo Boo on the Tonight Show couch. Anyway, Sagan looks very seventies in an orange turtleneck and tan pants, as he explained what the show would be about. He then held up something I see every summer that I used to think was fairies (I was way little) "We'll see how everything matters, even this dandelion fluff." He let the dandelion fluff fly away.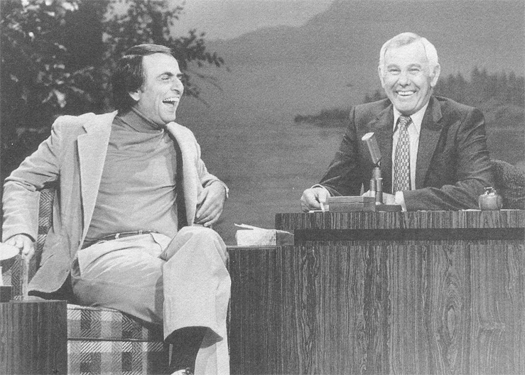 Now keep in mind I was an English major. I would've loved to take astronomy but it had this nitpicky algebra prerequisite that I couldn't navigate. So while watching the show I thought Carl babe, you do the talking. I'm just going to listen. We then saw him standing in a Star Trek wannabe set looking at the stars. All that was missing was Mr. Sulu sharing memes or Scotty saying "I can't let it go much higher Captain!"
Yet the stars, the planets were so so gorgeous. Time dropped away. On the screen Sagan talked about light years and Saturn's rings. I know it sounds like a cliché, but my problems felt very small. Everything felt small. It reminded me of a lyric of 10,000 Maniacs' "The Painted Desert" the stars were so many there/they seemed to overlap.
Afterwards I felt comforted; terrible things happen; no controlling that. But the thing we can remember is how we react when they happen. Which is never ever easy. But we go on, as billions of stars keep going, as the dandelion fluff flies away.
Live your life live your life live your life"
About Jennifer
Jennifer Gibbons lives in Lafayette, California. She is the grand prize winner of the Red Room Housewarming contest and one of the winners of the Summer Reading Experience Contest. She is working on a young adult novel and a book of essays.
Causes Jennifer Gibbons Supports
Gilda's Club, Greenpeace, Rosie's Broadway Kids,Westwind Foster Family Agency, Amber Brown Fund, Linda Duncan Fund for Contra Costa Libraries
Jennifer's Favorite Books
p>To Kill A Mockingbird by Harper Lee A Tree Grows in Brooklyn, Betty Smith