The Light Might Be Dimming
                This morning I was writing when I noticed I received an e-mail. Taking a look at it, I noticed it was a forward e-mail. At first I thought oh geez, don't be an e-mail where I have to forward it to ten friends and I'll get lucky. No, it was Entertainment Weekly confirming a story that's been in the air for days: Guiding Light, the oldest soap opera on the air, possibly even the oldest show on television, might be going off the air.
                My first reaction was well, no surprise. I've written about Guiding Light so many times.  It's been part of my life. Woodward and Bernstein had Watergate, Seymour Hersh writes about torture, Dave Barry had exploding toilets, and me? I write about Guiding Light.  Yet when I read the news I felt this sharpness, a total sadness. Yet I wasn't surprised.
                Lynn Liccardo wrote her take on the show going, and now here is mine:
The show went downhill for me in 1997, when Michael Zaslow was fired as Roger Thorpe when it was revealed he had Lou Gehrig's disease . Mary Alice Dwyer Dobbin said that GL's fans didn't want Roger portrayed as a "wizened old man" Oh, Mary Alice. You didn't know us very well. Zaslow was a master of his craft. We would've watched that man blink.
                The show was cursed after that. Head writers would come and go executive producers as well. Characters that people knew and loved weren't the same anymore. Beth Raines, a spunky woman who went through crisis after crisis yet still kept her spunk, became a neurotic, needy woman. Alexandra Spaulding, who always carried a regal presence to the show became—of all things—a stalker-turned-crime boss.  
                Sometimes there were glimmers of hope. When Ellen Wheeler took over the executive producer role in 2004, this interested me. Wheeler not only got her start on soaps, she won several Emmys for her roles in Another World and All My Children.  Maybe she could save the show!  Sure enough, she got a new head writer and wrote Roger's death into the storyline. (Zaslow died years before.) Suddenly the show started to look better, characters made sense.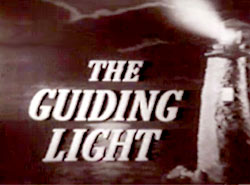 Then it was announced that Grant Aleksander was fired. Grant Aleksander, who portrayed Phillip Spaulding off and on for twenty years, one of the best actors on the show, was fired.  What made it worse? They "killed" him off camera.  Of course everyone was upset. Aleksander was a champ about it, telling a story about his first year on the show. His on-screen biological father, Tom O'Rourke, was let go. Aleksander protested, saying he would talk to the executive producer, someone at Proctor and Gamble to save O'Rourke's job. O'Rourke refused. "If you stay in this business kid," O'Rourke advised him, "you better realize that someday this can happen to you, and it's up to you how to handle it."
                Five years later, Wheeler changed course. She invited several bloggers to the set of Guiding Light, one of them Patrick Erwin. They listened to what the bloggers said. We wanted good stories. Good acting. We wanted characters we could like. Stop overwhelming us with new families. Give us the Bauers, the main family of the show.  Don't be like the primetime shows. Let Guiding Light be Guiding Light again.
                And they listened. They brought back Grant Aleksander. (It was revealed that Philip was shot by blanks, had a nervous breakdown, and then ran away.) They also realized they had a love story blossoming with Olivia Spencer Lewis Spaulding Spaulding Lewis, a tough-as-nails hotel owner and Natalia, a Roman Catholic shocked that she was falling in love with a woman. They trimmed away unnecessary characters. Women started to get their backbone back and stopped being victims. Then they had twenty-fifth anniversary for the "four musketeers": Beth, Phillip, Rick (Michael O'Leary,) and Mindy (Krista Terseau in her original role). Fans started to talk about the show again with genuine admiration. Me? I haven't had time to watch, but the clips I've seen on YouTube have been excellent.  
                However, it might be too little, too late.  Now CBS is looking for replacement programming for the show. If it's gone, I'll be sad. Still, I'm glad the show is going out on an upswing rather than one of its downswings. It's not just Guiding Light that's fading.  Deidre Hall left Days of Our Lives after years of playing Marlena Evans.  Rumors are circulating that Ericka Slezak might be leaving One Life to Live after thirty odd years.
                Are soaps dying? I hope not.  It might be, as Tom O'Rourke told Grant Aleksander, how we handle it. People are already circulating petitions to save Guiding Light.  There are also "websoaps" now: former soap actors now act in shows they write and produce. On blog radio, there are new shows as well, going back to the original roots of soap operas.
                If Guiding Light is canceled, no doubt I'll mourn. In fact, I'll even celebrate. How many shows stayed as long as it did?  How many television shows can be passed down from generation to generation? It lasted through fourteen presidents, real-life drama that was at times frightening. Yet it lasted, so far for seventy-two years. And if that isn't a legacy, I don't know what is.
There is a destiny
None goes this way alone
All that we send in to the lives of others
Comes back into our own.
A speech read before each episode of Guiding Light during its radio days.
Live your life live your life live your life"
About Jennifer
Jennifer Gibbons lives in Lafayette, California. She is the grand prize winner of the Red Room Housewarming contest and one of the winners of the Summer Reading Experience Contest. She is working on a young adult novel and a book of essays.
Causes Jennifer Gibbons Supports
Gilda's Club, Greenpeace, Rosie's Broadway Kids,Westwind Foster Family Agency, Amber Brown Fund, Linda Duncan Fund for Contra Costa Libraries
Jennifer's Favorite Books
p>To Kill A Mockingbird by Harper Lee A Tree Grows in Brooklyn, Betty Smith