The House The Garbers Live In
When one thinks of Judy Blume, several things pop into mind: teenage girls. Periods. Training bras. Angst. Oh yes, angst. People always assume that Are You There God? It's Me Margaret was her first novel. It wasn't. Nope, earlier in 1970 Blume published her first novel called Iggie's House. Although not as known as Margaret, Iggie's House made its presence known: There was a new author in town, and she was making her pressence known.
Iggie's House starts with something that sucks no matter what age you are: a best friend moving away. Of course it is Iggie, and her best friend Winnie is saddened by Iggie's departure. What makes it worse is that it's summertime. A summer without a best friend? Oh yeah. That just bites.
However, new people are moving into Iggie's house! Who could it be? Why it's the Garbers! They have kids! This is a good thing! I remember once when I was moving into an apartment I soon had several children at my door. "Do you have kids?" they asked me. I told them no. They walked away sad (although they would come back for Halloween candy and books)
But there's a catch: The Garbers are African American. They're moving to an white neighborhood. Oh boy. And Winnie's neighbors soon make it clear that they don't want the Garbers there; they organize meetings where they discuss moving. One neighbor forbids her daughter to play with the Garber children. And in an ugly scene, the Garbers find a sign in their yard that says: GO BACK WHERE YOU BELONG! WE DON'T WANT YOUR KIND AROUND HERE!
Iggie's House has the start of what Blume would become known for: New Jersey suburban neighborhoods. Parents who are not perfect yet try to do their best by their children. Main characters who are curious about life and realize that there are two sets of rules: One set of rules that people say to you, yet there's another set of rules that is non verbal. For instance, Winnie's parents say they have no problem with the Garbers living on their block. Yet (except for Winnie) make no friendly overtures to the new family, while the subtext is that if this was a white family, Winnie's mother would come by with food and an invitation to the PTA. Is it right? No. Life sadly is not fair or right. And the characters have to find that inbetween in order to become a better person.
Iggie's House was (according to Judy Blume's website) written in a workshop she took in New York. She'd take the train to New York and every week workshop a chapter. One has to admire the fact she chose such a big topic. Writing about intergration in the 1960's was playing with fire. But Blume soon realized you need to play with fire when it came to writing, that you needed to take risks.
Iggie's House probably will never be as known as its little sister Margaret. Yet it was the start of a new wave in children's YA literature that continues on to this day. The original paperback cover says it all: Winnie is on her bike looking at the Garbers. The Garbers look back at her. As Bob Dylan once said, the times, they were a changin.'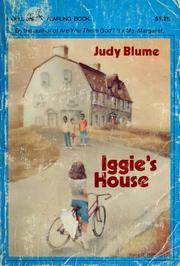 Live your life live your life live your life"
About Jennifer
Jennifer Gibbons lives in Lafayette, California. She is the grand prize winner of the Red Room Housewarming contest and one of the winners of the Summer Reading Experience Contest. She is working on a young adult novel and a book of essays.
Causes Jennifer Gibbons Supports
Gilda's Club, Greenpeace, Rosie's Broadway Kids,Westwind Foster Family Agency, Amber Brown Fund, Linda Duncan Fund for Contra Costa Libraries
Jennifer's Favorite Books
p>To Kill A Mockingbird by Harper Lee A Tree Grows in Brooklyn, Betty Smith