My hometown Pleasant Hill doesn't have a main street, doesn't have a Luke's Diner where everyone goes to eat (google Gilmore Girls for this reference) it doesn't even have the Central library in Contra Costa anymore, but one thing hasn't changed: We had the Dome.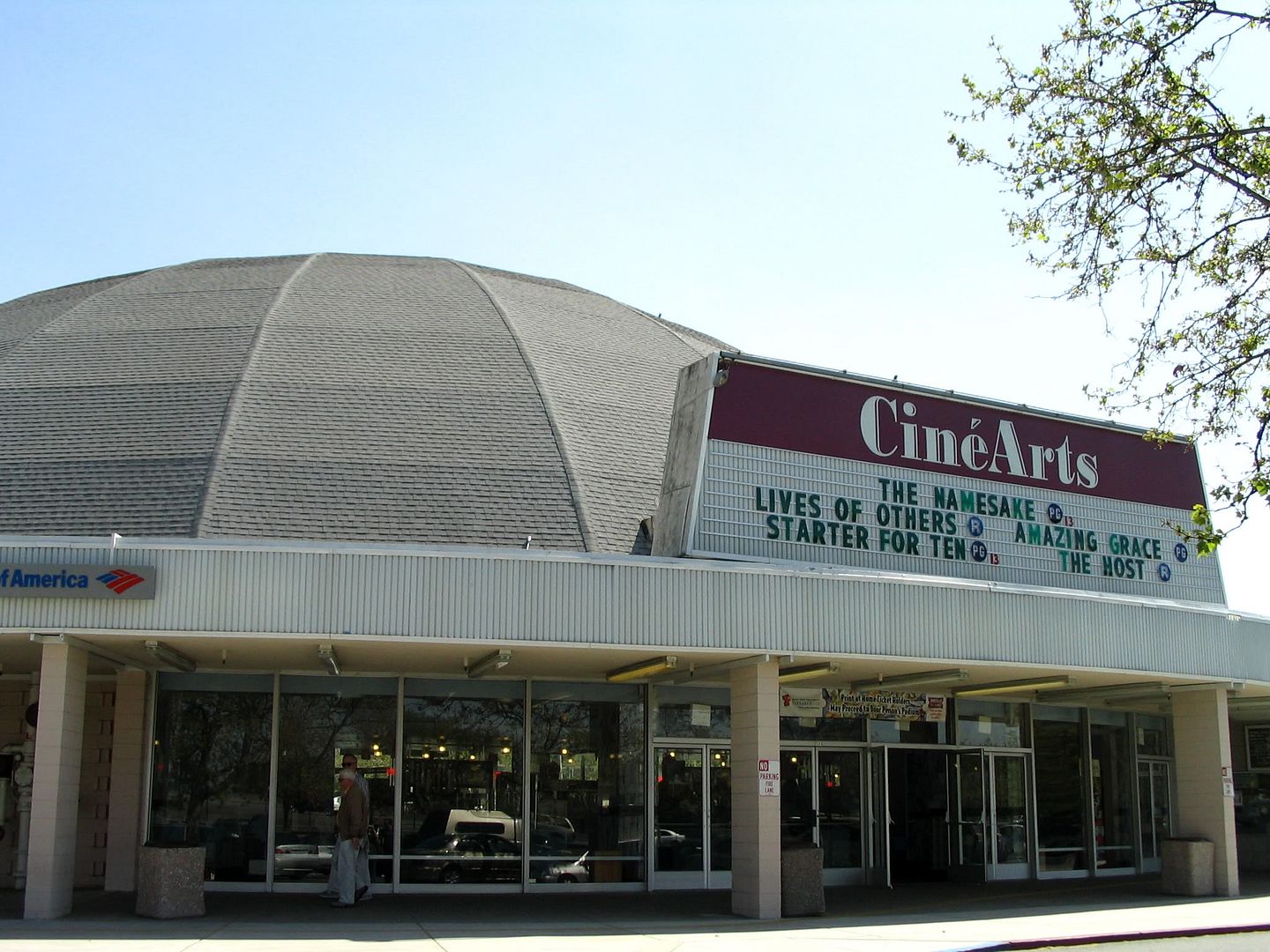 If you never lived in Pleasant Hill or around it, you woudn't understand the Dome. Ah, daring readers, you would be missing out. Known officialy as Cinearts Movie Theater, it is one of the few art house movie theaters in Contra Costa County. When I was a kid, it was a regular movie theater called Century 5 (I call it now the Old Century because there another Century theater opened blocks away) But it was one of those laces that I grew up with that I still adore.
First I should tell you about the Dome. The theater was built in 1966, when the movie industry was exerimenting with sounds/visuals. They built several theaters that was shaped like a dome; a big theater then several small screening rooms nearby. The Dome was the place to see the blockbusters, the movies that you knew was going to look great on a big screen. I saw all the Star Wars movies there. I saw ET, Breakfast Club, Pretty in Pink, Back to the Future, Heathers, Rainman, countless movies, countless time was spent in those rooms that smelled like popcorn and gum.
The Dome was near Meranda's house, so we always tried to see a movie there. We saw The Doors opening day, then for days reinacted the infamous Thankgiving scene where Meg Ryan throws food at Val Kilmer and yells "You ruined Christmas, Jim Morrison!" He responds by grabbing her roasted duck and says "The duck is dead!" Then he stomps on it. Most unintentional comic moment ever!
On 9/11, I felt so powerless. I looked in the paper and saw that Rat Race was playing at the Dome. I got money from the ATM, went to the theater. I laughed for two hours, managing to forget the carnage on my television for a little while.
It was near our middle school and the freeways. Everyone went there; to see movies, hang out at the Starcade (video games) eat Thrifty's ice cream on hot days. It was the place of first dates, first kisses. For many teenagers, first job.
Fifteen years ago the building was sold. Things changed; a Kohl's opened where Montgomery Ward's used to be. The Sailor Inn pub became a biker bar. The Saw Mill where you could get a whiff of unpolished wood went out of business. Yet the Dome was still there. Under a different name-and now showing art house movies with an occasional blockbuster-but it was still there. You could still see if when you made the turn on Contra Costa Blvd, with its sloped ceiling.
And now it might be gone. Aparently the people who own the building want to put a sporting goods store where the Century is. I'm sorry, but no. First off, the place is called Dick's Sporting Goods. Owners, that is a disaster waiting to happen. You're three blocks away from a middle school. You don't want a business called Dick's. Trust me. You would spend any profit you'd get in buying paint to cover up the eventual graffiti. And I'm sorry, but the town already has several sports stores. We don't need another one.
Yes, it has sentimential value to me. But I thought all the political parties were wanting to save Main Street. The Dome is the closest thing Pleasant Hill has to a Main Street. It is a place to celebrate birthdays, getting your braces taken off, or to escape the world. The Dome is America, in all her flawed glory.
I'm including the petition's link here. Sign it. Sign it for me, for Pleasant Hill, for first kisses and dating and laughing and crying. Sign it for Main Street. Sign it to show that sometimes, there's no business like show business.
Live your life live your life live your life"
About Jennifer
Jennifer Gibbons lives in Lafayette, California. She is the grand prize winner of the Red Room Housewarming contest and one of the winners of the Summer Reading Experience Contest. She is working on a young adult novel and a book of essays.
Causes Jennifer Gibbons Supports
Gilda's Club, Greenpeace, Rosie's Broadway Kids,Westwind Foster Family Agency, Amber Brown Fund, Linda Duncan Fund for Contra Costa Libraries
Jennifer's Favorite Books
p>To Kill A Mockingbird by Harper Lee A Tree Grows in Brooklyn, Betty Smith