Rankings, Refunds, and the Solid Gold Dancers
Whenever I heard authors complaining about their Amazon rankings, I thought wow, I want problems like those. Yeah, mean. But I didn't get it. How can you rank your self esteem on the whim of sales? I took my words back big time this week when I uploaded my ebook to Amazon.

I was enjoying steady sales on Smashwords, with people telling me how much they enjoyed the stories. I felt good. Then the next step was uploading it myself on Amazon. At first I thought Smashwords was going to do it, but because I haven't sold 1,000 copies yet, they won't upload it on Amazon. So I did it on my own and was surprised that in a hour, I was listed on Amazon. I mentioned it on facebook, then went about my day.
I had errands in the City that lasted most of the day, and was away from the internet. When I was at BART and had wifi access, I checked my ranking on Amazon. They have top 100 lists for kindle sales. And I was #51 on kindle juvenile short stories.
At first I thought whoa, no way. No freaking way. Uh uh. #51? I just uploaded the puppy yesterday! How can that be? I checked again. #51. Oh.my.God.
I emailed people right away and mentioned it on facebook. Everyone congratulated me, and I went to bed a happy clam. Hello, I'm a fifty one girl! Fifty-one is the one!
In the morning I checked again to do a screen capture. It then said I was #77. Wait a minute! How did that happen? Not that #77 is bad, but how did it go down so much?
Saturday was another day for errands and chores, so I checked on Amazon around 8. And this time it was #28. Holy Moly mother of pearl!!! #28! #28 is great!!! I tried doing the Snoopy dance in my living room but I don't have Snoopy's paws.
On Sunday I had no errands, no chores to do. So I did the thing I swore I wouldn't do. I started to check my ranking every hour. And it started going down. Down down down. It sank out of the top 100. And I felt awful. I became so blue I couldn't stand it. Why? I still accomplished something great; I wrote a book! A mini book, but still it was something, something will last when I'm gone fifty years from now. Why did this matter so much?
Then on Tuesday it got worse. On my sales report it said someone asked for a refund. A refund. Someone wanted a damned refund. Why? Did my writing suck that much? Was it wrong to promote myself on twitter while making fun of The Bachelor? I said something on facebook. Huntington wrote that I should point at the person and laugh. Lana Nieves posted a incredibly funny video of Better Off Dead when a paperboy terrorizes John Cusack for two dollars. A high school friend said that now they can go get that happy meal with the two dollars refunded. It all made me laugh, made me realize how silly I was. But I also wondered did I do anything wrong?
Then I remembered of all things, the Solid Gold Dancers.
Every Saturday I watched Solid Gold to see what the top ten songs were going to be that week. The Solid Gold dancers would do interpretive dances to Steely Dan's "Hey Nineteen" Or they used props, like multiple disco balls to interpret "Watching the Wheels" by John Lennon. Did I mention how leggy the women were? And the men always wore tight pants?
But what I remember is how the announcer would say "Climbing up the charts!" "This song debuted at number one!" But then the moment of glory would eventually go away. The announcer would say "This song was formerly number one..." "Taking a dip on the charts..." The dancers weren't as up as they were when the song was higher in the charts.
When I was a kid I used to feel so sad for the songs that went down on the charts. Never mind that no songs could stay in the top ten forever, but I was sad that the songs weren't considered "cool" enough to be in the top ten. It just seemed sad to be that one week you were in the top ten, the next week you were toast. There was no rhyme or reason to it, it just was.
I asked my mother about it and I said "Do you think it hurts the singer's feelings when it drops off the top ten?"
"Oh no. They've probably moved on to the next song." Now this was probably true. It was the eighties, they needed to produce hit after hit. Although one has to wonder if Men At Work watched Solid Gold repeatedly thinking "What the bloody hell? 'Down Under' was number one last week and now it's number five? How did that happen?" But odds are my mother was right. You need to move on. It doesn't mean you don't stop promoting your work, but you need to move on, focus on your next project, your next dream. Of course this is easier said than done. But in order to go on, you have to.
So I'm trying not to check my Amazon rankings. I'm trying to stay focused on what to do next. Although if you're asking, I'm #96. No refunds yet. It's a good day.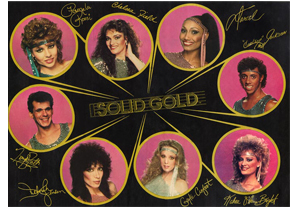 Live your life live your life live your life"
About Jennifer
Jennifer Gibbons lives in Lafayette, California. She is the grand prize winner of the Red Room Housewarming contest and one of the winners of the Summer Reading Experience Contest. She is working on a young adult novel and a book of essays.
Causes Jennifer Gibbons Supports
Gilda's Club, Greenpeace, Rosie's Broadway Kids,Westwind Foster Family Agency, Amber Brown Fund, Linda Duncan Fund for Contra Costa Libraries
Jennifer's Favorite Books
p>To Kill A Mockingbird by Harper Lee A Tree Grows in Brooklyn, Betty Smith