Put Me In Coach! I'm Ready to Watch!
The Bay Area has been swept into a sea of orange. The Giants won the first game of the World Series last night. Everyone is excited. Even me, and I'm terrible at the game (I avoided playing softball in school like one would avoid the black plague) I do love watching movies about baseball, because there's always new ways to tell an old story. So coach, if you need a movie expert, let me batter up; I just hope I'm getting the lingo right.
Take Me Out To The Ball Game: Frank Sinatra and Gene Kelly in one of their first movies are paired up with Esther Williams and Betty Garrett. To be honest, there's not much plot. But when you have these stars in all their Technicolor glory, does one really need a plot?
Bang The Drum Slowly: One of the first sports "bromance" movies with Robert Di Niro as a dying baseball player and Michael Morraity as his teammate/best friend. Not only is the great Selma Diamond in the movie, there's a scene where Di Niro sings a little and dances a little. Who knew?
Max Dugan Returns: This isn't a "baseball" movie per se; rather it's about a single mother (Marsha Mason) whose long lost father returns (Jason Robards) with lots of money. What I do love is a subplot with Mason's son Matthew Broderick who is terrible in baseball but thanks to Robards slowly gets better. Plus Matthew Broderick is so darned cute in this movie.
The Natural: Roy Hobbs (Robert Redford) makes a comeback in this movie after being sidelined for years after being shot. It's proof that there can be a second act in life, but I love the scene when his long lost love (Glenn Close) stands up in the bleachers, wearing white and the sun is reflected in her hair.
Bull Durham: Ah, who can forget Kevin Costner's monologue: "I believe Lee Harvey Oswald acted alone… I believe you should open Christmas presents on Christmas morning… I believe in long wet kisses that last for three days." Susan Sarandon is equally good as the English teacher who has a thing for baseball, plus Tim Robbins as the clueless rookie is excellent as well.
Eight Men Out: John Sayles' look into when the Chicago White Sox threw the World Series. My father was so surprised and happy when I told him I wanted to see this movie. I believe he thought "My daughter loves baseball after all!" I just wanted to see John Cusack and David Strathairn. But when the little boy stops Shoeless Joe and says "Say it's not so, Joe!" I teared up.
Field of Dreams: If you build it, they will come. Ah, the whisper. The cornfields. Kevin Costner has another baseball movie, plus he gets to meet Shoeless Joe and James Earl Jones (as a Salinger like author) My favorite scene is when after Costner's daughter Karin (Gaby Hoffman) suffers a fall, Moonlight Graham (Kevin Whatley) stands on the field (earlier we found out Graham never had a chance to batter up when he played baseball) If he steps off the field, he will become Doc Graham (Burt Lancaster) and save her life. If he stays on the field, he can keep living the dream. He took a step, and became Doc Graham again, saving Karin's life. If you're not in tears when she's saved, you will be when the players tip their hats to him in respect.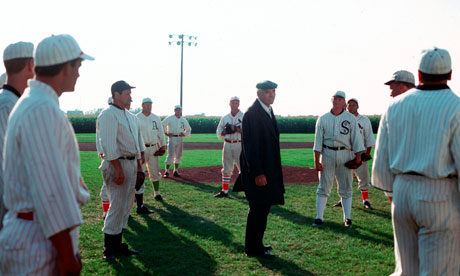 The Sandlot: There's a new kid in town, and he's having a hard time making friends. There's this place where all these kids play baseball, and they need a new player. Hey, how about that new kid? Truly loved this movie, plus I loved Denis Leary's low key performance in this; it's nice to see a stepparent who's not evil or a molester.
These are my favorite baseball movies; what are yours?
Live your life live your life live your life"
About Jennifer
Jennifer Gibbons lives in Lafayette, California. She is the grand prize winner of the Red Room Housewarming contest and one of the winners of the Summer Reading Experience Contest. She is working on a young adult novel and a book of essays.
Causes Jennifer Gibbons Supports
Gilda's Club, Greenpeace, Rosie's Broadway Kids,Westwind Foster Family Agency, Amber Brown Fund, Linda Duncan Fund for Contra Costa Libraries
Jennifer's Favorite Books
p>To Kill A Mockingbird by Harper Lee A Tree Grows in Brooklyn, Betty Smith