Oh Danny Boy, the peeps the peeps meep meep meep
Happy St. Patrick's Day!! Regular readers of my blog will know that this is one of my all time favorite holidays of the year. It's right up there with Easter and Oscar Day. You're probably thinking "But Jennifer, Oscar Day is not a holiday!" In my world it is. In fact when Meranda and I were watching the Oscars I said "I look forward to this more than Christmas." My niece looked at me and said "More than Christmas?"
"You'll understand someday," Meranda promised her.
However, I disgress. There's nothing more Irish than the song "Danny Boy." Many reditions of the song have brought men to tears. Yet I want to pay tribute to two versions this Sunday. One has been shared here many times. One is, well, unique. Let's go with the unique one first.
I've shared here about my Muppet love. In fact, I'm so excited they are filming the new movie in London (where The Muppet Show was taped and The Great Muppet Caper was filmed) that I wish I could go there to see Kermit on the Tube, Dr. Teeth and the Electric Mayhem busk on Leceister Square, and Miss Piggy at Harrod's, darling. Yet one show they paid tribute to the Emerald Isle, Ireland. And they did it with a trio of underated singers. It is not known if men cry at this version.
The trio is comprised of The Swedish Chef...
Animal...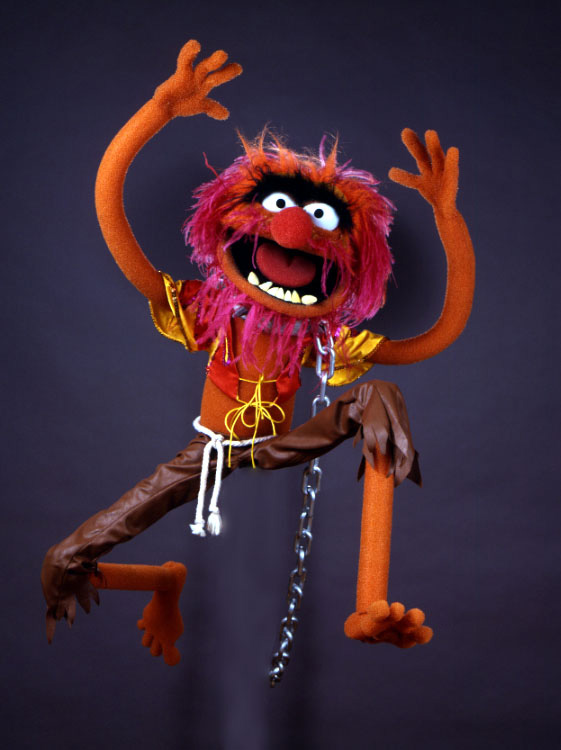 And of course, our Beaker.
The gentlemen are wearing fisherman's sweaters and I must say, they look quite natty. The Swedish Chef starts first, only "pipes" sounds like "peeps" and well, you can't make anything else out. You can't blame him! After all, have you ever heard "Danny Boy" in Swedish? I think not!
Then we Animal, who really doesn't know the lyrics. Mostly he mutters "Oh boy, oh boy, oh Danny boy." He is very low key in his approach, which is suprising for our Animal. Often he has to be chained down because he gets way too excited.
And then to take us home, we have our Beaker. Oh Beaky. Not only is he Bunson Honeydew's faithful assistiant, he has been known to meep out "Feelings." So it's quite fitting Beaker starts to meep out the song. We can't understand a word he's saying, but that's okay. The gentlemen then all cry. See? Once again, "Danny Boy" makes men cry!
I am surprised that this version is not played at Irish bars across the country and in Ireland. Okay, they forgot the words! However, don't they look cute in their green hats and fisherman's sweaters? Lyrics, smearics!
I do understand if you prefer your "Danny Boy" with the right lyrics, not sung in Swedish, or meeped. May I present to you Miss Helen Gallagher, aka Maeve Ryan. Every year on the soap opera Ryan's Hope, she sang "Danny Boy" at Ryan's Bar on St. Patrick's Day. This year is no exception, starting at 4:44.
Happy St. Pat's day. Go wear green and kiss a fool.
Live your life live your life live your life"
About Jennifer
Jennifer Gibbons lives in Lafayette, California. She is the grand prize winner of the Red Room Housewarming contest and one of the winners of the Summer Reading Experience Contest. She is working on a young adult novel and a book of essays.
Causes Jennifer Gibbons Supports
Gilda's Club, Greenpeace, Rosie's Broadway Kids,Westwind Foster Family Agency, Amber Brown Fund, Linda Duncan Fund for Contra Costa Libraries
Jennifer's Favorite Books
p>To Kill A Mockingbird by Harper Lee A Tree Grows in Brooklyn, Betty Smith