Nora Ephron once said you know you're getting old when you don't know who's on the cover of People. I would add to it and say this: When you do know who's on the cover of People, it's bad news. This was the case when I saw the latest cover of People with Valerie Harper on the cover. It was revealed she has terminal brain cancer. I just looked at the cover and thought oh God. Not Rhoda.
She started off as the Best Friend, the Ugly Duckling. The one that had all the great lines. The one that despite the fact Mary got the better apartment, became best friends with her. She put herself down because of her weight, but as the show went on she lost weight (Harper would credit her involvement with est for her weight loss) One of my favorite episodes is when Rhoda competes in a beauty contest. Mary helps her get ready, along with Phyllis (Chloris Leachman, who used the opportunity to sing "Ten Cents a Dance.") Rhoda came back later, revealing she won. She showed Mary her sash, then she said "After thirty-one years, I won." It wasn't just a beauty contest Rhoda won. She was finally winning at life.
It made perfect sense that Harper would be spun off in her own show; Minneapolis was just getting too big for her. Rhoda moved back to New York, then met a guy named Joe. In true TV Land fashion, they fell in love and got married. "Rhoda's Wedding" was one of the appointment episodes; it was before VCR/DVR so you had to make sure you weren't working or doing anything to see Rhoda walk down the aisle. In true Rhoda fashion, it didn't go to plan: Phyllis forgot to pick her up from Rhoda sister's apartment so Rhoda had to run/take the subway to her parents' house. What impresses me about the epsiode is how gracefully Harper runs in her wedding dress (Harper was a dancer for many years) and how Leachman is so hysterical as Phyllis; trying to make amends to everyone, even Grandma Morganstern "Grandma, please forgive me." When Grandma doesn't respond, Phyllis then yells "I'M SORRY, GRANDMA!" Of course Rhoda made it and she was finally married, by of all people the actor who was Johnny Ryan for so many years (Bernard Barrow) I remember when I watched it on Nick at Nite and I thought "Johnny! I didn't know you were a minister!"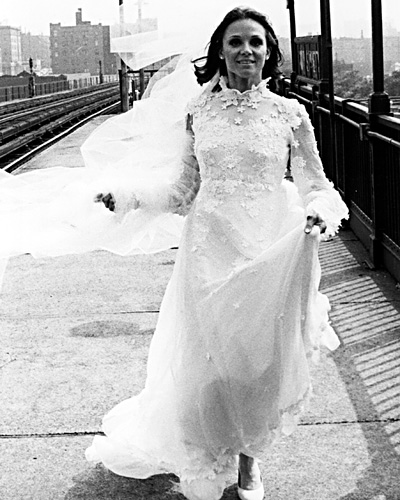 However, Rhoda and Joe were too happy. And happy is not good on television; where's the conflict? So they broke them up, then Rhoda was starting over again. She still wore the best scarves on television, and at the end of the credits you would see her trying to throw up her hat in the air, just like Mary. Only it fell back down on the ground. She put it back on her head, and you could almost hear Emily Litilla saying in the background "Never mind."
Rhoda eventually left the air in 1978. Unlike MTM show,s he never got a good-bye episode. That's why I was so excited when it was revealed there was going to be a Mary and Rhoda reunion. Mare! Rho! The girls were coming back to television, Mr. Grant!
The movie was good, not great-a bit like a high school reunion. You see them and they've turned out fine, but you want more. A full reunion wouldn't be possible (by then Ted Knight and Nancy Walker had died) but it was better than nothing. And how fitting was it that Rhoda's daughter was named Meredith (Mare) and Mary's daughter was Rose (Rhoda) Bosom buddies, friends to the end.
Harper embraced being Rhoda; it made her a star, why not? She even titled her memoir I, Rhoda which came out earlier this year. Two weeks after the book's publication, Harper received devestating news: a brain tumor. Six months to live.
So Harper shared her story with People Magazine. It's telling that many wouldn't believe it was true until they saw the cover. It felt unfair. It felt like another great actress was leaving us too soon after Bonnie Franklin's death last week.
Yet Valerie Harper is teaching us that terrible things do happen, and to remember the old saying "The only way out is through." The fact that Twitter was ablaze with tweets wishing her well proves something else: Valerie Haper was still beloved. At seventy-three, she has won.
Live your life live your life live your life"
About Jennifer
Jennifer Gibbons lives in Lafayette, California. She is the grand prize winner of the Red Room Housewarming contest and one of the winners of the Summer Reading Experience Contest. She is working on a young adult novel and a book of essays.
Causes Jennifer Gibbons Supports
Gilda's Club, Greenpeace, Rosie's Broadway Kids,Westwind Foster Family Agency, Amber Brown Fund, Linda Duncan Fund for Contra Costa Libraries
Jennifer's Favorite Books
p>To Kill A Mockingbird by Harper Lee A Tree Grows in Brooklyn, Betty Smith