On a warm February day in 1988, my English teacher Mr. Atkinson passed out the latest book we were going to read that quarter. It was titled To Kill a Mockingbird, and it had a plain black cover with red lettering. I remember looking at it with interest. I always loved it when we had something new to read; we had read The Outsiders and The Boy Who Could Make Himself Disappear.  
We spent that winter and spring talking about the book, forty-five minutes a day. The first chapter we read aloud, then we talked about Scout, Atticus, and Jem.  When I read something that I love, something that touches me, there are times I have to put the book down because the feelings are so overwhelming. I might cry, meditate on the characters, and then pick the book up again. I did this a lot with Mockingbird.
I adored Scout, that beautiful child in overalls who knew more about life than so-called adults. I remember seeing the movie after I read the book and I took one look at Mary Badham and thought "Oh! It's Scout!"  Years later when I was writing an essay about Beverly Cleary, I was struck by how much Ramona and Scout looked alike. Then I thought why should I be surprised? Scout and Ramona both had a temper that got the best of them, yet they always fought for justice, and what they thought was right.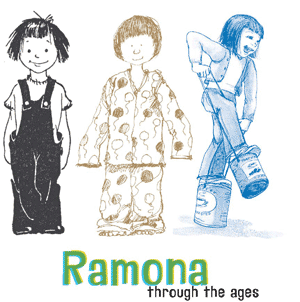 Years went by, and I always try to reread the book, or watch the movie, every year. There are two scenes I cannot watch without crying. When Scout, Jem, and Dill go to see Atticus (who is keeping Tom Robinson safe at the jail), a group of men come to get revenge on Tom. Scout scans the crowd and sees Mr. Cunningham, the father of one of her classmates, Walter. "Hey Mr. Cunningham," she says to him.
He looks away from her. "I said hey Mr. Cunningham," she says again, then tells him how she goes to school with his son, and he was a good boy, a nice boy. She knew he had an entailment with Atticus, but she knew he was working it off, and then was puzzled when all the men were looking guilty. "Did I say something wrong, Atticus?" The men leave. It is quite simply so brave, so beautiful sometimes watching it I cannot stand the emotions I feel by her saving a man's life, albeit temporarily.
Even though Atticus does his best, Tom's convicted of raping Mayella Ewell. It's awful and it's unfair, we all know that. Yet there is a moment of grace when all the African Americans sitting in the "colored" section stand up while Atticus leaves the courtroom. Reverend Sykes (who let the children sit with them during the trial) whispers "Miss Jean Louise, stand up. Your father is passin'." Oh, I'm crying right now writing this.
With the 50th anniversary, I couldn't wait to celebrate the book. At Red Room Meg Waite Clayton and Jacquelyn Mitchard wrote lovely essays for AOL News, and today I put on a vintage Mad Men style dress, hopped on BART, and went to Oakland to A Great Good Place For Books, one of the best bookstores in the Bay Area. They were having a party for the book, and I wanted to celebrate.
In the bookstore there was a small crowd listening to an employee read from the book. I listened to Scout correcting Miss Caroline about offering Walter Cunningham money. When he reached the end, Kathleen Caldwell (who owns Great Good Place) said, "Hey Jennifer, go up and read."
"Really? What part?"
"We're reading it cover to cover. Go for it."
I sat in the chair, took a deep breath, put on my best accent, then started reading how Scout and Jem took Walter home for lunch and he put too much syrup on his food. I read about how Burris Ewell was rude to Miss Caroline, and how you cannot judge anyone until you walked in his or her shoes. When I was done I felt so teary; no matter how many books I write, I'll never be able to write as beautifully as Miss Harper Lee.
She never published another book. One was enough for her. She's eighty-four now, still living l in Monroeville, Alabama, maybe wondering what the big fuss is all about. I wonder if she ever feels like William Shatner in that old SNL skit when he tells Trekkies "Get a life, people!" Or maybe she's shy, just stunned by it all. From all the Scout loving girls (and boys) hey Miss Harper. Thank you. We stand up when you pass by.
Live your life live your life live your life"
About Jennifer
Jennifer Gibbons lives in Lafayette, California. She is the grand prize winner of the Red Room Housewarming contest and one of the winners of the Summer Reading Experience Contest. She is working on a young adult novel and a book of essays.
Causes Jennifer Gibbons Supports
Gilda's Club, Greenpeace, Rosie's Broadway Kids,Westwind Foster Family Agency, Amber Brown Fund, Linda Duncan Fund for Contra Costa Libraries
Jennifer's Favorite Books
p>To Kill A Mockingbird by Harper Lee A Tree Grows in Brooklyn, Betty Smith