Hey Jennifer, What Books Are You Going to Read This Year?
I just finished Kiss Shot by Collin Kelley a couple of days ago. It's a Kindle eBook and simply amazing: four short stories about characters who go through dark journeys but somehow end up to a better place. It's one of those ebooks I want to tell people "You think ebooks are a waste of time? Read this and tell me it's a waste of time." Red Room has so many great authors, so I can't wait for there are new ones coming out this year.
Leaving Everything Most Loved: A Maisie Dobbs Novel by Jacqueline Winspear: This is when I squeal and say "A new Maisie Dobbs mystery is coming out! A new Maisie Dobbs mystery is coming out!" This one looks great, according to the summary:
The year is 1933. Maisie Dobbs is contacted by an Indian gentleman who has come to England in the hopes of finding out who killed his sister two months ago. Scotland Yard failed to make any arrest in the case, and there is reason to believe they failed to conduct a thorough investigation. The case becomes even more challenging when another Indian woman is murdered just hours before a scheduled interview. Meanwhile, unfinished business from a previous case becomes a distraction, as does a new development in Maisie's personal life.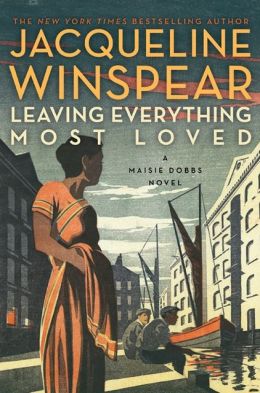 Bringing a crucial chapter in the life and times of Maisie Dobbs to a close, Leaving Everything Most Loved marks a pivotal moment in this outstanding mystery series.
Ooh, Indian Gentleman? New development in Maisie Dobbs' personal life? Yay! (And BBC, when are you going to do a Maisie Dobbs TV show? I'm telling you, it would be just as popular as Downton Abbey or Call The Midwife)
Why We Write: 20 Acclaimed Authors on How and Why They Do What They Do edited by Meredith Maran: I'm always wanting to know how other writers hone their craft and get where they need to go with their writing, so I know I'll love this one by Maran.
What We Saw At Night, Jacquelyn Mitchard:
Allie Kim suffers from Xeroderma Pigmentosum: a fatal allergy to sunlight that confines her and her two best friends, Rob and Juliet, to the night. When freewheeling Juliet takes up Parkour—the stunt-sport of scaling and leaping off tall buildings—Allie and Rob have no choice but to join her, if only to protect her. Though potentially deadly, Parkour after dark makes Allie feel truly alive, and for the first time equal to the "daytimers."

On a random summer night, the trio catches a glimpse of what appears to be murder. Allie alone takes it upon herself to investigate, and the truth comes at an unthinkable price. Navigating the shadowy world of specialized XP care, extreme sports, and forbidden love, Allie ultimately uncovers a secret that upends everything she believes about the people she trusts the most.
A mystery surrounding XP patients and a murder! I'm there!
Is This Tomorrow, Caroline Leavitt: Caroline provides wonderful support to authors, so I know I'll love this one by her:
In 1956, when divorced working-mom Ava Lark rents a house with her twelve-year-old son, Lewis, in a Boston suburb, the neighborhood is less than welcoming. Lewis yearns for his absent father, befriending the only other fatherless kids: Jimmy and Rose. One afternoon, Jimmy goes missing. The neighborhood—in the era of the Cold War, bomb scares, and paranoia—seizes the opportunity to further ostracize Ava and her son.
Lewis never recovers from the disappearance of his childhood friend. By the time he reaches his twenties, he's living a directionless life, a failure in love, estranged from his mother. Rose is now a schoolteacher in another city, watching over children as she was never able to watch over her own brother. Ava is building a new life for herself in a new decade. When the mystery of Jimmy's disappearance is unexpectedly solved, all three must try to reclaim what they have lost.
Ah, missing children and Cold War. This sounds good!
Recover to Live: Kick Any Habit, Manage Any Addiction: Your Self-Treatment Guide to Alcohol, Drugs, Eating Disorders, Gambling, Hoarding, Smoking, Sex, and Porn by Christopher Kennedy Lawford: I'm pretty lucky that the biggest addictions I have are book hoarding and ice cream, but I think this book by Lawford can help many people who need it.
The Light in the Ruins by Chris Bohjalian: A retelling of "Romeo & Juliet" in Tuscany at the end of the Second World War. . .and a serial killer in Florence in 1955. Serial killers and Romeo and Juliet! All are punished here!
There are just a few of the books I'm looking forward to this year, and it looks like it's going to be another great year in books.
Live your life live your life live your life"
About Jennifer
Jennifer Gibbons lives in Lafayette, California. She is the grand prize winner of the Red Room Housewarming contest and one of the winners of the Summer Reading Experience Contest. She is working on a young adult novel and a book of essays.
Causes Jennifer Gibbons Supports
Gilda's Club, Greenpeace, Rosie's Broadway Kids,Westwind Foster Family Agency, Amber Brown Fund, Linda Duncan Fund for Contra Costa Libraries
Jennifer's Favorite Books
p>To Kill A Mockingbird by Harper Lee A Tree Grows in Brooklyn, Betty Smith