I know I said I wasn't going to blog this weekend, however a big event is happening today. It's pretty big, gentle readers. Madonna is fifty. Yes, nifty fifty! What I want to know is, how did that happen?
            Madonna has been around for so long-half my life. Well longer than that, but she's been in the public eye half my life. Let's count down the years:
          1983: I'm cleaning my room with the radio on KFRC. Bobby Ocean comes on and says: "Here's a new record! It's by a lady named Madonna!" "Holiday" comes on. It's catchy, nothing big. I like it. However, I am confused because Madonna is another name of Mary, the mother of Jesus. Being a good Catholic girl, I know this. However since I'm going to public school soon I'm forgetting all the things I learned in Catholic school, which is and isn't a good thing.
            1984: At Camp Concord they play Madonna all the time. They play "Borderline" "Lucky Star" "Think of Me" all the time, repeatedly. At the middle school I just started, they outlaw gloves with the fingers missing. Girls still wear them. They all love "Like a Virgin" which worries people. Me, I am just bitter I don't have MTV, so I see the video at Meranda's house.
            1985: Mom Meranda and I go see Desperately Seeking Susan, which I really enjoy. I also want the jacket Madonna wears in the movie with the gleaming pyramid on the back. For my birthday, I get her single "Into the Groove" and I dance around my living room. Although my tastes are more to the oldies station, I play this record repeatedly. I try and forget that I'm in Resource Math, that Andy Trueman doesn't like me like I like him, and I got yelled at because I lost my Reading book. Madonna got married that summer to Sean Penn. People send them wedding presents. How do people get Madonna's address? That's what I want to know.
            1986: Whoa! Madonna changed her look! I like it! I got a haircut and it's shaved in the back. Not as dramatic as hers, but still it's a statement! Everyone is upset about "Papa Don't Preach" Madonna's song about an unplanned pregnancy. I still don't have MTV.
            1987: Who's That Girl comes out. I go see it and I will never get that time back. She's trying to be like Judy Holiday but it doesn't work. I finally get MTV! I see Madonna sing Open your heart to a little kid, and she flirts with Johnny Carson. Me, I'm just nervous about starting high school in the fall. What was Madonna like in high school?  From pictures she was a brunette. I wonder if she was nervous about starting a new school.
            1988- Madonna was on David Letterman! She was on with Sandra Bernhardt, and they were both wearing these rolled up jeans-shorts that are so cute. I must buy them. She's dyed her hair dark and is in a play. I wish I could go see it when it's in New York but it's sold out.
            1989-Like a Prayer comes out, and I get it from the library. I instantly love it. Meranda and I drive around in Meranda's car, singing "Like a Prayer" and "Dear Jessie" Candy kisses on a summer's day, Dear Jessie all the love parade...We also interpret the "Like a Prayer" video: She sees something bad! She wants to tell someone! She realizes that color doesn't matter, and she has to do the right thing! It turns out to be a play! The end! Pepsi cancels her contract because of burning crosses in the video. Why? It was for dramatic effect, props for the play. Sheesh! Don't they know anything about art? I watch as she takes a bow for the fake play and dances around in the video everyday for two months.
            1990-Madonna's video "Justify my Love" has been banned from MTV. I'm so over her, anyway. She's so corporate. I wear Birkenstocks and love beads. Meranda gets to see her Blonde Ambition tour. Big deal. However, I do see her in Dick Tracy. And I get the single to "Vogue." Strike a pose!
            1991-It's the day of my Senior Ball. I'm not going. I'm not seeing any guy and to be honest I just don't feel like dancing to crappy music and spending money on a dress I can't afford. There's no Duckie or Blaine in my life, which makes me sad. Instead I go see Truth or Dare. Some of it I enjoy. Some of it I feel like saying to Madonna "Why are you doing this?" I feel embarrassed for her, as if she is a friend. Plus both Sean Penn and Warren Beatty get their girlfriends pregnant and marry them. Wow! Madonna is somehow becoming a fertility drug!
            1992-I'm borderline tired of Madonna. I loved her in A League of her Own along with that lady from VH-1, Rosie O'Donnell. However, she has this new album out called Erotica and I don't know, I'm just not crazy about the music. Then she has a book called Sex. At first, the library orders it, and then changes its mind. I look at it at B. Dalton's. What a big nothing. I've seen Candies shoes ads that are more risqué.
            1993-I miss Madonna dripping wax on Willem Dafoe because I'm in London when the movie comes out. Somehow, I know I'll cope.
            1994-I'm depressed about everything and I watch Madonna swear and smoke a cigar on David Letterman. He looks embarrassed, but she doesn't care. I watch her and I wonder, could I ever not care like does that someone doesn't like what she's doing? Could I ever be that brave?
            1995-What did Madonna do in 1995? What did I do? Go to school, go to work, wrote a lot, had my heart broken, managed to get up again. I know she had a new album out around then. All I can remember is her being a brunette and she has a whip.
            1996-Madonna had a baby. It is born two days after my grandfather died. I am sitting on the couch, stunned and crying, and I watch MTV. They are at the hospital where she had the baby named Lola. Whatever Lola wants, Lola gets. I have a thought: could Granddad come back as Lola? How would I know? If Lola insists on dancing badly and singing songs from Guys and Dolls, it's Granddad.
            1997-Madonna wasn't nominated for Evita. She's in good company: Debbie Reynolds and Courtney Love wasn't nominated either. I just left school and I'm not sure what I want to do next with my life. I feel like I'm in a malaise.
            1998-Wow! Madonna is into yoga! So am I! Her new album Ray of Light is fantastic. There's one song's lyrics I love: I ran from my daughter who won't stop crying/I ran from my mother who's been gone/ I ran and I ran. Sometimes I wonder what it would be like to just run away and be a different person.
            1999-Madonna on the Grammies, dressed up like a geisha girl. She's watching Ricky Martin sing and she's leaning forward, just lapping it up. That summer she comes out with "Beautiful Stranger" a song that on Fridays when I go to Barnes and Noble I play over and over and people stare at me when I sing it. I don't care.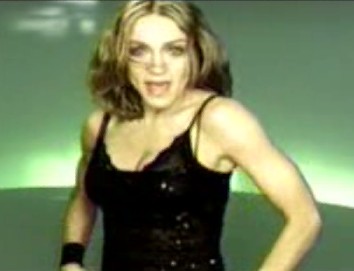 2000-Madonna in another movie. Skipping it. Why did she remake "American Pie?" She's had another baby. Me, I'm in secretary school and wondering what I'm going to next with my life, what the second act holds for me.
            2001-Everything comes apart. There are cracks everywhere. I know she does benefits but I can't watch them, can't watch anything.
            2002-Back at school. She has a new album out, gets bad reviews.
            2003-She kisses Britney Spears, and uses Joyce Maynard's name at a hotel. Hey, I've met Joyce Maynard! Talk about those wacky six degrees!
            2004-I'm going to Mills-I'm so busy I don't know what Madonna is doing.  I think she has a new album out. Am too busy to notice.
            2005-Same. There's a picture of her in Vogue.
            2006-She adopts a little boy named David. People get very upset about it, proving people have no life. Me, I do have a life, I graduated from college!
            2007-hmmm.... What did Madonna do in 2007? I have no idea.
            2008-well, she's been a busy bee! Her brother wrote a book about her, she might've had an affair with Alex Rodriguez, but she's still going, still plugging along. And hey, so am I.
            Happy birthday, Madonna. From KFRC to now, I can still dance around my living room to your voice.
            The End. Take a bow.
Live your life live your life live your life"
About Jennifer
Jennifer Gibbons lives in Lafayette, California. She is the grand prize winner of the Red Room Housewarming contest and one of the winners of the Summer Reading Experience Contest. She is working on a young adult novel and a book of essays.
Causes Jennifer Gibbons Supports
Gilda's Club, Greenpeace, Rosie's Broadway Kids,Westwind Foster Family Agency, Amber Brown Fund, Linda Duncan Fund for Contra Costa Libraries
Jennifer's Favorite Books
p>To Kill A Mockingbird by Harper Lee A Tree Grows in Brooklyn, Betty Smith