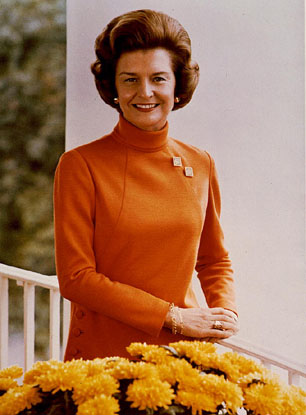 I was on BART when I found out Betty Ford died. My first response was "Damn, damn,
damn." Even though she was ninety-three, she was supposed to be one of those
women that lived forever. Of course that's not possible, but Betty Ford was proof that
nothing was impossible in life.
Born Elizabeth Ann Bloomer, she was eighteen when she studied dance with
Martha Graham. If that isn't brave, I don't know what is.
Married young then divorced, she met a young man named Gerald Ford. He was about to start a congressional
career, and it might've not been been the smartest thing to marry a divorced woman. He
didn't care, and he ended up winning the Congressional seat. They had four children
together. All four of them would be in the front row of an American audience when their
dad took a center stage in history.
The irony was, according to NPR and Wikipedia, Gerald Ford never wanted to be
president or vice president. His big dream was to be Speaker of the House. And yet
when he was called to serve as vice president, he did it. And in August 1974, the Fords
found out they were going to have a new address: 1600 Pennsylvania Avenue. No
doubt Betty was scared. Yet on what she called "the hardest day of her life" she held
Pat Nixon's arm while walking to Air Force One. Stood behind her husband as he was
sworn in. Sat behind him as he told the nation he was beholden to no man and to one
woman: Betty. There was a new sheriff in town.
Just when things started to calm down, she found out she had breast cancer. Instead of
keeping it hush hush, she revealed she had a mastectomy. Back in 1974 this was like
revealing you had leprosy. Yet she did it with style. Months later, the Second Lady
Happy Rockefeller followed Betty's lead. They paved the way. They saved women's
lives.
Betty Ford showed she wasn't Jackie or Lady Bird or Pat, she was herself. You could take
her or leave her. People took to her. They loved it she was for the ERA, abortion rights,
and the fact she could dance like no one's business at state functions. In 1976 people
wore buttons saying I'M VOTING FOR BETTY'S HUSBAND. These days they might've
read I'M VOTING FOR BETTY. Republicans, Democrats, everyone admired her. She
was the real deal, the Ferris Bueller of First Ladies.
After losing in 1976, the Fords went to California. And yet it was becoming clear to the
family that Betty's drinking was getting worse, plus she had an addiction to painkillers.
Worried about her, they staged an intervention. The intervention saved her life; she went
into treatment.
Afterwards, she revealed her problems. Got a facelift. And then broke ground at the
Betty Ford Center, where people went to get help for addictions. Elizabeth Taylor.
Johnny Cash. Mary Tyler Moore. June Carter Cash (for codependency issues). Drew
Barrymore. Keith Urban. They, along with countless others received help they needed.
In Rebecca Wells' Divine Secrets of the Ya-Ya Sisterhood, the Ya-Ya's joke around they
don't want to end up at "The Betty" because of their drinking. It became a symbol that if
celebs wanted to get their life together, they'd better head to Betty Ford.
When President Ford died, Betty made her last public appearances at her funeral. She
turned over the day to day running of the center to her daughter Susan. At her funeral
today, Rosalynn Carter, Nancy Reagan, and Cokie Roberts will be speaking. Three
different women from different backgrounds. One thing they can agree on: They all
admired the woman who told the truth, and never forgot to dance.
Live your life live your life live your life"
About Jennifer
Jennifer Gibbons lives in Lafayette, California. She is the grand prize winner of the Red Room Housewarming contest and one of the winners of the Summer Reading Experience Contest. She is working on a young adult novel and a book of essays.
Causes Jennifer Gibbons Supports
Gilda's Club, Greenpeace, Rosie's Broadway Kids,Westwind Foster Family Agency, Amber Brown Fund, Linda Duncan Fund for Contra Costa Libraries
Jennifer's Favorite Books
p>To Kill A Mockingbird by Harper Lee A Tree Grows in Brooklyn, Betty Smith