Friday marked a huge anniversary for women. I was a space cadet and missed it. Okay, I truly couldn't help it. Dad had an appointment at the VA and I went with him. The appointment ran late, so I was left in the waiting room with Fox News blaring on the television set. After an hour of hearing about the evils of Obamacare and a student being suspended for passing out the Bill of Rights, I asked if I could turn the TV off. The receptionist said yes. After I did, several people thanked me. So I completely missed the 40th anniversary of Billie Jean King beating Bobby Riggs in tennis.
I grew up in the feminist movement where girls were encouraged to play sports. The kicker was I HATED playing sports. I was terrible at them. Anything that ended with the word ball, forget it. I was okay with soccer, because mostly you kick the ball towards the goal. That was doable. Everything else? Forget it. However, I always believe that when women win at something, they win for all of us. Such as the case for Bilie Jean King.
Let's go back to 1973. Well I can't because I was still a baby, but feminists were still considered "women's libbers." The Vietnam war was ending slowly but painfully. Nixon was slowly being sunk by Watergate. In May 1973 Margaret Court was trounced by Bobby Riggs. The kicker of it was Riggs was about thirty years older than Court, and well, let's be honest: his best tennis days were behind him. This inspired Peanuts' Lucy Van Pelt in one strip to write a letter that started with: Dear Bobby Riggs: You were just lucky! Lucy had to wait, but soon revenge was hers.
Billie Jean King, along with other women tennis players, were fighting for equal prize money for tennis championships. At first she resisted playing Riggs; he was so obnoxious. But then she thought I have to prove him wrong. I'm going to show everyone what I can do. She agreed to play Riggs. The Battle of the Sexes would be broadcast on ABC September 20, 1973.
That summer (According to the recent American Masters documentary) Billie jean kept at her game. I don't know if she heard that old joke about Carnegie Hall: "How do you get to Carnegie Hall, man?"
"Practice man, practice!" Her Carnegie Hall was the Houston Astrodome. She kept at it, doing her best. Riggs (according to his son Larry Riggs) practiced as well, but mostly goofed around. He gave many many interviews and provided reporters many soundbites: "Girls play a nice game for girls... Men are the king." Oh man. Was he playing a role or did he really feel like this? Either way, Riggs probably got used to oink oink sounds.
Finally the two had their legendary match. According to Linda Ellerbee, many Bobby Riggs fans were there chanting "Kill kill!" But there were more people who were yelling "Atta boy, Billie Jean!" They kept on playing; Billie Jean in her white tennis dress, Bobby in the nylon Sugar Daddies jacket. Billie Jean kept on beating him, again and again. Finally she won. Across the country, girls and women cheered. Men too. Girls ruled, boys drooled.
Bobby Riggs, according to Sports Illustrated, took the defeat hard. However he wasn't done with his fifteen minutes yet. He did a commerical for an airlines (along with King) then also did a Sports Illustrated. He made an appearance on The Shape of Things, a television special hosted by Brenda Vacarro (with material written by Linda Bloodworth Thomason, Barbara Gallagher, Iris Rainier, and Mary Kay Place) It also included a joke by Phyllis Diller: "This little piggy was a Bobby Riggy piggy. Direct from the As-tro-dome." Billie Jean was busy chatting with Sonny and Cher on their show, but also was wrestling with something bigger: That summer she realized she was gay. The kicker was she was married to her college sweetheart Larry King (not the television host) For years, she kept the secret.
It wasn't until 1981 when her secretary sued her for palimony. King took a deep breath, then admitted the affair. She and Larry King divorced. She played as long as she could before retiring. Her and Bobby Riggs became friends. When he became ill with cancer, she called him the night before he died. "We really did it, didn't we?" he asked. Meaning: We played a great game of tennis. We also knocked down those stereotypes and changed the world.
"We sure did," Billie Jean agreed.
Bobby Riggs died the next day.
There's no need to tell my readers in 2013 things are different. Last year with many clueless candidates saying dumb things about women then were defeated just proves my point. God knows we still have a long way to go. But this is what I know: once Billie Jean King won that game, things changed. Women didn't know it changed, but felt it later. Be it finally saying at work "You know, I want a raise. Oh yeah, and a decent parking spot." or "Hey, remember how I couldn't take word shop? I want to take it now." Or maybe it was a forty-one year old woman who, after seeing Senator Ted Cruz saying yet again how Obamacare was evil and realizing no one was watching, saying to a receptionist "Can I turn the television set off?"
And I didn't even have to wear a tennis dress.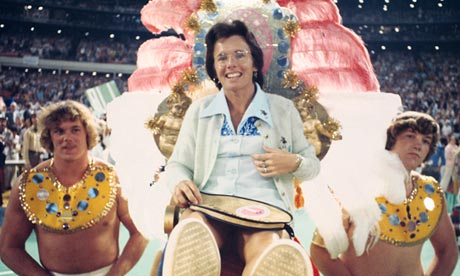 Live your life live your life live your life"
About Jennifer
Jennifer Gibbons lives in Lafayette, California. She is the grand prize winner of the Red Room Housewarming contest and one of the winners of the Summer Reading Experience Contest. She is working on a young adult novel and a book of essays.
Causes Jennifer Gibbons Supports
Gilda's Club, Greenpeace, Rosie's Broadway Kids,Westwind Foster Family Agency, Amber Brown Fund, Linda Duncan Fund for Contra Costa Libraries
Jennifer's Favorite Books
p>To Kill A Mockingbird by Harper Lee A Tree Grows in Brooklyn, Betty Smith