"As God As My Witness, I Thought Turkeys Could Fly."
It's the time we all look forward to: something we can enjoy, bond over, and remember. No, I'm not talking about Thankgiving! I am talking about one of the best episodes ever broadcast on television, the Thanksgiving episode of WKRP in Cincinnati. If you're not falling down laughing by the credits, there's no hope for you. Really. And if you haven't seen the episode yet, go to Hulu and watch it now. The ads are irritating but the show? So worth it. Because if you haven't watched "Turkeys Away" you will not get this blog. Trust me on this.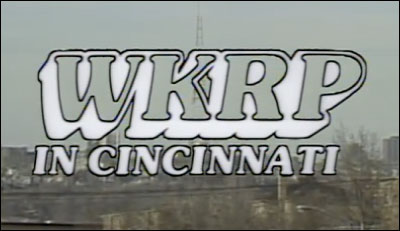 In 1978 WKRP debuted to so-so ratings. It was in the Mary Tyler Moore of "workplace comedy" yet was different: It critiqued disco, Barry Manilow, pretty much anything popular back in the day. The show had the best ensemble cast; only MTM and Roseanne comes close. Anyway, the show was funny yet it needed a "breakthrough" moment. Hence, " Turkeys Away."
Mr. Carlson (played by the wonderful Gordon Jump) is feeling left out. The station recently changed formats and he wants to contribute somehow, make it a success. As he would say in a later episode "We were just biding time back then. Now we're doing something." Hence, he comes up with a brilliant idea. Keep in mind Mr. Carlson (bless his heart) is not Blair Warner. If he comes up with a brilliant idea, it's a bad bad situation. But God bless him, at least he wants to try.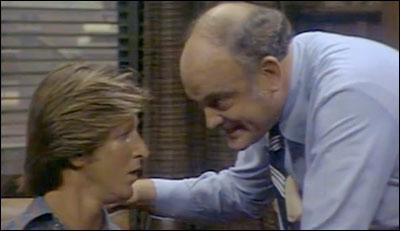 Of course it's all top secret, except he tells his right hand man Herb Tarlek (Frank Bonner who was so excellent) what's up. Again, bad idea. Herb, in his own bumbling way, can make things completely worse.
The big surprise would be revealed on-you guessed it-Thanksgiving Day. Dr. Johnny Fever (Howard Hessman) is working, so everyone comes to the booth to hear what the surprise is. Johnny has low hopes; he tells Venus (Tim Reid) that "when they had that earthquake in South America, Carlson sent cases of Dolly Parton wigs to help." Yet they try to stay optimistic about the whole deal and are curious to see what the surprise is.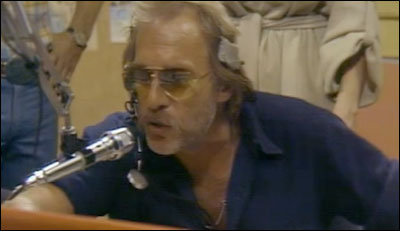 Johnny turns it to Les Nesman (oh Richard Sanders, how great you are) who is live on the scene. He gives a "Man about the scene" spot, but then is shooed away by a storekeeper (Michael Fairman, who incidentally plays Murphy now on Y&R plus wrote a WKRP teleplay with Sanders. I keep hoping Sanders will appear on Y&R as Murphy's bumbling brother) finally, something appears in the sky. Les describes it as a banner then says very slowly "Happy…Thanks…giving! From W…K…R…P!" By then everyone in the booth is saying it with Les, wanting him to get it over with. "What a sight ladies and gentlemen! What a sight!"
Les tries his best to describe what happens next. "They're throwing something from the helicopter… looks like a flying object… not sure… Oh my God! It's live turkeys!"
Now I'm guessing the WKRP cast had to do a lot of takes to not break down laughing. Because the reaction from the audience was pure hysterical laughter. This is why I love studio audiences; the reaction is completely genuine. I hate laugh tracks but the laughter right afterwards is just mind blowing for it comes right from the belly and borderlines hysterical laughter.
We next see Les trying to report what's going on. People are running around, trying not to get hurt by a turkey. He babbles on, describing the turkeys going to their deaths. "Oh the humanity, the humanity," he manages to say, then goes to static.
Johnny says "Les? Les?" Pause. Without missing a beat, Johnny goes to announcer mode: "Thanks for that on the spot report, Les! In case you missed it, The Pinedale Shopping Mall has just been bombed by live turkeys! Film at eleven!"
Of course they get hate filled calls. Chaos reigns in the reception area. The mayor (Ironically the mayor of Cincinnati in real life was Jerry Springer) is threatening to call the National Guard. Jennifer Marlowe (Loni Anderson who is so perfect) says very deadpan to one caller "But many turkeys don't make it through Thanksgiving." When Mr. Carlson and Herb come in, they look rumbled and out of it. They both go into Mr. Carlson's office for a moment, then step out again so Mr. Carlson can deliver the Best Line Ever: "As God as my witness, I thought turkeys could fly."
"Turkeys Away" works because the writing is so absolutely fantastic and the acting is so so good. I've watched the episode so many times and even though I know what's going to happen I just burst out laughing when Les yells "it's live turkeys!" I think it still works because the writers of the script let the story build. With Mr. Carlson making it a secret, we truly want to know what he's going to do. Today I'm sure the secret would've been given away in spoilers. But in 1978, people were in the dark about what was going to happen on TV shows. Except for a mini summary in TV Guide, we had no clue what was going to happen.
Plus let's face it; I thought turkeys could fly as well. I wouldn't toss them off from a helicopter, but I figured hey, they can fly! Come on turkeys, fly! They didn't have wikipedia back then; this was one of those things you found out on the streets or from "Turkeys Away."
The episode got new life because of something so ironic no one could've written it: The month of its 30th anniversary, Sarah Palin with daughter Piper went to a nearby turkey farm. A camera crew was nearby, so Palin gave an interview. As she did her folksy deal about what she learned on the campaign trail and what her own Thansgiving plans entailed, turkeys right behind her were being slaughtered in a woodshed. Having no idea what was going on behind her, she talked and talked. It's like a car accident; you don't want to watch but you do. Keith Olbermann showed clips from WKRP while Palin was talking; one only wonders "Man, even Les would've let her know about the turkey massacre going on behind her." Oh the humanity!
And that's what good comedy is: timeless. Be it Duck Soup when Freedonia goes to war or Lucy eating chocolate on I Love Lucy; it doesn't matter how old it is, what matters if it's funny or not. And by God, WKRP's "Turkeys Away" is still funny.
Live your life live your life live your life"
About Jennifer
Jennifer Gibbons lives in Lafayette, California. She is the grand prize winner of the Red Room Housewarming contest and one of the winners of the Summer Reading Experience Contest. She is working on a young adult novel and a book of essays.
Causes Jennifer Gibbons Supports
Gilda's Club, Greenpeace, Rosie's Broadway Kids,Westwind Foster Family Agency, Amber Brown Fund, Linda Duncan Fund for Contra Costa Libraries
Jennifer's Favorite Books
p>To Kill A Mockingbird by Harper Lee A Tree Grows in Brooklyn, Betty Smith