Meranda was the one who loved him. She had great taste. That blonde hair, the blue eyes. He stole the movie Stand By Me, which played at the Dome for months. It came out weeks before we started eighth grade. It was the perfect end of summer coming of age movie: four boys go out on a mission. They talk, they swear, they walk on an endless train tracks, looking for a body of a boy who was their age. When we started school, everyone was talking about this movie. The dialogue was endlessly recited by people. In PE girls sang the old fifties songs featured in the film. It was the first time that anyone noticed River Phoenix, the blonde boy who was destined to steal girls' hearts.
The day before Winter Break, Meranda and I missed school to go see The Mosquito Coast, the next film he was in. Our parents wrote us notes to excuse us; they knew that we weren't missing anything school wise. We sat there and saw River with Harrison Ford, River with Helen Mirren, River had a love interest! Oh my! It was Martha Plimpton, the girl from The Goonies. She was beautiful with short blonde hair. There was a scene in the movie when Plimpton's character tells Phoenix's character "When I go to the bathroom I think of you." We laughed so hard. Bathroom! The hilarity!
Jimmy Reardon was his next movie. It was good, not great. He was too teen idolish for my tastes. Then he hit it big in Running on Empty. The story was about a family who was on the run (the parents were sixties radicals who bombed a building, blinding a janitor) Again he was with Martha Plimpton. They had this radiance about them, this sweetness. It was first love yet it had one foot in the past, yet trying to get to the future. This was the film that brought Phoenix an Academy Award nomination. River was nominated for an Oscar!
The year he was nominated was the one Allan Carr produced the show; the show that had Snow White and Rob Lowe singing "Proud Mary." I'm guessing Phoenix sat there thinking "Man, what a mess." I remember when Kevin Kline won for A Fish Called Wanda, Phoenix yelled "All right!" then raised his fists in the air. Watching him be so gracious, so kind,twenty five years later makes me cry.
He then played a young Indiana Jones, then a film that starred Kevin Kline called I Love You To Death. No wonder he was so excited Kline won. I think he did his best acting in a little film named Dogfight. He played a Marine out with his friends on November 21st, 1963. They're in San Francisco and have a bet: whoever finds the ugliest girl "wins" the dogfight. Birdlace finds Rose, who isn't ugly but plain. They go to the meeting place, dance, then Rose finds out about the contest in the ladies room. She leaves him there, angry and hurt. Feeling terrible, he follows her, then offers to take her out to dinner. They spend the night together walking and talking, listening to music, then end up at an arcade. As "Let Me Call You Sweetheart" plays in the background, they dance and kiss. I cannot understand why Phoenix and Taylor weren't nominated for Oscars. They were so lovely in the film, so beautiful.
I never saw My Own Private Idaho; it seemed too depressing. I did see Sneakers which I enjoyed. A year after Sneakers, I came home after seeing Short Cuts in the City. I was humming "To Hell With Love" by Annie Ross when I clicked on the TV. River Phoenix was there, singing "Hey Jude" (Jude was his middle name) Then the reporter said "River Phoenix, dead at twenty-three."
Wait a minute. What? I flipped through the channels. Nothing. I called Meranda right away. "Turn on the news. They're saying River Phoenix is dead."
"What?"
"Turn on the news."
I heard the television in the background. "They're saying he had some type of seizure."
"He had epilepsy? I didn't know that."
"Wait, he was at some club. Viper Room."
I should've known it was drugs. I thought of all the cliched things: he was a vegetarian! He was so smart! It didn't make sense. And you know what? It will never make sense. I think of Glee and what Chris Colfer (Kurt) on Glee said about Cory Monteith (Finn) and it fits for Phoenix as well: "Everyone wants to talk about how he died too. But who cares? One moment his whole life."I care more about how he lived."
Two years later I was in LA. I was at Book Soup, but ended up crossing the street. I was in front of the Viper Room. It looked so normal. I looked around, wondering what it must've been like when he died. Did he know how much he meant to so many girls? To so many people?
Halloween again. Twenty years have passed. He would've been forty-three, a little older than Kevin Kline was that night he lost to him at the Oscars. The sad thing is he is not here to mentor the young actors of today, to have someone be happy when they win an award. It's their loss. It's our loss too.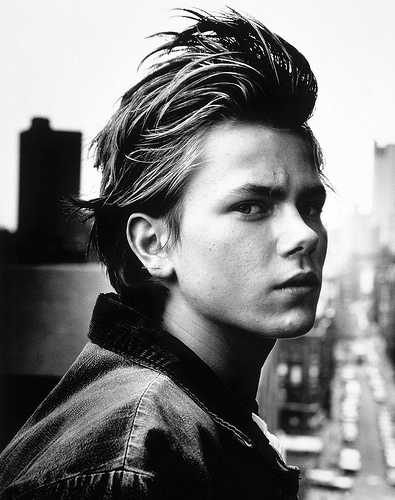 Live your life live your life live your life"
About Jennifer
Jennifer Gibbons lives in Lafayette, California. She is the grand prize winner of the Red Room Housewarming contest and one of the winners of the Summer Reading Experience Contest. She is working on a young adult novel and a book of essays.
Causes Jennifer Gibbons Supports
Gilda's Club, Greenpeace, Rosie's Broadway Kids,Westwind Foster Family Agency, Amber Brown Fund, Linda Duncan Fund for Contra Costa Libraries
Jennifer's Favorite Books
p>To Kill A Mockingbird by Harper Lee A Tree Grows in Brooklyn, Betty Smith