Vegetarian Shepherd's Pie
I am somewhat obsessed with goats' cheese, so I was eager to try out this recipe... a shepherd's pie with a creamy goats' cheese mash topping. It was very easy to prepare and the aroma whilst it was cooking was so... well, scrumptiously yummy! We may be at the end of April, but here in the UK the weather has only just started to warm up, and it was actually cold and drizzly today, so this shepherd's pie was very heart-warming. This is such a flavoursome dish. I've had vegetarian shepherd's pie before and it can be bland and incredibly boring, but this one is... well... wonderful doesn't even begin to cover it!
This dish will serve four very hungry people, or a small battalion of not-so-hungry ones.
Ingredients for the filling:
4 oz (110 g) dried black-eyed beans, pre-soaked and drained
3 oz (75 g) green split peas (no need to soak), rinsed
3 oz (75 g) green lentils (no need to soak), rinsed
2 oz (50 g)  carrots
2 oz (50 g) parsnips
2 oz (50 g) leeks
1 large onion
1 small green pepper
2 oz (50 g) butter, plus a little extra for greasing
8 oz (225 g) tomatoes
1 heaped tablespoon chopped mixed fresh herbs, such as sage, rosemary, thyme and parsley
¼ level teaspoon ground mace
¼ level teaspoon ground cayenne pepper
salt and freshly ground black pepper
Ingredients or the topping:
4 oz (110 g) soft goats' cheese
1 lb 8 oz (700 g) potatoes, peeled
2 tablespoons milk
2 oz (50 g) parmesan cheese, grated
freshly ground black pepper
Cooking Instructions:
The night before: Wash the black-eyed beans under cold running water, removing any broken ones, and then soak them overnight in 2 pints (1.2 litres) of cold water. 
Drain the black-eyed beans and put them into a saucepan with the split peas and lentils. Add 1¼ pints (725 ml) of boiling water and a little salt, cover and simmer gently for 50-60 minutes, until the pulses have absorbed the water and are soft. Remove the saucepan from the heat and lightly mash the contents with a large fork. 
Pre-heat the oven to gas mark 5, 375°F (190°C), and put the potatoes on to boil (leaving them to then simmer until cooked). While the potatoes are cooking, chop the carrots, parsnips, leeks, onion and deseeded green pepper into small pieces.
Melt the butter in a large frying pan over a medium heat, add the chopped vegetables and cook on a low heat for 10-15 minutes, stirring occasionally until they're softened and slightly golden at the edges.
While the vegetables are cooking, place the tomatoes into a heatproof bowl and pour boiling water over them until they're covered. After one minute, remove them from the bowl, take off the skins and slice them.
Now add the chopped vegetables to the mashed pulses, add the herbs, spices and freshly ground black pepper to taste, and mix well. Place the vegetable and pulses mixture into a lightly buttered 9 inch (23 cm) oven-proof square dish (approx. 2 inches, or 5cm, deep), or approximate equivalent. Arrange the tomato slices on top.
Once the potatoes are cooked, place them in a bowl, add the milk and goats' cheese,  season with freshly milled black pepper and then mash well. Spread the potatoes over the ingredients already in the dish.
Sprinkle the parmesan over the potatoes and bake the pie on the top shelf of the oven for 20-25 minutes, or until the top is lightly browned. 
Above: Before going into the oven.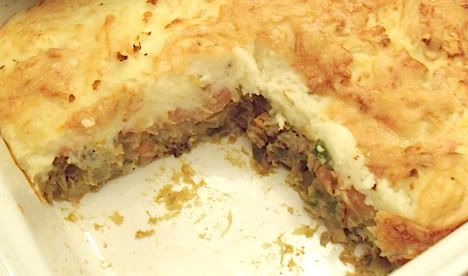 Above: With its lovely golden top after being baked for 25 minutes.
About Gina
Gina Collia-Suzuki is a writer, artist and art historian based in the UK. Having developed a deep interest in eighteenth century Japanese art and culture at an early age, she began studying Japanese woodblock prints whilst training as an artist in the 1980s....
Causes Gina Collia-Suzuki Supports
PETA
The World Wildlife Fund
RSPCA
Cancer Research UK