There's method in my madness
When I asked my husband to pick up a book for me from the shelves in the living room, and he spent about fifteen minutes trying to find it despite being given a map, I thought it might be time to rethink the organisation of our bookshelves. Our books are not arranged by subject, letter of the alphabet, author, or even colour. They are arranged according to which ones I like most, have the nicest covers, are used most frequently, or are linked in some way in the chaotic cataloguing system I call a brain. This sometimes inspires the question 'Why is Peter Cushing sitting next to an Egyptian pharaoh?'... Well, to anyone who knows anything about Hammer Horror films the answer would be obvious... he starred in the film 'The Mummy'... where else should I put him?
Why is a book about Leamington Spa sandwiched between '1939: The Last Season' and 'Nanny Ogg's Cookbook'? Well, those two books are exactly the same height, and the thin green paperback between them breaks the monotony. Why is the 'ER' guide to the left of Nanny Ogg? Well, her cooking or her left hook could land you in hospital, so I consider that a fitting location. The Japanese dictionaries on the left are there because that's where they've always been, which is as good a reason as any.... not that it matters... which is the next book along, by A. A. Milne.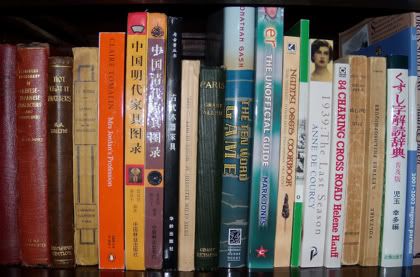 Generally speaking, there is a certain amount of method in my madness. I like spines to be varied along the shelf... not too much red in one place, or green, or blue. I don't like books to be all of the same height, as that brings with it the requirement to only add books that conform to the height requirement. I'd just have to put a tall one in amongst short ones, just for the hell of it. All this chaos requires careful planning. Okay, I fibbed, it requires none at all... which leaves me more time to actually read the books. 
About Gina
Gina Collia-Suzuki is a writer, artist and art historian based in the UK. Having developed a deep interest in eighteenth century Japanese art and culture at an early age, she began studying Japanese woodblock prints whilst training as an artist in the 1980s....
Causes Gina Collia-Suzuki Supports
PETA
The World Wildlife Fund
RSPCA
Cancer Research UK