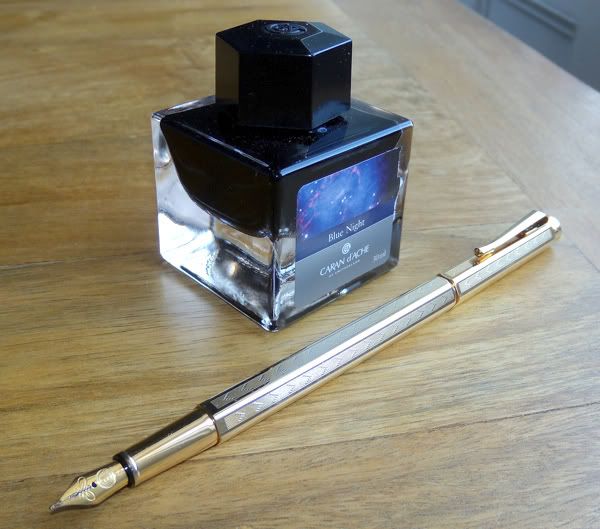 A while back, I read an article about the rituals of creative people. It said that some of us can only work in specific places, at specific times, with specific equipment... and, in some cases, wearing specific kinds of clothing. I thought to myself at the time that I didn't have any rituals... I could write anywhere and with anything. Then I took a look at the basic tools I need to be in my immediate vicinity before I will even consider working. I have two sets of tools: one for creating artwork and another for writing, though they do overlap in places. These photos include my basic writing tools (I may do the drawing/painting ones another time) without which I cannot work. I've not included the camera that I used to take the photos, as even my hugely clever noggin couldn't figure out how to include it and use it at the same time. It is, however, another thing that sits beside me 24/7. And it's a black Nikon with worn buttons (because I have long finger nails and take a lot of photos).
First of all, I have to have my best pen. Since Monday, the Caran d'Ache fountain pen (above) has been just that. The ink is 'Blue Night' - a nice smoky blue/black. Then there are (below) my Rotring Rapidograph pens (plus refils) and pencil, various highlighters, a selection of pencils and ballpoints, a magnifying glass and one of those little magnifier thingies, a stapler, a wooden ruler and a metal one, erasers, my mobile 'phone, a fan and a torch (incorporating a spirit level - presumably for when I become unbalanced).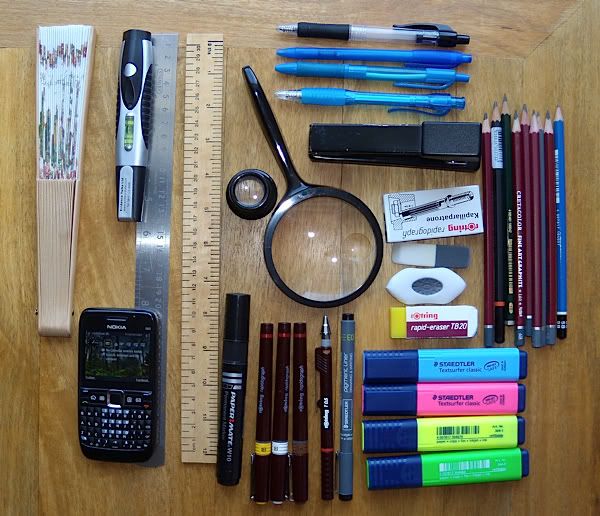 Of course, I need something to write on. That's where my MacBook comes in - oh, thing of beauty that it is. I am a total Mac devotee. There's my mouse, my lucky mouse mat (ebay sent it to me years back - around 1998 - and it has aided in many an online auction), and my journals and notebooks (of which I have included only three). 
This selection of objects does not include the multitude of reference books that I am practically glued to, my earphones and cables, or the thermometer and nail clippers that I carry around everywhere. Additionally, the photos don't include the huge Costa coffee cup that I must drink out of at least once before two o'clock in the afternoon.
So, in conclusion, you can see why I'd think I could work in any old place and with anything... I'm obviously so darned portable. Silly article. Rituals indeed. I showed 'em. Meh!
About Gina
Gina Collia-Suzuki is a writer, artist and art historian based in the UK. Having developed a deep interest in eighteenth century Japanese art and culture at an early age, she began studying Japanese woodblock prints whilst training as an artist in the 1980s....
Causes Gina Collia-Suzuki Supports
PETA
The World Wildlife Fund
RSPCA
Cancer Research UK