The Real Van Gogh: The Artist and His Letters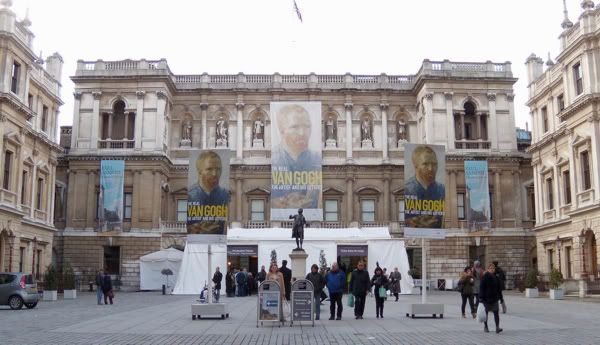 Yesterday evening, I visited the Royal Academy in London to see the exhibition 'The Real Van Gogh: The Artist and His Letters' which will be on until April 18th. The first exhibition of its kind in London for over forty years, it affords a unique opportunity not simply to view Van Gogh's drawings and paintings, which would be a wonderful thing in itself, but also to gain insight into his own thoughts regarding the development of his work with the aid of nearly forty of his letters.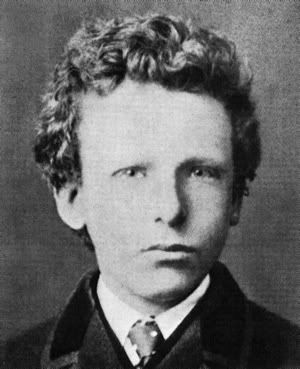 Vincent wrote extensively about his work to his younger brother, Theo, during his ten-year artistic career and those letters, most of which included sketches, or 'scratches' as the artist called them, to illustrate the work being discussed, enable the reader to uncover the real Van Gogh - not the mad man we are used to seeing depicted on the screen, but a sensitive, philosophical and well-read individual with a great love of nature, a passionate desire to reproduce all that he saw around him, and a very methodical approach to achieving the skill to do just that. 
No other artist has left us with so great an amount of written material regarding his work. By reading his letters we are able to journey with him from the beginning of his career, as he struggled to master the use of perspective and to accurately depict the human form (especially when engaged in an activity that required the depiction of movement) to his dramatic transformation into a daring colourist, following his arrival in Paris in 1886. We are able to explore his passions, share his interests, delve into the inner workings of his mind and, ultimately, to experience the despair he felt due to the lack of progress he perceived in his work during the period just prior to his death.
For me, the journey was an emotional one. I have never before left an exhibition close to tears. There is very little time left to catch this wonderful exhibition and I urge everyone to make the effort to attend; it's one you'll never forget.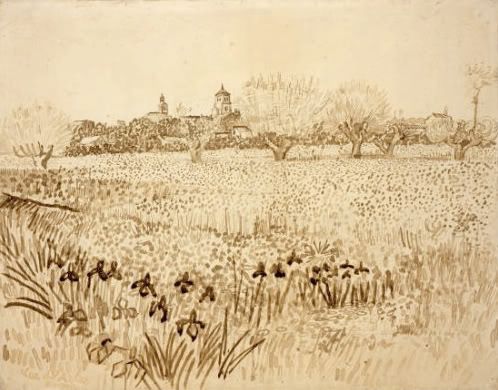 View of Arles with Irises in the Foreground. May, 1888. Pen, ink and wash over graphite on wove paper.
Letter to Theo, 12th May, 1888: 'You already have a drawing of it, a farmhouse beside the wide road in the wheatfields. A meadow full of very yellow buttercups, a ditch with iris plants with green leaves, with purple flowers, the town in the background, some grey willow trees — a strip of blue sky'
View of Arles with Irises in the Foreground. May, 1888. Oil on canvas.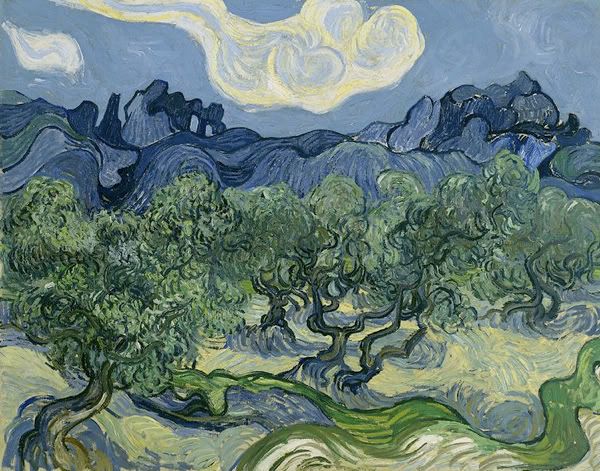 The Olive Trees. June-July, 1889. Oil on canvas.
Letter to Theo, 18th June, 1889: 'At last I have a landscape with olive trees, and also a new study of a starry sky. Although I haven't seen the latest canvases either by Gauguin or Bernard, I'm fairly sure that these two studies I speak of are comparable in sentiment.'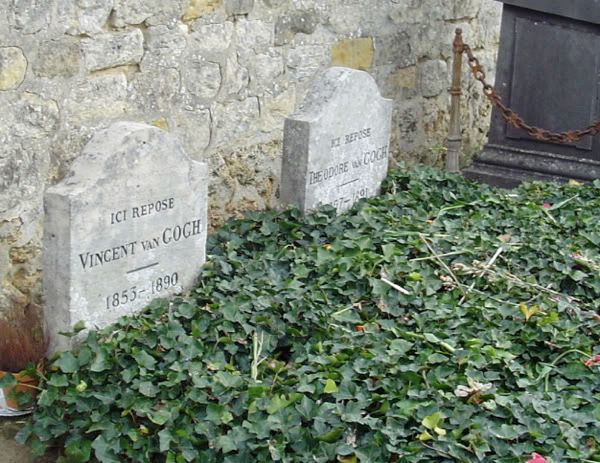 The graves of Vincent (30th March 1853 - 29th July, 1890) and Theo (1st May, 1857 - 25th January, 1891), Auvers-sur-Oise.
*Black and white photo above: Vincent van Gogh at the age of thirteen, 1866
About Gina
Gina Collia-Suzuki is a writer, artist and art historian based in the UK. Having developed a deep interest in eighteenth century Japanese art and culture at an early age, she began studying Japanese woodblock prints whilst training as an artist in the 1980s....
Causes Gina Collia-Suzuki Supports
PETA
The World Wildlife Fund
RSPCA
Cancer Research UK