The Hell Courtesan Goes Under the Hammer
On March 24th, a sale of Japanese & Korean Art will take place at Christie's in New York, and amongst the 166 lots is a hanging scroll by the well-known artist Kawanabe Kyōsai (1831-89). The painting depicts the Hell Courtesan (Jigoku dayū), a Takasu prostitute who is said to have attained enlightenment with the help of the Rinzai Zen priest and poet Ikkyū (1394-1481), who was well-known not only for his fondness for engaging both devotees and sceptics in dialogues about Buddhist philosophy, but also for his liking for alcohol and brothels. The hanging scroll (lot 618), measuring 58 5/8 x 27½in (149 x 70cm), is expected to fetch in the region of $250,000 - $300,000.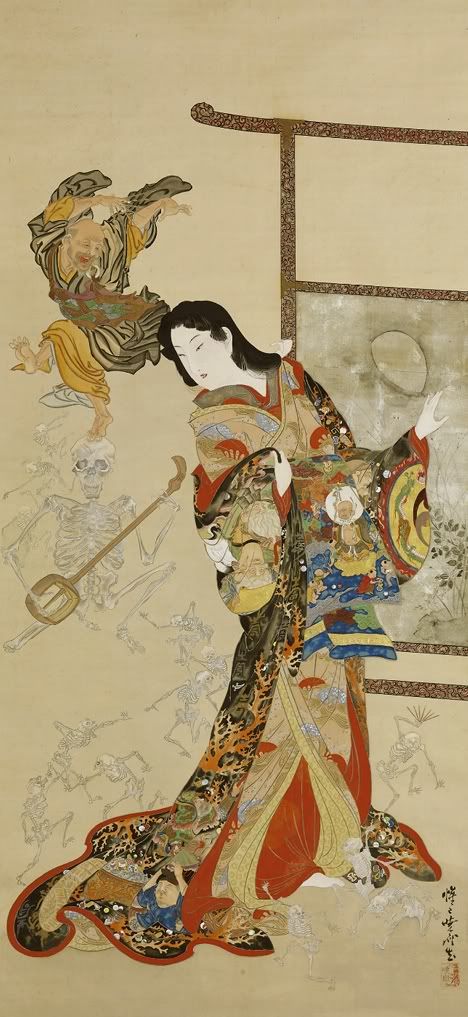 The subject matter of this particular depiction of the priest and the prostitute is derived from the book Complete Accounts of Drunken Enlightenment in Our Country (Honchō suibodai zenden), by Santō Kyōden (1761-1816), published in 1809. According to Kyōden's version of the story, when Ikkyū arrives at the brothel where the Hell Courtesan is working, she thinks him a fraud and decides to observe him from behind a screen whilst he is being entertained. Much to her surprise, the moment she is out of sight, the priest begins dancing with skeletons, which convinces her that he is no ordinary man. 
Ikkyū is shown dancing on top of the head of a seated skeleton, kicking his leg out as he waves his arms about in the air, obviously enjoying himself a great deal. Beneath him, the skeleton sits playing a shamisen whilst smaller skeletons dance to the tune it is playing. The Hell Courtesan, standing beside a screen decorated with autumn grasses beneath a golden moon, is dressed in a robe and obi that are adorned with images of the Gods of Good Fortune.
On her obi, Hotei, the god of happiness and contentment, is masquerading as Jizō, traditionally the guardian of children (not one of the Gods of Good Fortune), whilst around him five young boys are playing with lucky jewels. The head of Daikoku, the god associated with wealth and prosperity, is just visible on her left sleeve amid lucky jewels of differing sizes. On her right sleeve, seated next to a crane, we see Jurōjin, the god of wealth, wisdom and longevity, and in front of him sits Fukurokuju, the god of longevity and scholastic success, who is scrutinising the contents of a golden hand-scroll. At the bottom of the courtesan's robe, amid lucky treasures and sprigs of coral, are Bishamon, the armour-clad god of warfare and punisher of evil-doers, brandishing his halberd as he looks skyward, and Ebisu, the god of commerce, daily food, good luck and fishermen.
The Hell Courtesan was a popular subject during the nineteenth century, and Kyōsai produced several images of her, including the woodblock print below*, from the series Kyōsai rakuga (Kyōsai's Amusing Pictures) of 1874, a satirical series on the theme of enlightenment, which shows her dozing amid a large group of skeletons that are getting up to all manner of things... playing musical instruments, playing go, drinking sake, and even flower arranging.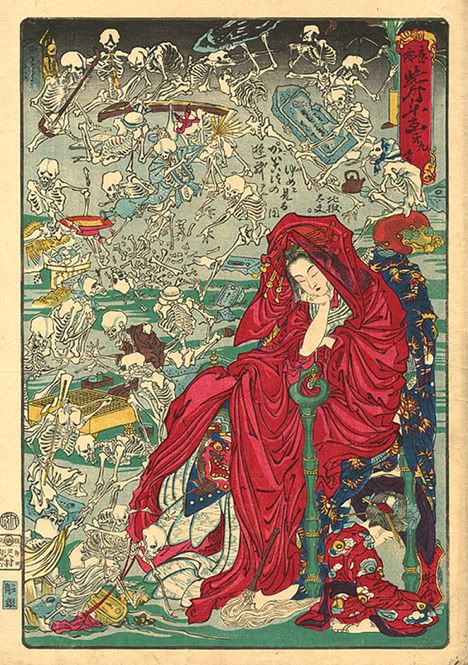 Finally, here she is again* (below), this time by Tsukioka Yoshitoshi (1839 - 1892), in the design entitled The Enlightenment of Jigoku Dayū (Jigoku dayū godo no zu) of 1890, from the series New Forms of Thirty-six Ghosts (Shinkei sanjurokkaisen). It is evening, and she is shown seated beside a tall candle-stand before a procession of skeletons that are walking beneath a parasol that lacks its paper cover and consists only of its basic skeletal form.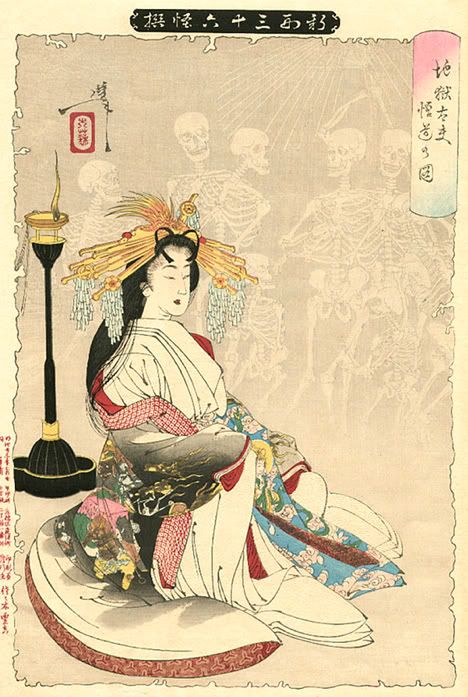 * These prints are not included in the Christie's sale.
About Gina
Gina Collia-Suzuki is a writer, artist and art historian based in the UK. Having developed a deep interest in eighteenth century Japanese art and culture at an early age, she began studying Japanese woodblock prints whilst training as an artist in the 1980s....
Causes Gina Collia-Suzuki Supports
PETA
The World Wildlife Fund
RSPCA
Cancer Research UK