The Espousal of the Rat's Daughter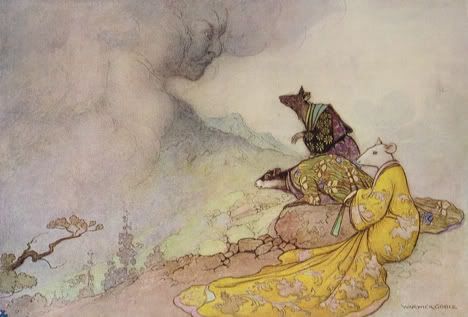 I bought the above illustration a couple of years ago, partly because I am always looking for images of rats in art, but also because I am interested in the work of European artists who have been heavily influenced by Japanese art and design.
This particular illustration was taken from the children's story book 'Green Willow and Other Japanese Fairy Tales', written by Grace James, illustrated by Warwick Goble, and published in 1910. It shows a scene from the tale 'The Espousal of the Rat's Daughter', when Mr Nedzumi goes to ask the wind if he would be interested in marrying his daughter.
Warwick Goble was a Victorian illustrator who specialised in children's books, specifically those containing exotic tales of the East. He produced some magnificent watercolours during his career, but despite the quality of his work is nowhere near as well-known as his contemporaries, such as Arthur Rackham and Edmund Dulac.
Goble was born in 1862 and raised in London. He went to The City of London School and attended the Westminster School of Art. He was exhibiting at the Royal Academy by 1893, but it wasn't until 1896, at the age of thirty-four, that he began his career as an illustrator of children's books, with 'The Oracle of Baal'. Over the next few years, he produced illustrations for only a handful of books, including H.G. Wells' 'War of the Worlds' in 1898, but as the demand for books with colour illustrations grew, so did Goble's productivity. An edition of 'The Water Babies' in 1909 was followed by 'Green Willow and Other Japanese Fairy Tales' in 1910, in which Goble's fascination for Japanese illustrative techniques is very visible.
Click here to read the complete story of 'The Espousal of the Rat's Daughter'.
About Gina
Gina Collia-Suzuki is a writer, artist and art historian based in the UK. Having developed a deep interest in eighteenth century Japanese art and culture at an early age, she began studying Japanese woodblock prints whilst training as an artist in the 1980s....
Causes Gina Collia-Suzuki Supports
PETA
The World Wildlife Fund
RSPCA
Cancer Research UK