The Complete Woodblock Prints of Kitagawa Utamaro - A Descriptive Catalogue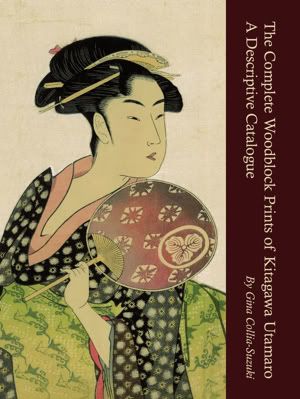 My third book has just been released; all 612 pages of it. 'The Complete Woodblock Prints of Kitagawa Utamaro: A Descriptive Catalogue' is a big doorstop of a book (very useful if you want to whack someone over the head), and the first of its kind on this specific subject.  The catalogue started out as a very personal project. When I first began studying Utamaro's prints in 1986, I kept a notebook where I recorded every one I saw. When I declared to Jack Hillier, in 1987, that I wanted to catalogue every single one of Utamaro's prints (which I knew numbered around 2,000), he did not bat an eyelid at the thought of so ambitious (it really was!) a project; he merely suggested that I allow twenty years and then handed me his own personal handwritten notes. The suggested time scale was spot on, and the notes were invaluable.
My one notebook became two, then three, and eventually six. A little while later, I progressed onto typed notes which were then bound into separate volumes when enough papers had accumulated. As information continued to be added each time a new print was studied, and the contents weren't alphabetised or arranged in any methodical order, looking up specific designs was a time consuming task and sometimes proved completely impossible. My notes were disorganised and getting more so the further along my research progressed. That's when I moved onto huge ring-binders and began adding retyped notes in alphabetical order. Over the next fifteen or so years, I accumulated twelve volumes of extremely in-depth notes and could finally find most prints if I put my mind to it, though the process was still a complicated one. In an attempt to make my research more readily available (to myself), I trimmed those notes down to seven volumes, with additional boxes of loose notes and photos (see photo below). My new system allowed me to find individual prints relatively quickly. The down side was that I had to put my back into it to pick up just one of the volumes, and I certainly couldn't take one of them with me, let alone all seven, when I went mooching through a museum or private collection. I needed a catalogue of Utamaro's prints that contained all of the vital information for identifying specific designs when out and about, not necessarily every factoid on the subject ever known to mankind. I needed a catalogue that was entirely portable. There was no such work, so I had to create my own, and it occurred to me that other admirers of Utamaro's work - museum staff, dealers, auctioneers, collectors, etc. - might find a use for it too. That's when work on the catalogue that has just been released began.

There's a biographical introduction, and then the individual catalogue entries are arranged into ten separate sections (single sheets, multi-sheets, series, etc.), with indices added at the back to allow a reader to look up a print by publisher, subject, or title (or by location in Shibui's 'Ukiyo-e Zuten' - my copy of this book has been used so much that it looks like it's been ravaged by wild beasts). The cataloguing of Utamaro's works was an ambitious (insanely so?) project; the largest I've undertaken to date, and I imagine the largest I will ever take on. It was also an extremely fulfilling project. I got to rummage through numerous collections - to see so many wonderful prints that just thinking about it makes my head buzz with glee.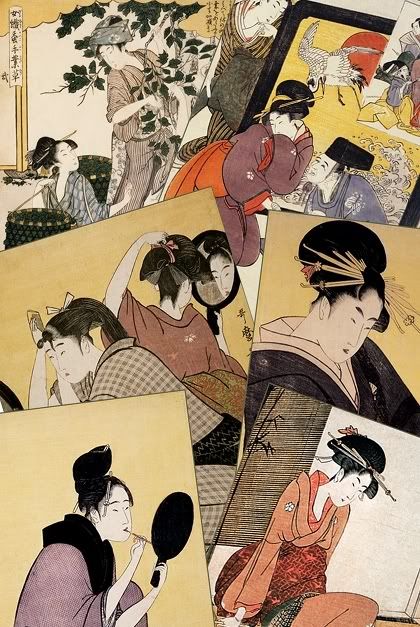 There's a very odd feeling that comes with the release of such a work. Two decades of my life keep on flashing before my eyes. I've built the ship, tonight I'll smash a bottle of champagne over its bow to celebrate (ok, it will actually be a pizza, and there'll be no slinging it about), and then it will sail out to sea (the ship, not the pizza) and up the Amazon river. This must be what it was like for my mother when I first declared 'Mom, I'm leaving home'. I wonder if she wanted to snatch me up and lock me in a cupboard. I am reminded by my husband, who sits beside me insisting I acknowledge this, that the catalogue is an 'important' work. I wouldn't usually say such a thing about my own book (as I am as modest as I am brainy and beautiful, ha ha!), but there's no escaping the fact, and this produces a somewhat strange sensation for me. The other thing that's distinctly strange about all this is using my own book to look prints up... I must refer to myself, who knows more on the subject than I do. Most odd.
Anyway, farewell, dear friend... think of me from time to time, when you're gathering dust in the British Library, or propping up a table leg. Into the wild I release thee.
About Gina
Gina Collia-Suzuki is a writer, artist and art historian based in the UK. Having developed a deep interest in eighteenth century Japanese art and culture at an early age, she began studying Japanese woodblock prints whilst training as an artist in the 1980s....
Causes Gina Collia-Suzuki Supports
PETA
The World Wildlife Fund
RSPCA
Cancer Research UK