Tagliatelle with Gorgonzola and Walnut Sauce
As Ryoma and I have taken the week off work (yay!), there's more time for cooking (yay again!). That wonderful four cheese pizza that we stuffed ourselves with yesterday left us in the mood for more Italian food, so we opted for tagliatelle with Gorgonzola and walnut sauce this evening. It's amazingly quick, simple pimple, and tastes absolutely wonderful. This dish will feed four hungry hippos. Yum!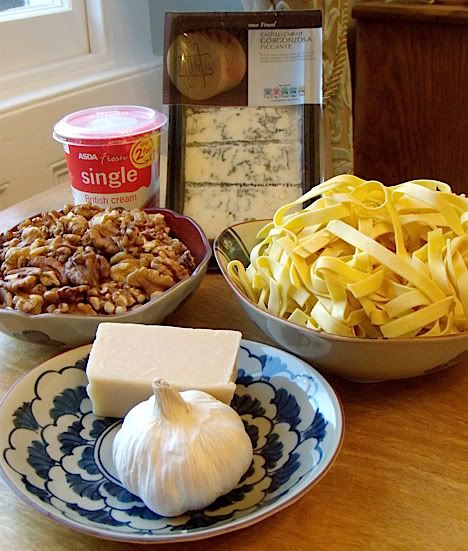 Ingredients:
1 lb (500 g) tagliatelle
7½ oz (215 g) Gorgonzola Piccante
3½ oz (100 g) walnuts
3 oz (90 g) butter
10 fl oz (300 ml) single cream
2 medium cloves of garlic, finely chopped
freshly grated parmesan, to serve
salt and freshly milled black pepper
Cooking Instructions:
Pre-heat the oven to gas mark 4, 350ºF (180ºC).
Begin by boiling the water for the pasta in a large saucepan. You'll need at least 8 pints (4.7 litres) of water for this amount of pasta (with 1 level tablespoon salt added). 
While you're waiting for the water to boil, put the walnuts onto a baking tray and toast them in the oven for around 5-6 minutes. Once they are lightly toasted, crush them into tiny pieces using a pestle and mortar (or chop finely).
Next, melt the butter in a medium-sized saucepan over a low heat. Add the garlic, the walnuts, the Gorgonzola and then the cream. Season with freshly milled black pepper, then leave it to simmer very gently until you have a creamy sauce. Inhale... beautiful!
Once the water for the pasta is boiling, put the pasta in and cook it without a lid for 5-8 minutes (according to the instructions on the pack). 
When the pasta is cooked, drain it using a colander and then return it to the saucepan. Pour the sauce into the saucepan and toss it around with the pasta for half a minute or so. Serve immediately in warmed pasta bowls, sprinkled with parmesan cheese.
Bon appétit!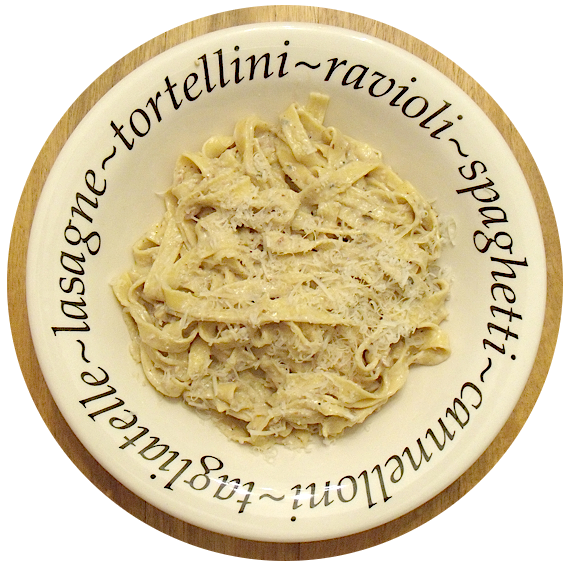 About Gina
Gina Collia-Suzuki is a writer, artist and art historian based in the UK. Having developed a deep interest in eighteenth century Japanese art and culture at an early age, she began studying Japanese woodblock prints whilst training as an artist in the 1980s....
Causes Gina Collia-Suzuki Supports
PETA
The World Wildlife Fund
RSPCA
Cancer Research UK