Spinach, Tomato and Ricotta Lasagne
I'm back in the kitchen already and it's only Wednesday. Taking time off work certainly does benefit the old taste buds. We decided to stay with Italian food and have lasagne, partly because I gave Ryoma the wrong shopping list earlier in the week and we ended up with an abundance of ricotta. Making this lasagne is fairly time consuming, but it is worth every bit of effort you put into it. It's at times like these that I really wish it were possible to send smells down the Internet wires. This recipe will serve four famished foodies.
Ingredients for the Tomato Sauce:
1 tablespoon olive oil
1 small onion, finely chopped
2 medium cloves garlic, crushed
1 lb (450 g) tomatoes
1 level dessertspoon chopped fresh basil
salt and freshly milled black pepper
Ingredients for the Béchamel Sauce:
1½ pints (850 ml) milk
2 oz (50 g) butter
2 oz (50 g) plain flour
¼ whole nutmeg, grated
1 dried bay leaf
2½ oz (60 g) Parmesan (Parmigiano Reggiano), grated
freshly milled black pepper
Ingredients for the Lasagne:
1 lb 5 oz (600 g) spinach
8 oz (225 g) ricotta
fresh lasagne sheets (weighing about 9 oz/250 g in total)
knob of butter
7 oz (200 g) Gorgonzola Piccante, crumbled
7 oz (200 g) Mozzarella, grated
 salt and freshly milled black pepper
Cooking Instructions:
Begin by washing the spinach and removing the stalks. Shake the leaves dry in a colander and put them to one side.
To make the tomato sauce (which can be made in advance, as it freezes very well), put the tomatoes into a bowl and pour boiling water over them until they are covered completely. Leave them for 2-3 minutes, drain, slip off their skins and chop them. Heat the olive oil in a small saucepan, add the onion and garlic and cook for 2-3 minutes to soften. Next, add the chopped tomatoes and basil, season with salt and pepper, and cook over a medium heat for 20-25 minutes until the tomatoes have reduced, during which time you can move on to making the white sauce.
To make the white sauce, put the milk, butter, flour, bay leaf and nutmeg into a saucepan and season with freshly milled black pepper. Put the saucepan onto a medium heat and whisk everything together continually until it comes to simmering point and has thickened. Turn the heat down to its lowest setting and let the sauce continue cooking for 5 minutes. Next, stir in 2 oz (50 g) of the Parmesan and then remove the sauce from the heat. Remove the bay leaf, transfer the sauce to a bowl and place some clingfilm over it to prevent a skin from forming. 
Pre-heat the oven to gas mark 4, 350°F (180°C).
Now we move on to the spinach. Take your largest saucepan, put the knob of butter into it and put the spinach leaves in on top. Place the pan onto a medium heat, put a lid on and cook the spinach for 2 minute, turning the leaves over half way through. The leaves should have wilted and become tender.
Drain the spinach in a colander and, when it's cooled down enough to allow you to handle it, squeeze it to remove any excess liquid. Place the spinach onto a chopping board and chop it finely, then move it to a bowl and add the ricotta. Next, add 5 fl oz (150 ml) of the white sauce and season it with salt and pepper. Mix everything together thoroughly and then add the Gorgonzola and mix that in. 
Now, spread a quarter of the white sauce into the bottom of a well-buttered oven-proof dish (measuring around 9 x 9 inches (23 x 23 cm) wide and 2½ inches (6 cm) deep). On top of the sauce, place a third of the spinach mixture and then a layer of the pasta sheets (which you might need to cut to size so that they fit). Then repeat the whole process, this time adding a third of the grated Mozzarella on top before adding the lasagne sheets. Repeat this step again. Then, on top of the final sheets of pasta, add the tomato sauce, the rest of the white sauce and the remaining Parmesan and Mozzarella.
Place the lasagne on the middle shelf of the pre-heated oven and bake for 50-60 minutes, until the top is golden and bubbling. Allow it to settle for 10 minutes, then serve.
Bon appétit!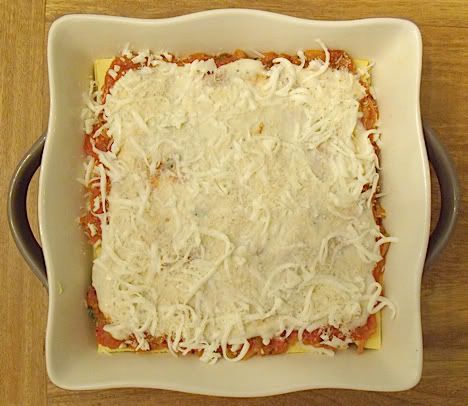 Above: Just before going into the oven.
Below: Just after coming out of the oven, as it sits for 10 minutes.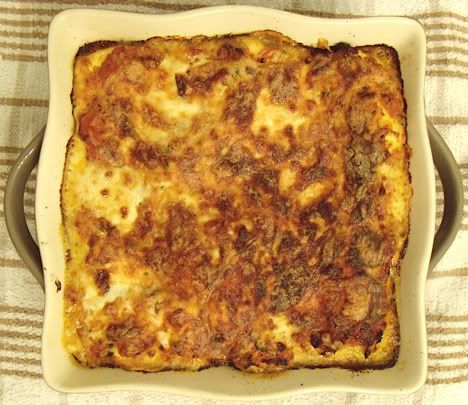 About Gina
Gina Collia-Suzuki is a writer, artist and art historian based in the UK. Having developed a deep interest in eighteenth century Japanese art and culture at an early age, she began studying Japanese woodblock prints whilst training as an artist in the 1980s....
Causes Gina Collia-Suzuki Supports
PETA
The World Wildlife Fund
RSPCA
Cancer Research UK