Selling old pots prepared me for being an author
In addition to having been an antiquarian bookseller, I was also an antiques dealer in a previous life. I enjoyed it a great deal, and met some extremely interesting people. It also gave me the opportunity to handle some outstandingly beautiful objects. What I didn't realise, however, was that the experience was preparing me for life as an author. Whilst attending a book signing for Utamaro Revealed, at Waterstone's in Bath at the weekend, I was monitoring the traffic of book browsers when it hit me... I owe my outwardly calm exterior, my willingness to accost people with a handful of bookmarks, and my ability to manoeuvre 'signing bores' to a distant corner of the galaxy, to the hours/days I spent doing exactly the same thing (well, the bookmarks were business cards back then, and the bores were antique ones) at the countless antiques fairs I attended with my husband.
I met a lot of very nice people on Saturday (see photo below for example), and sold a good number of books, so it was an excellent day. But amongst the genuine buyers and Japanese art enthusiasts there were the usual 'types' who frequented my antiques stand. 
There is the chap who knows nothing about the subject but will talk about it for two decades if you let him. He's always taller than everyone else at the venue, and louder, and generally has large teeth and brown trousers (don't ask me why... although brown is generally the colour of monotony). He thinks nothing of hogging the table/stand whilst declaring that he has no intention of buying, and is fond of remarking rather loudly on the price of what's on offer and the huge divide between the cost of the item and the actual value of it. 
Then we have the rabid name-dropper. This character has met everyone of significance in your field, apparently, and will rattle off names at speed, stopping only to see if you have acknowledged a similar acquaintance. The game of 'Snap' continues until he or she has run out of names or has struck upon one you've actually encountered. This character buys a book if you've met, spoken, or corresponded with someone on his/her list. If you have not, then you are obviously a charlatan and should be avoided.
The woman with a son or daughter who wrote a book, studied your subject, lived in your area, etc. This character doesn't buy a book. She stands off to the side and talks at length about the astounding accomplishments of her offspring. She will go on forever if she's allowed to, and doesn't stop simply because you happen to be speaking with someone else.
The expert. This 'type' is the most vexatious of all non-buying visitors to a signing table or antiques stand. He (and this variety generally is male) is in the business of finding flaws in your dating/descriptions of antiques or errors in your text. He most likely has a book with him which can support his argument, and can cite chapters from this book about that subject where so-and-so wrote the definitive text on such-and-such. He is invariably wrong. He never buys anything, anywhere. Once he has objected to you and your goods, he will proceed to tell those standing nearby why they shouldn't give you their business... naming better books, better antiques dealers, etc. 
The flirt. Again, generally male, so he's not such a problem for male writers/dealers, the flirt will bat his eyelashes and make small talk whilst sidling in and assuming an overly-intimate tone after only five seconds of acquaintance. The older he is, the more sexual innuendo he will inject into the dialogue (there may also be a certain amount of drooling if he is over the age of fifty). He will scan your book/stand/leaflets for some mention of your personal details, and once in possession of your 'phone number, web site address, or email address, will promise to 'look you up' before leaving with a big smile on his face, convinced of your ardent admiration. By the time he leaves the venue, everyone he talks to will believe you're practically engaged.
In all cases, freebies will remedy the situation. A handful of bookmarks and the like will make the bore feel special, the name-dropper will add you to his/her list, the woman with the astoundingly accomplished son will accept them on his behalf, the expert will think you're bribing him and consider the offer as a sign that you know that he knows what he's talking about, and the flirt will take them slowly, pausing to allow your fingers to almost meet, and will consider himself 'on a promise.'
I had a great time on Saturday... and being there almost made me want to get my display stands out of mothballs.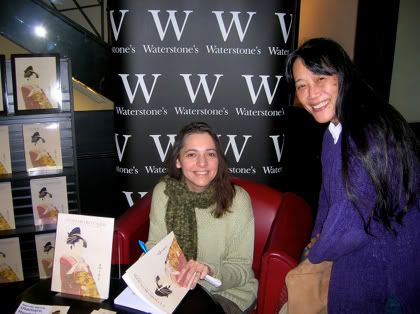 (Waterstone's Bath - Utamaro Revealed book signing, 24th January 2009)
About Gina
Gina Collia-Suzuki is a writer, artist and art historian based in the UK. Having developed a deep interest in eighteenth century Japanese art and culture at an early age, she began studying Japanese woodblock prints whilst training as an artist in the 1980s....
Causes Gina Collia-Suzuki Supports
PETA
The World Wildlife Fund
RSPCA
Cancer Research UK