Portraiture in Utamaro's prints
Did Utamaro attempt to portray the facial characteristics of individual women, or simply depict facial "types" which were considered pleasing without much concern for whether or not an image closely resembled the subject? Certainly, Utamaro's images of women don't come close to the Western idea of portraiture because there is no use of light and shadow and features are rendered by the use of line alone. However, if you take a look at the lines used to depict the faces of the women Utamaro portrayed, there are elements which exist in studies of individually named women which demonstrate an effort on the artist's part to produce a likeness. Two young women who appear frequently in Utamaro's prints are Naniwaya Okita and Takashima Ohisa, so I thought I'd use these women as examples. If you take a look at the group of six images of these women below, the three pictures in the top row of the group depict Ohisa, and the group of three below those depict her rival Okita. When comparing the facial features of these women, look at the shape of the nose, the length of the ears, the shape and fullness of the lips, and the positioning of the eyes and eyebrows. The bridge of Okita's nose in all three images is more pronounced than her rival's, which is long and slender. Okita's ears are smaller than Ohisa's, and her mouth is more delicate. Ohisa's mouth is wider, with the bottom lip protruding a little, suggesting a more pronounced jaw line. To my mind, the two women can be identified by their facial features when set side by side, and those distinct facial features are present in various different prints, which suggests an attempt at portraiture.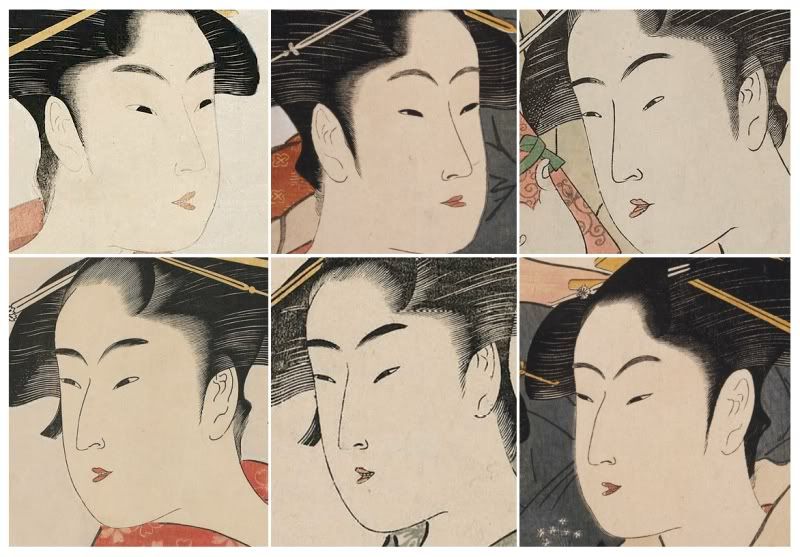 It's been suggested that there is no reason to assume Utamaro ever came face to face with the women he portrayed. As an artist, I find it hard to imagine not taking the opportunity to view the features of your chosen subject before portraying them. Otherwise, what is your point of reference? Okita and Ohisa both worked in teashops, so they were on display to their customers throughout the working day. Would Utamaro not have made a visit to these two famous teahouses, considering the number of times he portrayed these well-renowned beauties? Of course we don't know that he did meet them in the flesh, but given their proximity to him wouldn't it be more likely that he did?
About Gina
Gina Collia-Suzuki is a writer, artist and art historian based in the UK. Having developed a deep interest in eighteenth century Japanese art and culture at an early age, she began studying Japanese woodblock prints whilst training as an artist in the 1980s....
Causes Gina Collia-Suzuki Supports
PETA
The World Wildlife Fund
RSPCA
Cancer Research UK