Plat du Jour: Baked Wild Mushroom Risotto
As I'd never eaten risotto before this evening, and I've never been overly fond of mushrooms, I thought kicking off with a mushroom risotto would be an adventurous start to this culinary quest. This turned out to be incredibly easy to make and made the flat smell incredible. It also made me a bit tipsy. Admittedly, this might be because the Madeira made its way to the measuring jug via a stop off at my wine glass.
Although the recipe below was originally based on Delia Smith's one in Delia's Vegetarian Collection, I've fiddled with it quite a bit.
Though the Madeira can be replaced with a dry white wine, I imagine there's quite a difference in taste as the Madeira has quite a distinctive flavour. Other than red wine, Ryoma and I don't generally drink alcohol, so the trip to Waitrose to get a bottle of the stuff was an education in itself. Not knowing what we were doing, it took two store assistants and the manager to aid in the choice of the Henriques & Henriques 15 year-old medium dry Verdelho, as the resident wine specialist was on holiday (probably in Madeira!).
Ingredients:
½ oz (10g) dried porcini mushrooms
4½ oz (125 g) portabella mushrooms
4½ oz (125 g) shiitake mushrooms
2½ oz (60 g) butter
1 medium onion, finely chopped
2 cloves of garlic (crushed)
7 fl oz (200 ml) Italian carnaroli rice
5 fl oz (150 ml) Madeira (we used Henriques and Henriques medium dry - this could be replaced by dry white wine)
10 fl oz (280 ml) vegetable stock (made with Marigold Swiss vegetable bouillon powder)
1 oz (25 g) freshly grated Parmesan (Parmigiano Reggiano)
2 oz (50 g) extra Parmesan, shaved into flakes
Freshly ground black pepper
Cooking Instructions:
Pre-heat the oven to 300°F (150°C, gas mark 2).
Place the porcini mushrooms in a bowl and pour ½ pint (10 fl oz, 280 ml) of boiling water over them. Allow them to stand for half an hour. While the porcini are soaking, trim back the stalks of the shiitake mushrooms and then chop them, along with the portabella mushrooms, into ½ inch (1cm) chunks.
Melt the butter in a medium-size saucepan, add the finely-chopped onion and garlic and let that cook over a gentle heat for five minutes. Add the chopped fresh mushrooms, stir in well and put to one side.
Take a sieve, line it with two sheets of kitchen paper and use it to drain the porcini mushrooms, keeping the liquid for later. Finely chop the porcini mushrooms and then add them to the onion and fresh mushrooms already in the pan. Let the mushrooms sweat on a low heat for about twenty minutes.
While the mushrooms are cooking, place a 9 inch (23 cm) oven-proof square dish (approx. 2 inches, or 5cm, deep), or approximate equivalent, into the oven to warm.
Once the mushrooms have been sweating for 20 minutes, add the rice and stir it in, making sure it gets a good coating of butter. Now add the Madeira (or white wine), the stock and the liquid that was saved when the porcini mushrooms were strained. Add the freshly ground black pepper and take a moment to inhale the incredible aroma at this point... it's simply beautiful! Bring the mixture up to simmering point and then transfer it to the warmed oven-proof dish.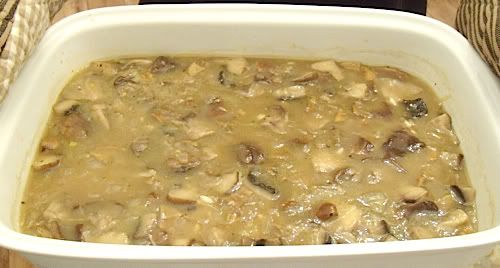 At this point, the risotto mixture should look like it does in the photo above... which makes it look like we cooked it in a washing-up bowl, but we didn't. Place the dish on the centre shelf of the oven (uncovered) and let it cook for precisely 20 minutes.
Stir in the grated parmesan and then cook for a further 15 minutes. Sprinkle with the parmesan shavings and serve immediately. Risotto is a dish that waits for no man!
Bon appétit!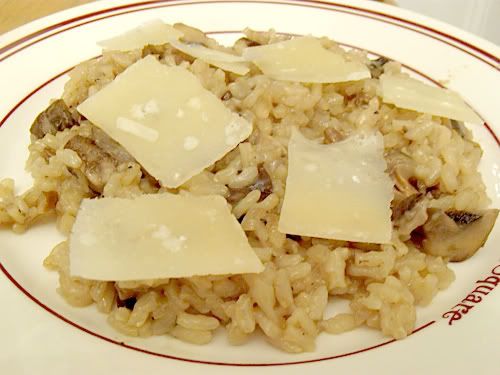 About Gina
Gina Collia-Suzuki is a writer, artist and art historian based in the UK. Having developed a deep interest in eighteenth century Japanese art and culture at an early age, she began studying Japanese woodblock prints whilst training as an artist in the 1980s....
Causes Gina Collia-Suzuki Supports
PETA
The World Wildlife Fund
RSPCA
Cancer Research UK