Pizza Quattro Formaggi (Four Cheese)
Pizza's one of those things that looks a lot more frightening to make than it actually is. The formula is actually pretty simple (just like me). Admittedly, I am talking about the method that doesn't involve spinning and flinging the dough about the place. I am not all that good at flinging (good job I wasn't born in the Highlands) and fear too much for the welfare of my interior decorations to have a go at it. 
Four cheese pizza can be made with a variety of cheeses (Gorgonzola, Fontina, and ricotta are popular ones). I thought I'd try it with Roquefort and goats' cheese and it worked very well indeed. This pizza will feed two hungry sorts (which we were this evening), or 3-4 in want of a light nibble, if served with a leafy salad.
If you're anything like me (slightly daft in the kitchen), once you've finished eating this wonderful pizza you'll need to get out the vacuum cleaner to hoover up all the polenta you threw over the floor and into your slippers.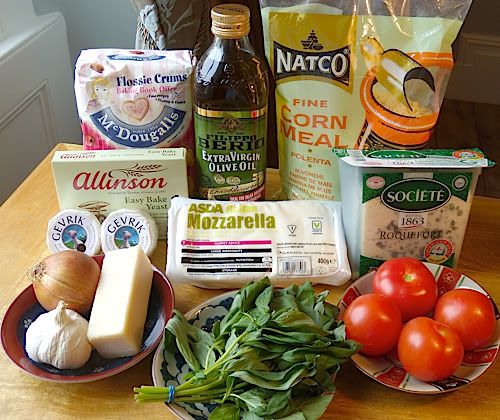 Ingredients for the Tomato Sauce:
1 tablespoon olive oil
1 small onion, finely chopped
2 medium cloves garlic, crushed
1 lb (450 g) tomatoes
1 level dessertspoon chopped fresh basil
salt and freshly milled black pepper
Ingredients for the Base:
6 oz (175 g) plain white soft flour
1 level teaspoon salt
1 level teaspoon easy-blend (easy-bake) dried yeast
½ level teaspoon caster sugar
1 tablespoon olive oil
4-5 level tablespoons polenta (cornmeal) to roll out (or more, if you like to really throw it about)
Ingredients for the Cheese Topping:
4 oz (115 g) mozzarella, grated
2½ oz (60 g) goats cheese, cut into slices
2 oz (50 g) Roquefort, cut into slices
1 oz (25 g) Parmesan (Parmigiano Reggiano), grated
You'll need a pizza stone or a solid baking sheet measuring approx. 14 x 11 inches (35 x 28 cm) and a rolling pin.
Cooking Instructions:
Pre-heat the oven to its lowest setting.
Begin by making the pizza base. Warm the flour slightly in the oven for about 10 minutes, then turn off the oven. Sift the flour, yeast, salt and sugar into a bowl and make a well in the centre of the mixture. Add the olive oil and pour in 4 fl oz (120 ml) of hand-hot water. Now mix it all into a dough, beginning the process with a wooden spoon and then using your hands in the final stages. Wipe the bowl clean with the dough (adding a little more water if there are any dry bits left). Transfer the dough to a flat work surface and knead it for 3 minutes (until it develops a sheen and is nice and springy). Move the dough to a clean bowl and cover it with clingfilm that has been lightly oiled on the side that is facing into the bowl. Leave the dough to rise for one hour at room temperature (by which time it should appear to have doubled in size and feel fluffed up). 
While you're waiting for the dough to rise, make the tomato sauce. 
Note:  Ten minutes before the tomato sauce has finished cooking, pre-heat the oven to gas mark 8, 450°F (230°C), with the pizza stone (or baking sheet) inside it.
To make the sauce, put the tomatoes into a bowl and pour boiling water over them until they are covered completely. Leave them for 2-3 minutes, drain, slip off their skins and chop them. Heat the olive oil in a small saucepan, add the onion and garlic and cook for 2-3 minutes to soften. Next, add the chopped tomatoes and basil, season with salt and pepper, and cook over a medium heat for 20-25 minutes until the tomatoes have reduced. Take a moment to inhale that wonderful aroma... I could hover over a saucepan of this all day. This sauce can be made in advance - it freezes very well.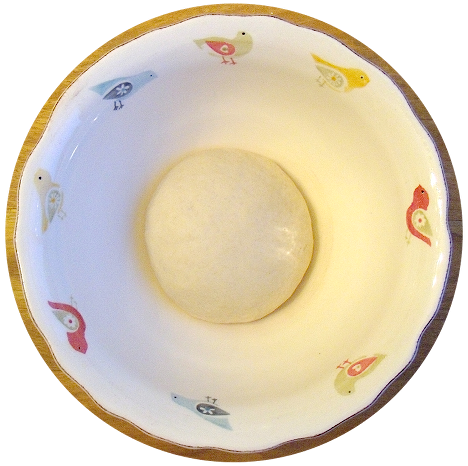 Above: The pizza dough, after sitting for an hour, is nicely fluffed up and springy (in my lovely new mixing bowl).
Once the pizza dough has risen, sprinkle a work surface generously with polenta and then place the dough on top of it. Knock the air out of the dough and knead it for a couple of seconds to begin shaping it into a ball. Dust your rolling pin with polenta and roll the dough out to a circle that is approx. 10 inch (25.5 cm) in diameter. Stretch the dough out with your hands, working from the centre (using the flat of your fingers) until you're left with a  fairly thin base with slightly raised edges.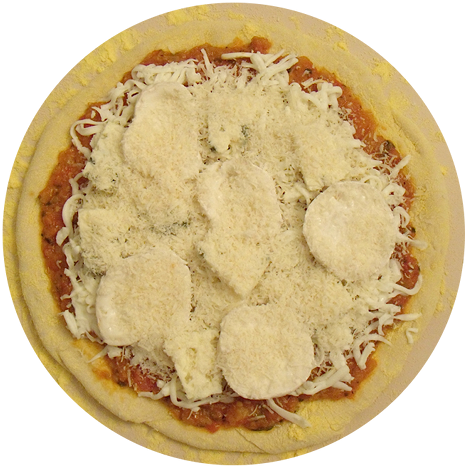 Above: The pizza just before going into the oven.
Remove the pizza stone (or baking sheet) from the oven and sprinkle it with a little polenta. Move the dough onto the stone (or baking sheet) and spread the tomato sauce onto it. Scatter the grated mozzarella over the tomato sauce, add the Roquefort and goats' cheese slices and then scatter the Parmesan over the top. Bake on a high shelf for 10-12 minutes, until the cheese is bubbling and the crust is golden brown (lift the edge to check that the underneath is also brown). Remove the pizza from the oven and serve straight away.
Bon appétit!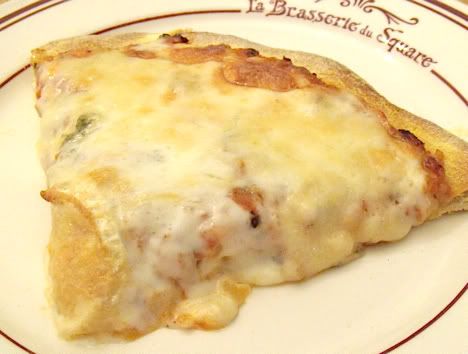 About Gina
Gina Collia-Suzuki is a writer, artist and art historian based in the UK. Having developed a deep interest in eighteenth century Japanese art and culture at an early age, she began studying Japanese woodblock prints whilst training as an artist in the 1980s....
Causes Gina Collia-Suzuki Supports
PETA
The World Wildlife Fund
RSPCA
Cancer Research UK