Pat Guppy's Guide to Interior Design - Part I
Previously published in the 'Splendiferously Important Homes of Her Majesty's British Isles' edition of 'Her Ladyshipness Magazine'.
It is of the utmost importance that a lady decorate her home in a manner befitting her station in life. That is why, regardless of whether or not you dwell within a castle or a small terraced cottage at the back of beyond, if you are a woman of breeding you should always keep a freshly ironed Union Jack in the airing cupboard, on the off chance that a Royal Visit may be bestowed upon you, as it has in my case on more than two occasions.
The interior decoration of a lady's home should reflect her social standing, and be a place to exhibit her achievements, but should remain tasteful. The wall shown below was decorated by myself to imitate one I have at home. As you can see, although I am an accomplished and respected member of my local community and on speaking terms with at least seven Heads of State, in so much as I send them Christmas cards every year without fail, I have still given up one space in the top right corner for a portrait of my beloved Benjamin. A woman must never be so vain as to leave out her husband from her 'portrait wall' completely, no matter how ugly he may be.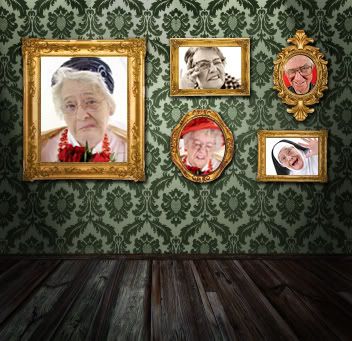 The maximum size for a single portrait should be no greater than four feet in height, which is more or less the size of one I have hanging in pride of place in my own home; an image which has inspired more than one or two gasps from visitors over the years. Some gentlemen have been so taken with it that they've gone into a swoon or have become quite animated, although I don't believe for one moment that seeing it was the cause of Mr Dunster's heart attack, no matter how many times Mrs Cooper insists otherwise.
Next time: How to dress your bookshelves so they achieve maximum impact when viewed from the street. 
About Gina
Gina Collia-Suzuki is a writer, artist and art historian based in the UK. Having developed a deep interest in eighteenth century Japanese art and culture at an early age, she began studying Japanese woodblock prints whilst training as an artist in the 1980s....
Causes Gina Collia-Suzuki Supports
PETA
The World Wildlife Fund
RSPCA
Cancer Research UK