Pat Guppy Releases First Solo Album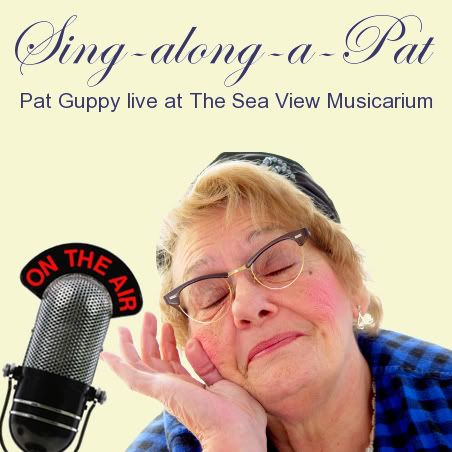 Pat Guppy has just released her first solo album, Sing-along-a-Pat, the tracks of which were recorded during live performances at The Sea View Musicarium. Pat is offering readers of this blog a chance to listen to one of her favourite tracks from the album, My Favourite Things. Click on the audio player below to listen to the track.
'Indescribable...' The Sea View Mercurial
'Unbelievable... eye-popping' Rolling Bone
Oh... my... God...' Kerrlang
Click here to listen to the track.
And why not join in!
Swindling the neighbours and fraud and extortion,
Demanding your money and getting my portion,
Bundles of ten pound notes tied up with strings,
These are a few of my favourite things.
Kicking the milkman and prying and spying,
Picking up turnips and sending them flying,
Revealing my knickers and my tummy rings,
These are a few of my favourite things.
Porkpies and boiled tripe and poison pen letters,
Wearing no bra under unwashed old sweaters,
Sweetbreads and pigs ears and fried chitterlings,
These are a few of my favourite things.
When I can't pry,
When I can't spy,
When I'm feeling sad,
I simply remember my favourite things,
And then I don't feel so bad.
[Repeat all verses]
About Gina
Gina Collia-Suzuki is a writer, artist and art historian based in the UK. Having developed a deep interest in eighteenth century Japanese art and culture at an early age, she began studying Japanese woodblock prints whilst training as an artist in the 1980s....
Causes Gina Collia-Suzuki Supports
PETA
The World Wildlife Fund
RSPCA
Cancer Research UK