Pardoned by a Monarch - Pat's History, Part I
Taken from Pat's work in progress, 'Weaned on a Pickle: The Autobiography of Patricia Enid Guppy'.
What many of you may not know, but cannot be surprised to hear, is that I am descended from the noblest of families. Indeed, one ancestor, by the name of Cecil Cobbler-Stowe, high sheriff of Sea View, was pardoned by a monarch no less; how great and well-respected a man he must have been to earn Queen Elizabeth's favour! What crime did he commit in order to require such a pardon? He murdered his young cousin, Christopher Muggins, in 1558. Of course, it's not really murder when it is kept in the family; it's only really murder when one goes about killing complete strangers. I've always said that a person should be at liberty to do whatever he likes within his own family... and to people who are common, of course.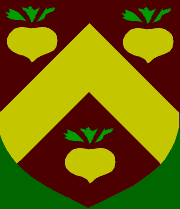 The story goes that dear Cecil got into a bit of a rough and tumble with his cousin Christopher, and there was a fair bit of cursing (in a posh accent, of course). Cecil was more than a match for Christopher and attacked him with a dagger when he wasn't looking... in the way that noble gentlemen do. He brought his cousin down with one blow and then dashed off into the night before anyone could catch him. His lands and goods were taken by the crown and he was left destitute, but as luck would have it, being one of high birth and unquestionably good character, he was given a full pardon. Our family crest is displayed above, decorated with the family vegetable, the turnip, in a fetching shade of yellow which, as we all know, is the colour of bravery.
About Gina
Gina Collia-Suzuki is a writer, artist and art historian based in the UK. Having developed a deep interest in eighteenth century Japanese art and culture at an early age, she began studying Japanese woodblock prints whilst training as an artist in the 1980s....
Causes Gina Collia-Suzuki Supports
PETA
The World Wildlife Fund
RSPCA
Cancer Research UK