Mexican Cheese Enchiladas
After yesterday evening's excitement, we decided to have a go at another recipe straight away. As we didn't decide this until half past five in the afternoon and needed to make time to visit the supermarket to buy ingredients, anything involving soaking overnight or simmering for three hours was out of the question. We both love tomatoes, cheese and jalapeños. So, enter Mexican cheese enchiladas! This recipe is simple pimple and isn't too heavy (the mushroom risotto is still weighing me down a bit).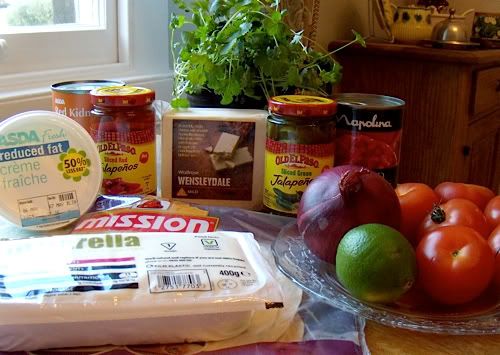 Although the recipe was originally based on Delia Smith's one in Delia's Vegetarian Collection, I've fiddled with it quite a bit. According to Delia, using the quantities listed below makes a dish that serves two as a main course, or four as a starter. Delia must have giants for dinner. There were two of us, one of whom was ravenous (yes, Ryoma), and we still ended up with one enchilada left over.
Ingredients:
400 g tinned chopped tomatoes
100 g tinned kidney beans
40 g Old El Paso sliced red jalapeños
40 g Old El Paso sliced green jalapeños
1 medium red onion - finely chopped
2 tomatoes - sliced
4 large flour tortillas
4 oz (110 g) Wensleydale cheese - grated
6 oz (175 g) mozzarella - grated
7 fl oz (200 ml) half-fat crème fraîche 
2 heaped tablespoons chopped fresh coriander leaves
juice of 1 lime
freshly ground black pepper  
Cooking Instructions:
Pre-heat the oven to gas mark 4, 350°F (180°C).
Start off by making the salsa. Put the tinned tomatoes into a sieve and allow the excess liquid to drain away. Rinse the jalapeño peppers, chop them finely and place them into a bowl. Add the chopped coriander leaves, strained tomatoes, lime juice and half of the chopped onion, then add the ground black pepper and mix everything up well.
Put the Wensleydale and mozarella into a bowl and mix together. Place a frying pan on a high heat and, once it's hot, dry fry each tortilla for 6 seconds on each side. Place one of the tortillas onto a flat surface and spread 2 tablespoons of salsa over it, avoiding spreading it all the way to the edges. Sprinkle one quarter of the kidney beans onto the salsa. Sprinkle 2 heaped tablespoons of the cheese over the salsa and kidney beans, then a tablespoon of the crème fraîche. Roll the tortilla up, sealed side down, and place it into a lightly oiled 9 inch (23 cm) oven-proof square dish (approx. 2 inches, or 5cm, deep), or approximate equivalent. Repeat this process with the remaining tortillas. Once all of the tortillas are in the dish, spread the remaining crème fraîche over them. Sprinkle over the remainder of the salsa, the cheese and the chopped onion, then add the tomato slices.
Place the dish on a high shelf in the oven for 30-35 minutes. The above photo shows the enchiladas just prior to going into the oven. Once cooked (see photo below), serve immediately. We chose to serve these with a simple green leaf and tomato salad and they were incredibly tasty and filling whilst at the same time being wonderfully light.
Bon appétit!
About Gina
Gina Collia-Suzuki is a writer, artist and art historian based in the UK. Having developed a deep interest in eighteenth century Japanese art and culture at an early age, she began studying Japanese woodblock prints whilst training as an artist in the 1980s....
Causes Gina Collia-Suzuki Supports
PETA
The World Wildlife Fund
RSPCA
Cancer Research UK