Looking Beyond Japanese Prints
I was asked recently why I felt it was important to go beyond focusing entirely on Japanese prints in order to fully appreciate them. I thought I'd explain my reasoning here, as it's not the first time I've been asked.
Let's say we've been focusing entirely on Hokusai. Without studying the prints of other Ukiyo-e artists, how can we identify elements of his art which set him apart from artists who'd gone before him? How can we fully appreciate the impact his works had upon print designers who came after him? 
If we study only Ukiyo-e prints and no other Japanese art form, how can we assess whether the artists of this particular school were producing art that was original and exciting or simply reproducing copies of stagnated designs that had been seen a thousand times before?
By the same token, if we limit our studies to Japanese art, we fail to understand and acknowledge the role it has played in the development of art outside of Japan. If we limit our studies to Japanese prints, we isolate them, marking them out as important within one country's artistic tradition but as lacking importance beyond that. Japanese prints were produced at a time when Japan was isolated from the West, but they no longer exist within that isolated environment. They represent one small piece of the huge global art historical puzzle, and it is only by putting all of the pieces together and looking at the completed picture that we can appreciate the true importance of each artist within each movement, within each respective country's tradition, and within the history of art in general.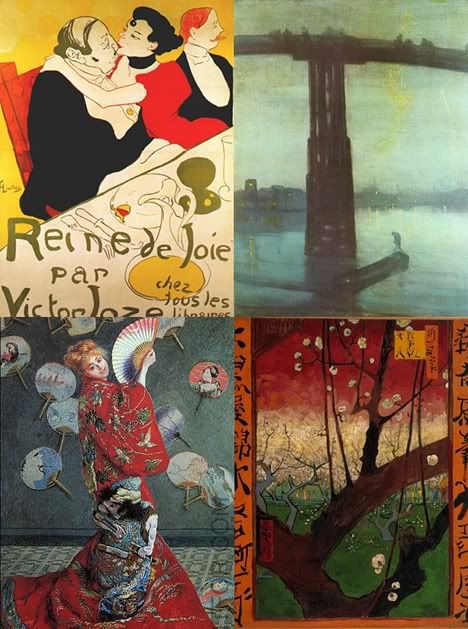 Clockwork from top left: Henri de Toulouse-Lautrec, Reine de Joie par Victor Joze, colour lithograph (1892); James Abbott McNeill Whistler, Nocturne in Blue and Gold: Old Battersea Bridge, oil on canvas (1872-77); Claude Monet, La Japonaise (Camille Monet in Japanese Costume), oil on canvas (1876); Vincent van Gogh, Flowering Plum Tree (After Hiroshige), oil on canvas (1887).
James Joseph Jacques Tissot, Young Women Looking at Japanese Objects, oil on canvas (c.1869-1870).
About Gina
Gina Collia-Suzuki is a writer, artist and art historian based in the UK. Having developed a deep interest in eighteenth century Japanese art and culture at an early age, she began studying Japanese woodblock prints whilst training as an artist in the 1980s....
Causes Gina Collia-Suzuki Supports
PETA
The World Wildlife Fund
RSPCA
Cancer Research UK