Kuchi-e... novel images of Meiji Japan
In addition to Ukiyo-e broadsheets and books, and Shin-hanga broadsheets, I also collect kuchi-e. Kuchi-e (lit. 'mouth-pictures') were frontispieces, inserted into the fronts of Meiji era novels and literary magazines (although independent kuchi-e prints were also produced). Generally produced as fold-outs (hence the folds), these prints were produced using sophisticated printing techniques, such as gauffrage, the use of metallic pigments, bokashi shading, and highly detailed carving. Kuchi-e are often exceptionally well preserved, due to being contained within books or magazines, and the fact that until relatively recently they were almost entirely overlooked by print collectors. Personally, I think the designs are exquisite and the subtle colouring is thoroughly enchanting, so the lack of enthusiasm for them amongst other collectors is somewhat confusing for me. There was a sudden rush of interest with the publication of Merritt and Yamada's 'Woodblock Kuchi-e Prints: Reflections of Meiji Culture,' but that seems to have dwindled.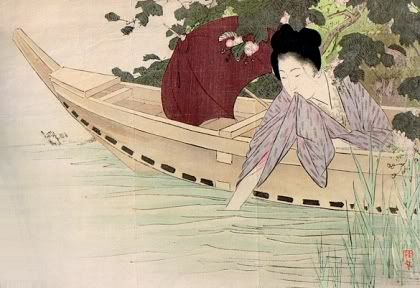 My first kuchi-e print was the one shown above, produced by Takeuchi Keishû for 'Pledge at the Pond,' written by Emi Suiin and published in the literary magazine 'Bungei kurabu' in 1901. 'Pledge at the Pond' tells the story of a young man called Yoshisaburô and his yearning for Someko, a woman who is engaged to another man and who does not return his affections. Yoshisaburô has a dream about Someko, and in it they are in a boat, talking of love... she throws her engagement ring into the water and promises to return to him the following summer. In this design we see Someko in the boat, as Yoshisaburô imagined her, holding the fabric of her sleeve between her teeth, to keep it out of the water, as she dips her hand into the pond.
This print (right) is another from my collection; a print where my passion for kuchi-eand that for rats coincide. The design, again by Takeuchi Keishû, is an independent kuchi-e. A young woman is busy reading a letter by lamplight, while perched on top of the stand for an oil lamp there is a figure of a rat, the zodiacal symbol for 1912. 
As these prints have been overlooked for the most part by Japanese woodblock print collectors, they are often available at very affordable prices. The design of Someko on the pond, despite its outstanding quality, was a mere £49 when I bought it. Some prints go for as little as £25, if you know where to look. 
About Gina
Gina Collia-Suzuki is a writer, artist and art historian based in the UK. Having developed a deep interest in eighteenth century Japanese art and culture at an early age, she began studying Japanese woodblock prints whilst training as an artist in the 1980s....
Causes Gina Collia-Suzuki Supports
PETA
The World Wildlife Fund
RSPCA
Cancer Research UK