On the subject of food again, I don't often talk about the fact that I'm a vegetarian. When the subject does come up, I'm usually asked how I came to be a veggie, and my answer is always the same... 'I once murdered a chicken.'
The roots of my vegetarianism lie in the year 1972, in a village in southern Italy. I am half Italian (Calabrese to be exact), and my grandmother had a farm (like Old MacDonald). On that farm she had some goats... and chickens. She also had a granddaughter who, at the age of three, thought that chickens were cute and cuddly and handy during a game of cricket when no ball was available. Not realising my own strength, or that the heads of chickens are not made from reinforced concrete, I took a length of wood and swiped my new feathered friend (Cedric was her name) across the noggin with all my might. The sound of the wood making contact with that chicken's skull was followed by a cry from my grandmother. That cry was followed by half an hour of plucking, and the eventual appearance of that chicken on a large ceramic platter as dinner was served later that evening.
The connection was quickly made, in my young mind, between my activities with a makeshift bat that afternoon and the demise and subsequent consumption (not by me) of Cedric later in the day. The events of that day formed the basis for numerous storytelling sessions by various family members who thought me rather cute. I thought me rather murderous (and still do) and made a vow never to harm another living creature.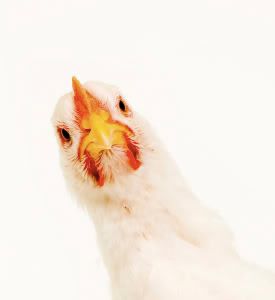 I was the first vegetarian in my family, as far as I know. Thankfully, my mother, being prepared for my unusual eating habits by the fact that I had refused milk from the moment I was born and had always been a difficult bugger to feed, had learned to be rather creative in the kitchen. This was not the case with my extended family in Britain, who believed that vegetarians could exist on a diet of nothing but cheese and pickle sandwiches. 
But anyway, there you have it... how I came to be a veggie. I still think of Cedric... very often in fact. I have much to thank her for... the rest of chicken-kind is safe from me. I do wonder, however, how much consolation that would provide.
About Gina
Gina Collia-Suzuki is a writer, artist and art historian based in the UK. Having developed a deep interest in eighteenth century Japanese art and culture at an early age, she began studying Japanese woodblock prints whilst training as an artist in the 1980s....
Causes Gina Collia-Suzuki Supports
PETA
The World Wildlife Fund
RSPCA
Cancer Research UK