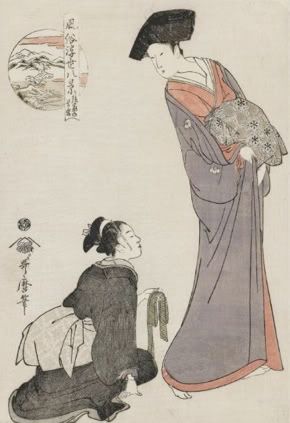 I've been asked a fair few times recently if I can explain how to tell the difference between an ordinary Japanese wife or teahouse girl and a Yoshiwara courtesan in Japanese prints... so here goes. One of the first things that most people learn, from reading about Japanese prints, is that Yoshiwara women wore their obi tied at the front, and that does give us our first clue. Were you to rely upon that alone, however, you'd conclude that the woman shown standing in this print by Utamaro on the right (from the series Fûzoku ukiyo hakkei, 'Eight Views of Customs of the Floating World') is a courtesan... and you'd be wrong. She is in fact a widow. Compare the decoration, or rather the lack of it, on her robes in comparison with these ladies below.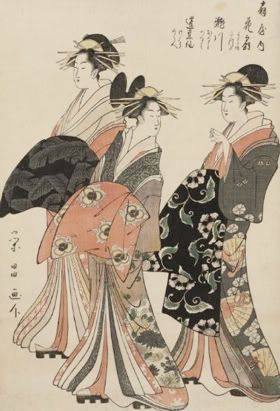 This print, by Chôkôsai Eishô, depicts Hanaôgi, Segawa, and Miyahito, who were all courtesans of the Ôgiya brothel. Look at the bold and colourful patterns on their multi-layered robes... no modest merchant's wife or geisha would have dressed in such a flamboyant manner. High-ranking courtesans wore the most expensive and lavish brocade, whereas a respectable woman, whether married or not, would have been required to own a more subdued wardrobe.
And let's not forget the entourage. Many of the full-length images of courtesans include at least one attendant, as these women were rarely without their kamuro (child apprentice) at their side. Take a look at the image below by Chôbunsai Eishi, depicting Hanaôgi walking along with her young kamuro, Yoshino and Tatsuta; one walking before her and the other following behind. Look at the way the little kamuro have their hair dressed.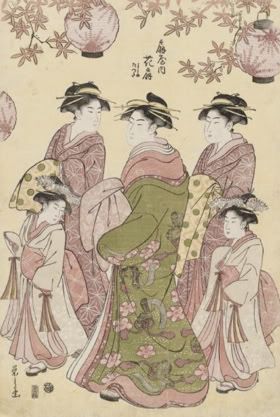 The clothes of both the courtesan herself and her attendants and the ornate style in which the kamuro's hair is dressed, not to mention the positioning of the figures in a processional manner, set them apart from the ordinary women and children depicted in scenes set outside of the Yoshiwara, such as the one below by Katsukawa Shunchô, which is one sheet from a pentaptych (five-sheet print) depicting calligraphy students chatting away as they walk along on a visit to a shrine. 
Look at the modest clothes worn by the women in Shunchô's print, their simple hairstyles, and the relaxed manner in which they walk along engrossed in conversation with the other members of the group.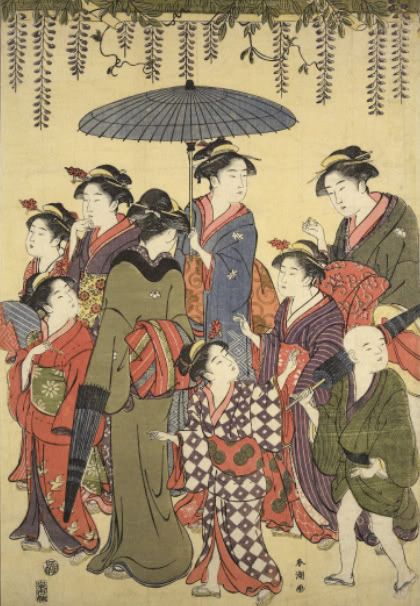 So now you may be wondering how you're supposed to tell the difference if you're looking at a bust portrait, so you don't have much to work with where clothes are concerned, and there are no kamuro in sight. Well, there's always the hair. A young teahouse waitress, such as the renowned beauty Ohisa of the Takashimaya, would have worn her hair with a modest amount of adornment, and never piled up in the elaborate styles worn by women of the Yoshiwara. Compare this portrait of her by Utamaro, below, with the image that follows it, of the courtesan Hanaôgi by the artist Ichirakutei Eisui... and look at all those hair pins in Hanaôgi's hair.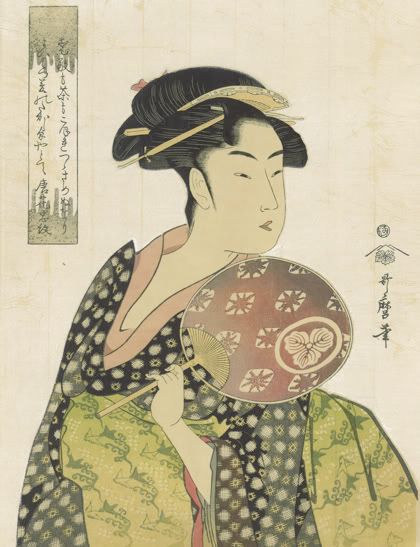 About Gina
Gina Collia-Suzuki is a writer, artist and art historian based in the UK. Having developed a deep interest in eighteenth century Japanese art and culture at an early age, she began studying Japanese woodblock prints whilst training as an artist in the 1980s....
Causes Gina Collia-Suzuki Supports
PETA
The World Wildlife Fund
RSPCA
Cancer Research UK