Food doesn't kill me anymore!
The illness that resulted in my brush with death in 2007, being somewhat mysterious (as I couldn't possibly fall prey to a boring and predictable one), resulted in me developing various unusual food allergies, cutting down the number of foods I was able to eat without breaking out or choking to death to about three. It's amazing just how boring, not to mention frustrating, mealtimes can become when you are faced with the same few meals day after day after day. I even had to avoid eating chocolate... the worst nightmare of most ladies. And imagine a life without gruyere and parmesan... goat's cheese! 
Over time, these allergies have disappeared... chocolate, coffee, tea, curry, and copious amounts of cheese can be consumed without worry, but I doubt that the effects of having had to give up so many of my favourite things will ever leave me. Never again will I take for granted the simple pleasure to be had from drinking a hot cup of coffee, or nibbling on a chunk of cheese. And these babies below... little bite-sized pieces of sheer heaven... well, I photographed them and then sat looking at them with deep admiration for an entire evening before finally popping one into my mouth (an Amarena cherry suspended in Amaretto buttercream - second from the right on the bottom row... what bliss!). Hotel Chocolat... How do I love thee? Let me count the ways.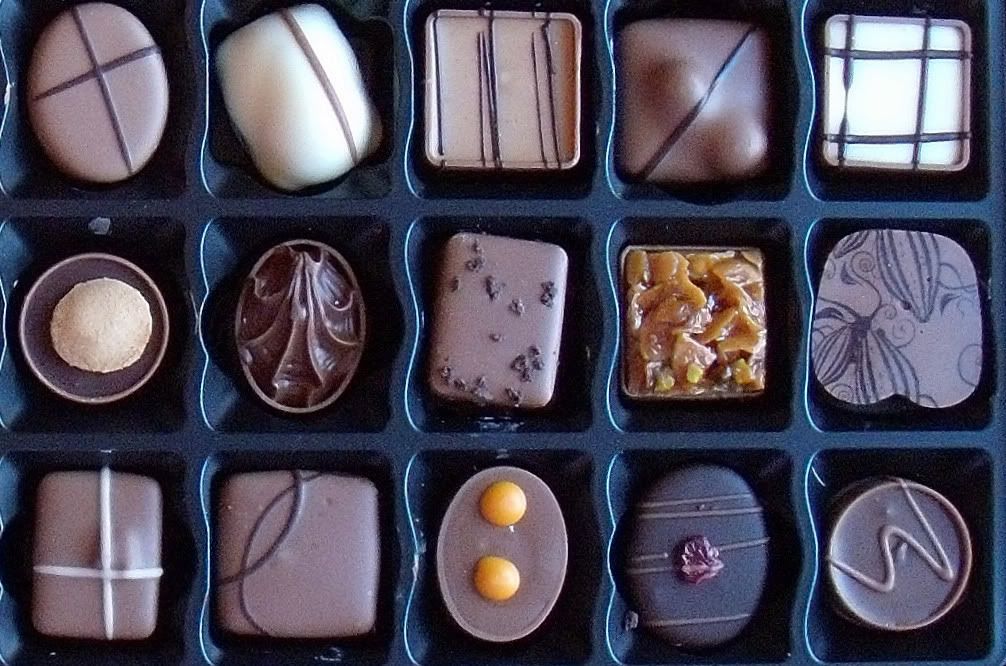 Yesterday evening, Ryoma and I went shopping and stopped off at Costa. When my large cappuccino arrived, having only been able to partake for the past couple of weeks, I didn't know whether to drink it or get down on one knee and declare my undying love for it. I may run the risk of dissolving myself in a sea of coffee, at the rate I'm going at present, but I don't care. I can drink coffee... specifically, a Costa 'grande' cappuccino... without needing medical attention, so all's right with the world. After two and a half years of a Pringle-less existence, I ate half a tube a week or so ago. Every crunch on those little disks of crispy goodness made me want to run through the streets singing (not naked, thank goodness... though there's still time for that, I suppose).
Now, if you'll excuse me, I have to decide what to have for dinner... and as the options are more or less limitless (mayonnaise is still my enemy, but I never did like the stuff all that much), this could take a while! 
About Gina
Gina Collia-Suzuki is a writer, artist and art historian based in the UK. Having developed a deep interest in eighteenth century Japanese art and culture at an early age, she began studying Japanese woodblock prints whilst training as an artist in the 1980s....
Causes Gina Collia-Suzuki Supports
PETA
The World Wildlife Fund
RSPCA
Cancer Research UK