Five minutes in an attic with Stephen Fry
Up on high, in the attic of Waterstone's Booksellers in Bath, there is a room... a special place. A place where you can scribble on the walls and not end up being dragged out of the store by security. The walls of the room are reserved for the signatures of authors who have signed books at the store, and today I got to add mine, which was thoroughly excellent. In fact, it surpassed excellent and headed off in the direction of earth shatteringly wondrous, because I didn't just get to add my inky scrawl to the wall... I got to add it to the spot right next to Stephen Fry's. To say that I am a huge fan of Mr Fry is an understatement... a huge fan, as in a fan whose admiration is huge... not a fan who is huge, if you catch my drift... I am only 5'4" tall. And speaking of size, Mr Fry towers above me by about a foot, so, in order to reach the hallowed spot where he had left his mark, I was left with no alternative but to hoist myself up on top of a tall chest of drawers. I paused, as you do when you are in the presence of inky greatness, and then added my name, wearing what has since been referred to by my husband as a big cheesy grin. I broke the store's non-celebrity-writer book signing sales record today, which was also excellent... but not quite as excellent as the five minutes I spent in the attic with a thick permanent marker. If all days were as exciting as today... well, I might rupture something, which is never a good thing really.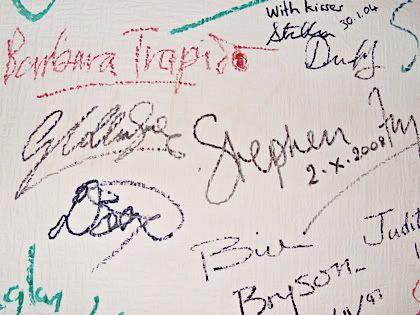 About Gina
Gina Collia-Suzuki is a writer, artist and art historian based in the UK. Having developed a deep interest in eighteenth century Japanese art and culture at an early age, she began studying Japanese woodblock prints whilst training as an artist in the 1980s....
Causes Gina Collia-Suzuki Supports
PETA
The World Wildlife Fund
RSPCA
Cancer Research UK