Do we own the characters we create?
Do we own the characters we create in a work of fiction? Do they belong to the readers who love or hate them, or do they belong to themselves? Recently, I joked to a friend, whilst talking about my blog posts about 'The Wonderful Demise of Benjamin Arnold Guppy', that Pat Guppy is in danger of becoming more real than I am. Admittedly, Pat Guppy is based upon a real-life person, so you may think she had a head start on other purely fictional characters, but she has recently become more real to me than the woman who inspired her. She's taken on a life of her own, outgrown the book that once contained her, and has insisted that I write a sequel to allow her continued existence. Does she belong to me? Well, I can write her in and out of existence, so in a sense she does, but beyond that I am limited to depicting her as she is. I can't write her doing something selfless or honest, as she was created as a dishonest and wholly selfish individual, so I am bound by the constraints that I put in place when she was first born (or, as she isn't wholly fictional, when she was first sucked out of reality and reconstructed as a fictional character). She dictates what she does next, or at the very least the manner in which she does it.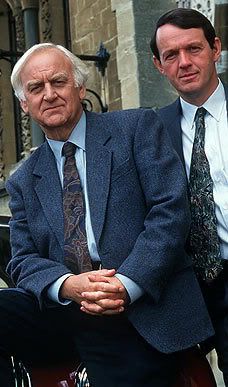 I have been watching my Inspector Morse DVDs again recently... I am up to disk 12. I still haven't forgiven Colin Dexter for killing him off, and I haven't been able to watch the final disk at all since I first bought the set. Sitting there, watching poor old Lewis attempt to fend off Morse's sarcasm, yet again, it started me thinking about the relationship between reader (or in this case viewer) and character. Was Morse so much a part of the lives of so many people that he ceased belonging to either himself or his creator? Certainly, when he became a television character, even the written Morse himself was gradually adapted to accommodate the TV version we'd all become so familiar with thanks to his portrayal by the wonderful John Thaw. The slim, dark-haired, grey-eyed detective was transformed into the middle-aged, white-haired, blue-eyed man we'd all come to know. So, could he have been given a happy ending, considering our knowledge of his difficult character? Would anyone have believed it? No matter how much Dexter may have wanted to have Morse flying off to New York to marry a rich widow (not that there's any reason to suppose he did want that), or how much Morse himself may have found that appealing (somehow I doubt it), did he ultimately belong so much to his public that his end could not have been written any other way?
Well, I don't know how other writers deal with their creations, but Pat Guppy tells me I'm owned (she has such a way with her, the old trout), and she's most likely right. Ultimately, I shall have to wield the only weapon left to me... at some point she'll have to go.
About Gina
Gina Collia-Suzuki is a writer, artist and art historian based in the UK. Having developed a deep interest in eighteenth century Japanese art and culture at an early age, she began studying Japanese woodblock prints whilst training as an artist in the 1980s....
Causes Gina Collia-Suzuki Supports
PETA
The World Wildlife Fund
RSPCA
Cancer Research UK